Kevin Walsh feels time is right to move on after resigning as manager of Sligo
Updated: Monday, 01 Jul 2013 10:40

| Comments
Kevin Walsh has said he has brought Sligo as far as he can after calling time on his five-year tenure following the All-Ireland qualifier defeat to Derry.
The Galway native watched on as his side slipped tamely out of this year's Championship in Owenbeg and immediately announced his resignation after 0-15 to 0-08 result.
The 2013 season has been a disappointing one for the Yeats County.
Their league campaign was mediocre at best as they barely preserved their Division 3 status.
Hopes were high that the side could reach a Connacht final, but the defeat to London and an unkind draw in the back door saw Walsh's time in charge end with a whimper.
Speaking to RTÉ Sport, the two-time All-Ireland winner felt that now was the time to step down.
"It's my fifth year in charge. We're out of the Championship and as far I'm concerned this is as far as I can bring the Sligo team.
"Staying in Division 3 was good, but not getting the results we wanted in the summer was disappointing. In saying that, the fifth year in charge was always going to be enough for me. Our aim was to give it a right go this season.
"We had to deal with a bit of upheaval with fellas emigrating, work commitments and some not wanting to be involved. For those who did commit I can't praise their dedication enough.
"Against Derry, if we had kicked one or two more points before half-time, we could have taken them down the stretch, but that didn't happen. Over in London we, perhaps, didn't have the luck that other teams had in getting out of jail there in recent seasons.
"London are a formidable side on their own patch and we travelled over minus 10 of the side that started the Connacht final last year. You're expecting other lads to step up to the plate and that doesn't always happen."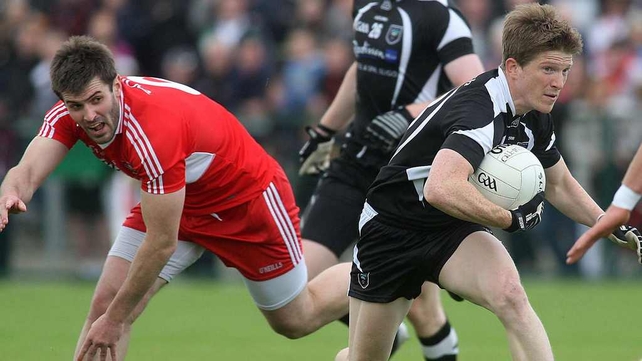 Walsh though did admit there were many proud moments during his time in charge.
"We did pull out some great victories. Beating Galway away from home last year and in a replay a few years earlier was brilliant as was our win over Mayo. It was just disappointing that we couldn't bring home a Connacht trophy. I felt the players deserved it."
Asked about what the future might hold, Walsh remarked that his focus was on the match against Derry. "Some people thought I was daft, but I believed we could beat Derry. We prepared well for the game and maybe if we had our shooting boots on we could have been closer. My time with Sligo is over. I'll head home now and we'll take it from there."
Speaking on The Sunday Game, former Sligo legend Eamonn O'Hara was not surprised that Walsh opted to call time.
After the London defeat, O'Hara was critical of the management and their preparation for this year's league and championship.
Asked by Des Cahill whether or not he would be interested in taking the Sligo job, O'Hara replied "No".