Galway 1-14 Cork 1-11
Updated: Sunday, 05 May 2013 21:32

| Comments
Galway picked up their second Cadbury All-Ireland Under 21 Football Championship title in three years after a terrific battle with Cork at the Gaelic Grounds.
Four points from both Ian Burke and Shane Walsh and Damien Comer's second-half goal clinched the victory, 1-14 to 1-11, as Brian Hurley's super goal was not enough to rescue Cork.
The pressure was on Galway to give themselves a cushion at the break after plating with the wind advantage in the opening half and they got off to a great start with two pointed frees from Shane Walsh.
As predicted pre-game, Galway's greater experience around the middle of the field was crucial in the early stages as Tom Flynn and captain Fiontán Ó Curraoin in particular lording the sector.

Yet it was a well-struck 45 from Cork captain Damien Cahalane that next impacted the scoreboard to get Cork off the mark.
But the Galway forwards were getting a plentiful supply of top quality ball and Cathal Mulryan twice kicked wonderful scores and full-forward Adrian Varley followed suit as the Tribesmen opened out a 0-5 to 0-2 lead by the 19th minute.
Galway looked happy to allow Cork possession in their own half, but once they threatened the danger zone, the massive defensive pressure and superb tackling continually forced Cork into kicking poor wides and taking on the posts when retaining possession was needed.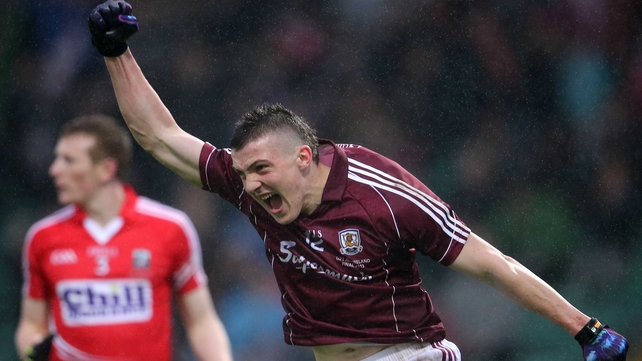 And at the other end Galway continued to impress as Ian Burke led Conor Dorman on a merry dance as he kicked three fine points before the break to give his side a 0-09 to 0-05 advantage at half-time.
Cork looked in serious trouble at the turnaround and would have been dead and buried but for two Dan MacEoin scores late in the half.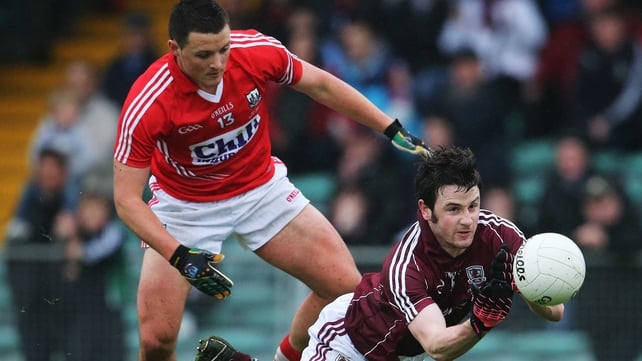 Hurley kicked two quick points after the restart to half that four-point deficit, but Ian Burke settled the Tribesmen again with his fourth point of the game.
And after MacEoin landed a huge point from distance to renew the Cork challenge, Galway hit back with a blistering five minutes that won them the game.
They hit an unanswered 1-04, with Comer's goal arriving after Adrian Varley's sharp work at the edge of the square as Comer almost lifted the net from its pegs with a bullet finish.

The Rebels refused to lie down though, and when Hurley found the top corner for a great goal in the 45th minute and Cork followed it up with two quick points the comeback looked on.
But Galway's defence held solid under the pressure and they went on to clinch the victory and to avenge the defeat to the Rebels in the 2010 All-Ireland minor semi-final.
Galway: T Healy; E Walsh, J Shaughnessy, B Cunnane (0-01); M Loughnane, D Burke, P Varley (0-01); T Flynn, F Ó Curraoin; C Mulryan (0-03), S Moran, D Comer (1-00); S Walsh (0-04, 0-04f), A Varley (0-01), I Burke (0-04).
Subs used: C Rabitte for Moran (47 mins), J Healy for T Healy (49), P Ezergalis for Cunnane (54), G Kelly for A Varley (59), S Maughan for I Burke (59).
Cork: D Hanrahan; C Dorman, D Cahalane (0-01, 0-01 '45), A Cronin, B O'Driscoll, T Tansey, J Wall; S Kiely, I Maguire; A Cadagon (0-01), M Sugrue, J O'Rourke; D MacEoin (0-04, 0-03f), B Hurley (1-04, 0-01f), L Connolly.
Subs used: J Burns for Kiely (36 mins), C Vaughan (0-1) for Sugrue (39), TJ Brosnan for Wall (42), K Hallissey for Cadagon (57).
Referee: David Gough (Meath).