by James McMahon

Realising his dream to achieve success on the GAA fields was the main reason why Ciarán Kilkenny decided not to pursue a career in Australian Rules.
The Castleknock native spent four months with AFL outfit, Hawthorn, but in January he announced that he would be returning home – much to the delight of the Dublin GAA fraternity.
A huge talent in both codes, Kilkenny subsequently made the decision that he would be throwing his lot in with the Dublin footballers this season.
He once again he will come under the tutelage of Jim Gavin – the man who guided the Dubs to All-Ireland U-21 success last year in a squad where Kilkenny played a leading role.
Speaking to RTÉ Sport's Brian Carthy at the launch of www.gaelicboots.com by the GAA and GPA, the 19-year-old was in no doubt that cutting short his stay Down Under was on a personal level the right decision.
He explained: "It was an easy decision in the end because my love and passion for the GAA is so big.
"I'm glad I went out to Australia. It made me appreciate how much I love and cherish the Association and the community where I was brought up - and the opportunities I have here to play with different teams.
"Being involved at club and county level is very special. You get to meet great people and form great friendships. The wonderful thing about the GAA is that you can go to any corner in the country and talk to a random person about gaelic football and hurling for three or four hours.
"When you grow up you dream about winning All-Irelands with your club and county and playing in Croke Park. That's my goal and it's what I want to achieve."
His local club Castleknock means a lot to Kilkenny and their run in the recent junior club championship was greeted with huge local pride.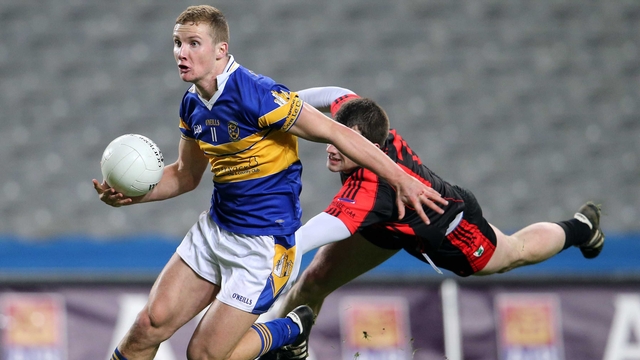 'We reached the All-Ireland semi-final and got to play in Croke Park. The support on the day was great. The club was only founded in 1999, but we have made an impression in the community and that's very important."
"It was an easy decision in the end because my love and passion for the GAA is so big" - Kilkenny
His short stay in Australia did give Kilkenny an insight into professional sport and the training regime undertaken by Hawthorn.
"The training in Oz was phenomenal, with a strong emphasis on maximizing your potential and testing the limits of your body. It was tough and enjoyable.
"Obviously, the GAA is an amateur organisation, but we give as much time to training and many players regularly play up to two or three games a week."
Asked whether Ciarán Kilkenny will make a return journey to Australia, the response was concise.
"I don't see myself going back. I made the decision to come home and that's that. I'm looking to hopefully line out with Dublin in the months ahead and having a good tilt at the championship again. "