Martin Carney's Football year in review
Updated: Tuesday, 09 Oct 2012 11:23

| Comments
By Martin Carney
Last Thursday's draw for Championship 2013 has already focused minds forward to next year's football season.
Appetisers like Tyrone v Donegal, Mayo v Galway and the possibility of high-profile clashes in the Munster and Leinster finals have already generated interest and debate.
But what of the year just finished? As we slip into the grim dark of winter what memories does the year hold?
Was it an exciting year from a footballing point of view? I'd say yes.
A year of surprises? Definitely.
A good year for the code of gaelic football? On balance I'd answer in the affirmative again.
So here's a menu of some of my memorable moments from 2012.
Game of the Year The excitement of the Mayo v Dublin and the Donegal v Cork clashes were difficult to surpass but my highlight was witnessing Donegal defeat Kerry in the All-Ireland quarter final. In their first ever championship clash Donegal displayed commendable courage and character to master and outwit the aristocrats of Gaelic football.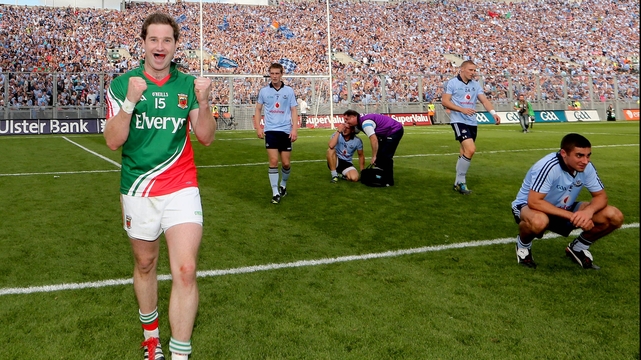 Best Venue visited All the provincial councils deserve credit for improving facilities for players and spectators alike. Fitzgerald Stadium, Killarney is my favourite venue. There is nothing to surpass the atmosphere here on a big matchday. This year though I had the good fortune to work as a co- commentator at the Down v Monaghan game in the Morgan Athletic Grounds in Armagh. This is a splendid example of a compact venue with excellent facilities that throbs atmosphere. Spectators are very close to the pitch and it's possible to feel an umbilical attachment to events as they unfold on the pitch.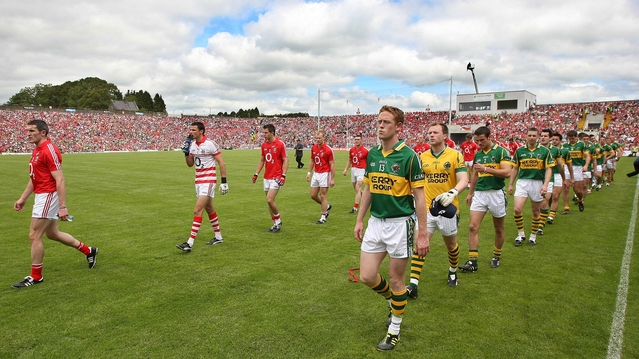 Save of the Year Paul Durkan's last-minute stop from Martin Penrose in the Donegal v Tyrone match was very special but the save of the year for me was the one executed by David Clarke (pictured below) against Bernard Brogan in the All-Ireland semi- final. Staring down Brogan, he made himself big, held his concentration, narrowed the distance and got his big paw to what seemed a certain goal. Wonderful.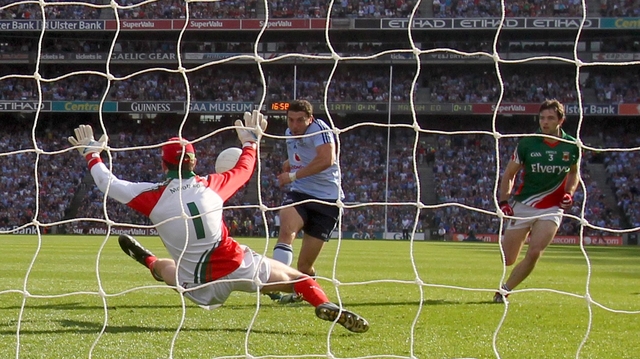 The "Shoulda Coulda" awards for 2012 The distinction for "winning" this award is shared by four teams.
Limerick for their superb display against Kildare in the qualifiers. Leitrim for their titanic effort against Laois in Carrick. Westmeath for coming within a bad decision of toppling Kerry. Carlow for refusing to bend the knee to Meath in their drawn first round Leinster encounter.
All of these defeated teams can take some consolation from their season and use the experience positively in 2013.
Biggest disappointments in 2012 Galway top the list for failing to build on their excellent performance against Roscommon. In second place I'd put Kildare as they again came up well short of their potential in the Championship. 2013 will be the final throw of the dice for this group. The present Cork team despite all their talent and resources being unable to add a second All-Ireland title to their name. Andy Moran's injury. Dublin's defence of their All-Ireland crown. It was devoid of conviction and unity of purpose.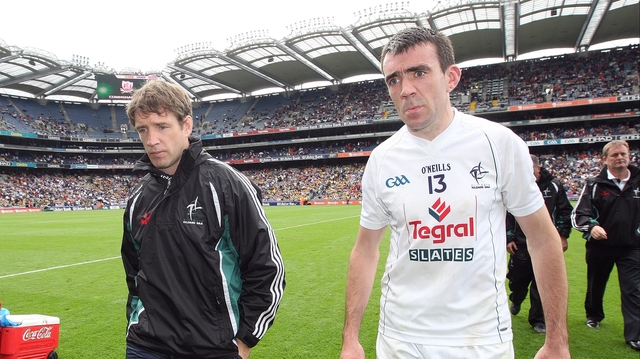 Shocks of the Season Armagh's defeat to Roscommon and Galway's to Antrim shows how the mighty can fall. Expect a major response from the 2001 and 2002 winners in 2013.
Trend to despise The growing tendency with all teams - yes, all teams - to engage in tactical and cynical fouling. Hopefully, recommendations from the FRC will be heeded and acted on in an effort to address this plague.
Trend to Savour The displays of high fielding by the likes of Conor Gillespie, Barry Moran, Neal Gallagher, Michael Darren Mc Auley and Anthony Maher reminded us of the majesty of this particular skill. Long may it prosper.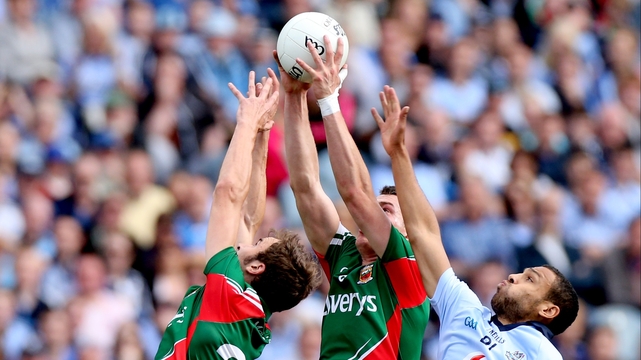 Coolest Head in 2012 This award goes to Cillian O'Connor in the way he converted the three 45 opportunities into the Hill against Dublin.
Most Exciting Newcomer of 2012 The deserving recipient of this award goes to Donal Keoghan. He possesses the DNA I associate with Meath defenders: direct, no- nonsense and tough.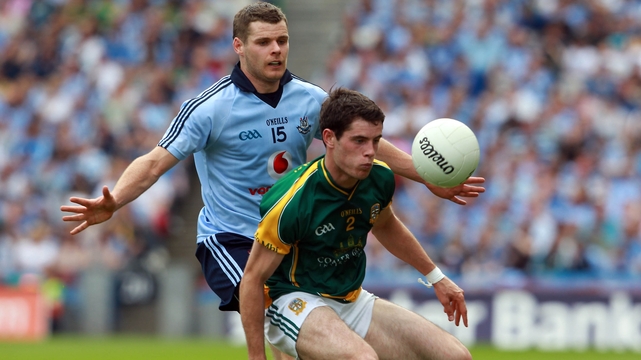 Referee of the Year The most maligned species in our code deserve more respect and understanding than they get. In his five championship games this year David Coldrick officiated in a calm and efficient manner and applied the laws of the game sensibly.
Manager of the Year Jim McGuinness is the clear winner. It was he who transformed a group of underachieving players into All-Ireland winners within two years through a combination of charismatic leadership, force of will and by identifying and implementing a style that would suit his team.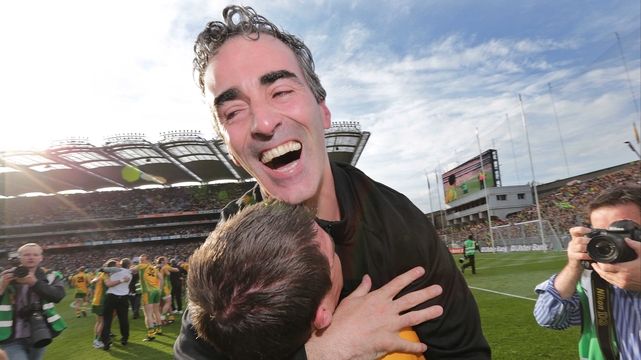 Player of the Year All of the Donegal players had a season to remember. Karl Lacey, Frank McGlynn, Rory Kavanagh, Michael Murphy and Mark McHugh were models of excellence throughout the year. However Colm McFadden, in my opinion, was the player who made the difference. He's a veteran at this stage of his career but the manner in which he has changed from being a run-of-the–mill corner forward to a match winner of real substance has been startling. Without him Donegal would not have reached the promised land.
Score of the Year It has to be Michael Murphy's netburster in the All-Ireland final. Apart from the purity of the strike it set the tone for his team and allowed them to settle. By the way, it mirrored a similar strike for his club Glenswilly in the Donegal County Final.
Team of the Year
1Paul Durkan
2 Keith Higgins
3 Ger Cafferkey
4 Frank McGlynn
5 Tomas O'Se
6 Karl Lacey
7 Anthony Thompson
8 Barry Moran
9 Rory Kavanagh
10 Kevin Mc Laughlin
11 Mark Mc Hugh
12 Paul Flynn
13 Colm McFadden
14 Michael Murphy
15 Alan Dillon
So these were some of my highlights and memories from the season that has ended. I'd like to thank and express my appreciation to each and every player who provided me and so many others with much to remember in 2012.