As it Happened: Donegal 1-10 Antrim 0-07
Updated: Sunday, 15 May 2011 17:20
Watch Live: The Sunday Game Live from 3pm

Listen Live: RTÉ Radio 1 and RTÉ Raidió na Gaeltachta
By Rory Houston - Tweet @RTESundayGame or e-mail sportonline@rte.ie.
Add to the debate for tonight's The Sunday Game programme by using the hashtag #sundaygame on Twitter.
Full-time: Donegal 1-10 Antrim 0-07
1716 Ok, folks, we will leave it there for today. Today might not have been the start we were looking for. Hopefully next week is a big improvement. Thanks for reading and keep an eye on the @RTESundayGame twitter over the week.
We will have reaction to this game and all the news ahead of the weekend matches. See you soon.
1715 Donegal will now meet Cavan in the next round.
1714 A reminder that the first Sunday Game will be on tonight at 9.30pm.
1711 The prediction posted earlier at 1355?
1708 The Donegal supporters look relieved that the game is over. They will be happy to see their team through. I'm not sure Antrim can take much from that. A fresh approach is needed.
1706 A late free from Antrim puts a small bit more respectability on the scoreboard but that was a very disappointing showing from Antrim. Donegal are through and their job is done. However, they will need to improve greatly in the next round.
Full-time: Donegal 1-10 Antrim 0-07
70 + 1 min Mark McHugh lands the first goal of the game in added time as he receives an offload from Kevin Rafferty, runs through on goal and slides it under the goalkeeper. Donegal 1-10 Antrim 0-06
GOAL - DONEGAL - MARK MCHUGH
70 min Danny McLoughlin misses a good chance to seal the win for Donegal. Antrim have a free from 30 metres - they will lob this in towards goal now.
69 min We're back underway now after that break due to Lacey needed attention.
67 min Mark Dougan seems to elbow Karol Lacey in the face in an exchange on the ground. Ridiculous by Dougan - that has killed any momentum Antrim had.
RED CARD - MARK DOUGAN - ANTRIM
65 min Tomas McCann quickly adds another scores as Donegal take the foot off the gas. If they are not careful, this could lead to a disasterous conclusion. Antrim have to go for a goal at some stage I feel. Donegal 0-10 Antrim 0-06
63 min Finally, Antrim get another score as Mark Doogan sends in a powerful shot that hits the target. Donegal 0-10 Antrim 0-05
60 min Donegal have struggled in recent minutes, giving the ball away a bit more often. I don't think it will make much of a difference though.
58 min The confident McBrearty steps up to take a 45 and it is collected by goalkeeper Sean O'Neill. Antrim need some inspiration and I don't know where it will come from.
57 min The 45 comes up short and eventually leads to a sixth wide of the day for Antrim. That is a total of 10 efforts at goal in 57 minutes.
55 min Scullion is surrounded by four Donegal defenders and does well to win a 45. Antrim need a score here, badly.
53 min Donegal are playing a patient game. They are in control of this game with Antrim offering little in attack. Lacey misses another opportunity for the home side. They will want to put this game to bed shortly.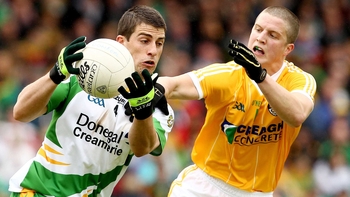 51 min Ryan Bradley is appealing for a penalty after he is pulled back by an Antrim defender. The offence took place just outside the large square. The 17-year-old Patrick McBrearty, who featured in the earlier minor game, is about to enter the fray. Murphy sends over the straight-forward free. Donegal 0-10 Antrim 0-04
50 min The frustrated Cunningham is penalised by Maurice Deegan. Cunningham is an isolated figure and is constantly up against two Donegal defenders.
49 min Murphy curls a free from off the ground wide of the goal. Frank McGlynn adds another wide to the tally after a nice pass through from McFadden.
45 min I was just about to tell you about how frustrating it is for Antrim as they constantly give away the ball when trying to muster a scoring opportunity.
Then Tony Scullion picks it up close to the end line and passes it back to Niblock with the shot for goal blocked well by a combination of two Donegal defenders. That was the first goal chance of the game.
1636 "When Donegal played open expansive football in the past they were slammed by the pundits - now the manager is being slammed for his approach - given the results of a u21 final and league winners - I can't see how their points are valid especially in the conditions today - surely the pundits should think before they pontificate." Brian Byrne - Kildare

43 min Michael Murphy, a frustrated figure after having to take a very defensive line in the first half, tries to get away from Ricky Johnston and eventually the defenders gives away a free. Johnston is booked. Murphy gets the free spot on and sends it over the bar. Donegal 0-09 Antrim 0-04
42 min Kevin Brady on for Michael McCann for Antrim.
41 min Much improved from Donegal as again they work the ball well over to Mark McHugh this time and he finds the target with a neat shot at the posts. Donegal 0-08 Antrim 0-04
39 min That is a rare moment of quality as Donegal work it patiently across the field and McFadden places it over from 30 metres. The rain is lashing down now. Donegal 0-07 Antrim 0-04
36 min Tomas McCann gets the opening score of the second half. Antrim were trying so hard just to find an inch to try and shoot - eventually it came to McCann. They earned that one! Donegal 0-06 Antrim 0-04
1623 Colm O'Rourke on The Sunday Game live on the defensive football: "If this is the evolution of the game then Darwin was right, we are all still apes."

1617 From @TomasFinneran: "Hopefully this Donegal team will be knocked out of the Championship soon, puke football was correct description."
1616 From Michael Brady (@bradymichael) on Twitter: "I heard that Donegal could be dark horse for Sam this year - did I hear right??"
1612 "It is like a crowd of dogs chasing a rabbit" - Colm O'Rourke.
1610 Well, that was a huge disappointment. Difficult conditions lead to a poor match that is lacking in quality. Donegal will win this if they continue as they are. However, it will not be in an impressive fashion or one to put fear into the rest of Ulster.
Half-time: Donegal 0-06 Antrim 0-03
35 + 3 min Hanlon gets behind the Antrim defence and this looks another good chance for Donegal.
The Saffrons manage to get back and challenge Hanlon, with the forward penalised for taking too many steps.
Moments late Rory Kavanagh is the spare man on the right after some slick passing, with the Donegal midfielder failing to find the target. That looks to be the last action of a poor half.
35 + 2 min Cunningham will be disappointed with his three wides so far, missing another free from hands on the right side of the field.
35 + 1 min That is very wasteful by Donegal as they have men over against the Antrim defence and fail to score. Adrian Hanlon had Dermot Molloy to his left but he shoots for the point and it is blocked down.
34 min There is some space opening up at last and most of it is coming to the Donegal forwards. Dermot Molloy's driven shot sails over the bar for Donegal's sixth point of the day. Donegal 0-06 Antrim 0-03
33 min Paddy Cunningham finally gets Antrim's first score from play with a neatly taken score. The Donegal players appeal that the ball slipped past the post - the point is given. Donegal 0-05 Antrim 0-03
32 min Ryan Bradley has probably been the most effective player on show today. He picks up the loose ball after a Crozier block and wallops it between the posts. Donegal 0-05 Antrim 0-02
31 min Murray misses a sitter for Antrim as he someone finds room to shoot despite the highly populated Donegal defence trying to break up every pass. Murray had a free shot at goal in front of the posts but he slices it wide.
30 min Donegal are awarded a controversial free from close in on goal. The Antrim players are incensed as it looks as if McElhinney had over-carried and the free should have gone the other way. Murphy sends the ball over. Donegal 0-04 Antrim 0-02
28 min For the first time Antrim start to play it about it, with a number of players involved in a decent move that ends with Cunningham failing to get to a loose ball when facing two Donegal defenders. They might need to get forward a bit quicker than that.
26 min Adrian Hanlon is faced with a very tricky angle after getting by Michael McCann. Hanlon's left-footed shot is sweetly struck and goes over the bar. Lovely score. Donegal 0-03 Antrim 0-02
25 min That is better from Donegal as Ryan Bradley helps feed Dermot Molloy and the shot just misses the target from 30 metres.
23 min Two scores in a minute as Paddy Cunningham makes up for his missed effort earlier on with a decent score. Cunningham has a few words for Kevin Cassidy after that score. Hopefully this game is about to spice up. Donegal 0-02 Antrim 0-02
22 min Finally a point from play and it is a very fine score by Ryan Bradley. Donegal worked it well and eventually Bradley has a yard of space to shoot. The effort was right between the posts. Donegal are back in front. Donegal 0-02 Antrim 0-01
20 min The conditions are very difficult for the players with so much rain in Ballybofey this morning. I wish I could tell you about more action on the pitch - it is literally countless exchanges of possession and fouls.
19 min Donegal trying to take the initative now as Lacey finds room on the right but he doesn't take the opportunity to shoot and eventually the ball is won back by Antrim. Anthony Thimpson has been substituted due to injury - Marty Boyle comes on.
17 min There have been so many stoppages in this game and little sign of a score from play. Michael Murphy is booked for a strong challenge - the third yellow of the day.
1545 From Stephen Killilea (skillilea87) on Twitter: "Irishman living in England, really missing the buzz of championship Sunday over here. Your updates should help. Keep it up!"

15 min Or so it should have been. That was a terrible effort from Cunningham as he skies it wide of the goal.
14 min Paddy McGrath is the latest man to give away a free and this will be easy pickings for Paddy Cunningham from 20 metres.
12 min Dermot Molloy's free goes just wide in front of a now subdued crowd. This has been a poor start in terms of quality. No sign of a score from play.
10 min Fine score by Kevin Niblock as, from close to the touchline and with the ball placed on the ground, he curls it over the bar against the wind to bring Antrim level. Donegal 0-01 Antrim 0-01
9 min Kevin O'Boyle is still receiving treatment for that. O'Boyle took a blow to the jaw in that incident so ice is being applied.
8 min Martin McElhinney clatters into Kevin O'Boyle with a very strong shoulder. That was a huigh challenge and a yellow card is produced.
7 min First chance for Michael Murphy as he looks to shrug off the attention of three Antrim defenders about 20 metres from the posts. Murphy is penalised for taking too many steps. Still only one score so far.
6 min Donegal enjoying all of the ball here and moving it quite well. Antrim look a bit rattled and are trying to contain the home side. Kevin Cassidy tries to double the Donegal lead as a high shot drifts just wide of the post. Michael McCann is lining up in full-forward for Antrim but he has seen little of the ball so far.
3 min This has been a very good start for Donegal. They are moving the ball quite well. Rory Kavanagh enjoys a nice burst through midfield, exchanging passes with McElhinney but then shooting wide.
2 min Colm McFadden converts the free from 25 metres. Donegal lead early on. Donegal 0-01 Antrim 0-00
1 min We're underway and Donegal win a free kick with Michael Murphy brought down by Ricky Johnston after 18 seconds.
1526 Joe Brolly is predicting a comfortbale win for Donegal in the game. We're getting reading for the national anthem in Ballybofey.
1522 Antrim: S O'Neill, R Johnston, C Brady, T Scullion, J Crozier, A Healy, M McCann, A Gallagher, C Murray, T McCann, M Sweeney, P Cunningham, B Herron, K Niblock.
1517 Donegal: P Durcan, K Lacey, N McGee, PMcGrath, F McGlynn, K Cassidy, A Thompson, R Kavanagh, M McElhinney, M McHugh, D Molloy, R Bradley, A Hanlon, M Murphy, C McFadden.
1516 "You live for the summer days and the buzz of playing and try to get to Croke Park." - Padraic Joyce speaking on RTÉ Two.
1515 From sbwhyte on Twitter: "Donegal to prove how far they have come! Note of caution - Predictions are tricky in this beautiful game of ours!"
1512 Paddy McGrath and Neil McGee start for Donegal.
1511 Joe Brolly is questioning whether Antrim have what it takes to shock Donegal today given some poor league showings. Joanne Cantwell is reporting a wet and blustery day in Ballybofey.
1503 Antrim have taken the honours in the Minor clash, winning 2-09 to 1-07 against Donegal.
1500 If you're watching the coverage, oh we will twist again!
1453 Thanks to all our new followers on Twitter, coming in big numbers. The Sunday Game Live is about to start on RTÉ Two and at the link at the top of this page on the website. That is to users only on the island of Ireland I am afraid.
1447 Antrim are 1-07 to 0-06 ahead in the final minutes of the Ulster MFC clash.
1429 So, if you're wondering about our summer schedule, here it is. Some cracking games coming up.
1416 It is half-time in the minor game in Ballybofey and Antrim lead 1-06 to 0-05 against Donegal.
1407 The Sunday Game team have just tweeted a picture of the new studio floor ahead of the first broadcast. More here.
1403 "Good luck to Donegal and Jim Mc Guinness' great young team that for the first time in years want to play football for Donegal.
"I am just at Anfield now for Liverpool v Spurs! Going to be greeeeaaat! Come on Donegal and Liverpool! Keep the updates coming RTE Sport. Fair play."
Sean from South Donegal.
Liverpool? On the first proper day of the Championship? Liverpool?
1355 Here are my thoughts on the game today. I fancy Donegal to win by six points. I've been known to be wrong.
1350 Donegal boss Jim McGuinness does not believe complacency will be an issue for his side.
1345 Antrim's Paddy Cunningham is looking forward to today's encounter.
1343 "I am looking forward to Tipperary winning back to back All Irelands for the first time in 46 years!"

Walter Keating, Austria
1323 That has been the message from many people today. I woke up very excited by it all. Donegal and Antrim, please live up to it.
1319 From @Kildare4Sam on Twitter: "Sunday Game Back today. The summer officially begins!"

1315 I want to hear from you throughout the day.
You can tweet us @RTESundayGame or use the hashtag #sundaygame. We had a great response since we relaunched the account yesterday so get involved.
1310 And the first televised game promises to be a cracker. Division 2 league winners Donegal host Antrim in the Ulster Football Championship.
1305 Welcome to the first day of what promises to be a long and enthralling summer. Prick up the straw in your hat, this is Championship.