Cork and Down dominate All Star list
Updated: Friday, 15 Oct 2010 15:05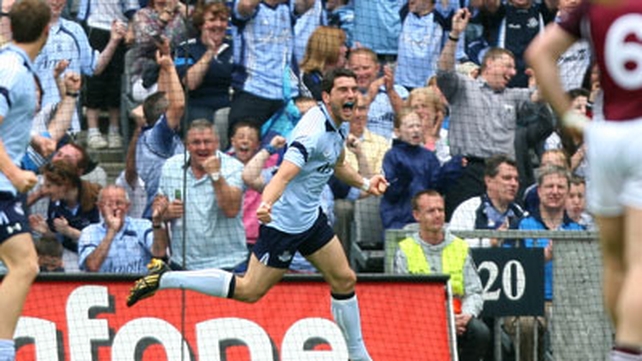 <notforsyndication>Watch live coverage of the 2010 GAA All-Stars sponsored by Vodafone live from the CityWest Hotel on RTÉ One and RTÉ.ie (worldwide) on Friday, 15 October from 7.00pm</notforsyndication>
The 2010 Vodafone GAA football All Stars have been announced with All-Ireland finalists Cork and Down each having four players on the team.
The Rebels have three players in defence and one at midfield after corner-back Michael Shields, half backs Paudie Kissane and Graham Canty and midfielder Aidan Walsh were selected. Cork's return is one less than last year when they claimed five All Stars, despite losing the All-Ireland final to Kerry.
Down received due recognition for their march to the decider last month as goalkeeper Brendan McVeigh, half-forwards Martin Clarke and Daniel Hughes and corner forward Benny Coulter all claimed their first awards and the county's first since 1994.
Kildare have two in the XV, with Peter Kelly and Johnny Doyle impressing the selectors.
There will be some satisfaction in Sligo and Louth with All Stars going to Charlie Harrison and Paddy Keenan respectively. Keenan's inclusion is a first for the Wee county.
Not surprisingly, Bernard Brogan makes this year's elite list and is named at full forward.
Brogan is also in the running for the Footballer of the Year Award – along with Michael Shields and Daniel Hughes - the winner of which will be announced at the All Stars banquet in the CityWest Hotel on Friday.
Colm Cooper picks up his fifth award, while this year's team is completed by Philip Jordan of Tyrone.
Team in full:
1 Brendan McVeigh - Down
2 Peter Kelly - Kildare
3 Michael Shields - Cork
4 Charlie Harrison - Sligo
5 Paidi Kiissane - Cork
6 Graham Canty - Cork
7 Philip Jordan - Tyrone
8 Paddy Keenan - Louth
9 Aidan Walsh - Cork
10 Daniel Hughes - Down
11 Martin Clarke - Down
12 Johnny Doyle - Kildare
13 Colm Cooper - Kerry
14. Bernard Brogan - Dublin
15. Benny Coulter - Down