As it Happened - Cork 0-16 Down 0-15
Updated: Sunday, 19 Sep 2010 17:28
Watch The Sunday Game live from 12:30pm (Ireland only)
Listen to live coverage of all the day's action on RTÉ Radio One and RTÉ Raidió na Gaeltachta. (Worldwide)
By Rory Houston - sportonline@rte.ie.
1726 Congratulations to Cork on a deserved victory. They shone brighter in a thrilling second half.
Down also had a great 2010 and can take great pride with their effort today.
Thanks for reading today and throughout the Championship. See you all again soon.
1723 Thanks so much for your e-mails today and tributes to Micheál O Muircheartaigh.
Well done to Cork, don't forget a special edition of The Sunday Game tonight from 9:30pm.
1721 We have a report on the game here. A gallery on the two finals will appear on the site shortly.
1718 Cork are doing a lap of honour in the heavy Croke Park rain. It's a great day for the Rebels, this team deserves it.
1714 The Cork players are showing much it means to them, after so many years of hurt. Canty, Kissane and O'Connor are painting emotional figures.
1711 'Mícheál Ó Muircheartaigh - without equal and unique; incomparable... You will be missed. Enjoy your new era.'
Sue Targett, Kilfenora, Co. Clare
1708 GAA President Christy Cooney presents the Sam Maguire trophy to Graham Canty.
1707 The presentation will take place shortly.
1706 Great scenes now as the Cork and Down players shake hands and congratulate each other on a brilliantly-contested final.
1704 Conor Counihan addresses the Croke Park crowd, declaring it 'a great day to be a Rebel'.
1703 Cork have done it, they are champions!
Result - Cork 0-16 Down 0-15
CORK HAVE WON THE ALL-IRELAND FOOTBALL TITLE
70 + 2 min Cork have a free near the Down goal, they'll keep the ball and are seconds away from the All-Ireland title!
70 + 1 min Cork are hanging on with 20 seconds to go.
70 + 1 min It's a one point game as Danny Hughes palms it over from a line ball by Clarke. We have 45 seconds to go! Down 0-15 Cork 0-16
70 min We begin two minutes of added time.
69 min Just when they needed him. Benny Coulter leaps for the ball and almost shoots before he even returns to the ground. It's a point for Down, we're in the final 60 seconds. Down 0-14 Cork 0-16
68 min Colm O'Neill's shot is blocked by the goalkeeper. A Down defender looks to touch the ball on the ground with his hand inside the square just before it goes out of play but the referee does not award a penalty.
Goulding scores from the 45. A MOTM contender for sure. Down 0-13 Cork 0-16
67 min Ronan Murtagh, on as a sub a short time ago, gets Down back to within two points.
66 min That's an amazing score for the situation we are in. Donncha O'Connor shoots from what can only be described as an impossible angle and it goes between the posts. Down 0-12 Cork 0-15
65 min We're in the final five minutes and it is getting a bit scrappy.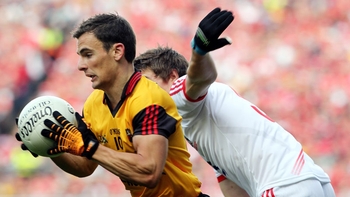 64 min Quirke kicks the ball out, Cork win it once again but they waste their chance and givie it straight back to Down.
62 min Peter Fitzpatrick gets Down back into with a decent score. Down had men forward and now they have to go for this now. Big decision for Conor Counihan, how does he counteract this now in the next seven or so minutes? Down 0-12 Cork 0-14
59 min It shows how desperate Down are. Peter Fitzpatrick shoots from a tough angle and at distance to say the least. The ball goes wide, with the Cork fans in fine voice now. They have been here before and now there is still a long way to go yet.
58 min Goulding is on fire from the placed balls. He sends another free over the bar. Down 0-11 Cork 0-14
57 min Goulding's 45 puts Cork ahead by two points. Down just can't win the ball. They are stuck inside their own half and need a Canty style sub. They don't have that much quality on their bench. There is still 12 minutes to go as I type this but the momentum is with the Rebels. Down 0-11 Cork 0-13
55 min Cork go into the lead for the first time since the second minute. Kerrigan does well to beat a couple of Down defenders and sends a shanp shot over the bar. Down 0-11 Cork 0-12
53 min Cork have really increased the tempo as O'Connor is pulled back by Dan Gordon. The Down defender had little choice there. O'Connor scores the free to bring it level once again. Someone in our office just said 'replay in two weeks time if needed.' Down 0-11 Cork 0-11
No.
52 min Kevin McKernan knew he had to score there. A composed finish from the Down man from 30 metres, with the Mourne men going back into the lead. Down 0-11 Cork 0-10
1640 'Keep the updates as biased as possible, I've got money on Cork.' - Helicopter O'Hara.
51 min Sheehan brings Cork level with a great score from the right side of the field.
50 min Cork do well to first win the ball off McComiskey and then Coulter is stopped by a combination of four Rebels defenders.
49 min Down are wavering, with Martin Clarke giving the ball away poorly. Croke Park is getting louder and a whole lot more fired up.
48 min Here come Cork. Goulding wins the ball, shrugs off his man and taps the ball over to make it a one-point game. Down 0-10 Cork 0-09
46 min Players are starting to find some form with Donncha O'Connor scoring his third of the day with a very accurate and powerful shot from the centre of the field, 30 metres out. Canty, without being majorly tested is helping Cork. Down 0-10 Cork 0-08
44 min What a way to score your first point of the day. Mark Poland with a brilliant strike from the left. He didn't have much room to manouver but Poland found the gap much to the delight of the Down fans. Down 0-10 Cork 0-07
43 min No doubt about that one. An easy free for Goulding and he gestures to his team-mates that they are on the up and they have to take advantage. Down 0-09 Cork 0-07
41 min Very soft free-kick won by Cork with Kerrigan slipping more than being fouled by two Down defenders. Peter Fitzpatrick is booked for dissent, Goulding will take the free.
40 min Kissane aimlessly shoots behind but the Cork fans are in fine voice as Graham Canty comes onto the pitch. Kissane makes way. A gamble? A Henry Shefflin type gamble? Yes, but they need a lift here.
39 min Sheehan is fouled as he jumps with Brendan McVeigh for a high ball. Goulding will take a formality of a free-kick, we're back to a three point game. Down 0-09 Cork 0-06
38 min This time he didn't pass up the chance. McComiskey gets ahead of his defender, turns back and converts for a point. Down 0-09 Cork 0-05
37 min Paul McComiskey strikes the post with an effort for a point after a pass by John Clarke. Unlucky for the Down forward. The first couple of scores in this half will be huge.
37 min Peter Fitzpatrick was winded by Murphy from the first attack of the half. He needs a moment to recover.
36 min We're underway, Cork win the ball but it goes out of play. Alan O'Connor was the man taken off by Cork.
1624 All-Ireland final attendance - 81,604
1623 'Listening to Micheal in Congo. He's performing brilliantly now we need Cork to start doing likewise.'
Thanks - Karen and Dan Duggan
1622 Nicolas Murphy is coming on for Cork.
1621 Cork are on the field now. We await the Down players.
1619 Thanks for your message folks. Great to read as always.
1617 'Listening to game live here in Bermuda as Hurricane Igor approaches.
'Already had power trip once during first half so hopefully will have power to hear the 'Rebels' win today.
'Best of luck to Michael who I meet in person up in Carndonagh, Co.Donegal a few years ago.
'Hopefully we can use the force of Hurricane Igor to help the Rebels win today!'
Denis Rowe - Bermuda

1615 'I'm in a chicken shop in the southern Peruvian city of Arequipa listening to the great man's last all Ireland commentary. I'm very privileged. The very best of luck in everything he does in future.'

John Enright (from Limerick)

1614 'Thank you RTE.ie and Micheal for the great commentary.
'We are listening from Phi Phi island off the south coast of Thailand where we are on honeymoon but have nowhere to watch so are very grateful for the commentary.
'Best wishes to Micheal on his retirement.'
Niall & Louise O'Riordan, Watergrasshill, Co. Cork

1613 'Good luck to a great commentator. The old games will not be the same when you are gone. Can't hear it today as I am in a studio getting ready to commentate on Hercules and Valencia what a gig for a lad from Knockbridge in Louth.'
Tommy Smyth ESPN

1612 'Wonderful to hear your voice Micheal all the way over here in Medjugorje. 100 of us gathered around the radio.'
Joe Walsh
1611 'Myself (Miriam Nyhan) and my fiance, Eon Grey, are anxiously listening to your wonderful commentary from Brooklyn, New York and send warm wishes home. Come on Cork!'
Le meas - Miriam
1610 'I think it will be a draw, 2-11 each'. Ronan in Roscommon.

1608 'Listening in to Michael during our honeymoon amidst a spectacular thunder and lightening storm in Langkawi, Malaysia.'
Donal & Gillian, Dublin.

1606 Goulding's 45 drops short and the referee blows for half-time. Down will be happier but they should be ahead by more.
Half-time - Down 0-08 Cork 0-05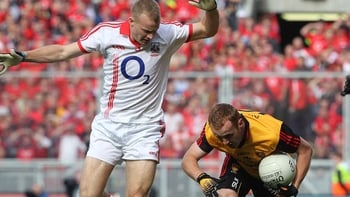 35 min Kerrigan surprise the Down goalkeeper with a snap shot from near the endline. The goalkeeper palms the ball out for a 45. We're in stoppage time now and if this is scored, then Cork can consider themselves extremely fortunate.
34 min Donncha O'Connor turns sharply after a quick Cork free kick and he shoots over. Down 0-08 Cork 0-05
33 min Coulter cliaims a high ball just outside the square and is fouled. Clarke will score with ease from the free. Down 0-08 Cork 0-04
31 min Daniel Goulding sends a shot over the bar with all the confidence in the world a nicely worked Cork move. Down's lead is now only three points when it should be significantly more. That is Cork's first score from play. Down 0-07 Cork 0-04
29 min Donncha O'Connor curls a free just inside the post. They needed that, badly. It was close too but the umpires judge it a point. Down 0-07 Cork 0-03
27 min John Clarke's shot is deflected wide of goal. Benny Coulter has picked up a minor knock but he is OK to continue. Martin Clarke curls the 45 wide of the post. A bit surprising. Cork have not scored for 16 minutes.
26 min Daniel Hughes has the freedom of the right wing and doesn't know what to do with the ball as he runs on towards the Cork goal. Eventually he decides to fist it over the crossbar, it bounces off the woodwork and over. Down 0-07 Cork 0-02
25 min Cork are not performing. Miskalla snatches another shot wide. Down could be looking at a healthy half-time lead if they keep this up.
23 min Kerrigan is booked for a foul close to the Down square.
1553 'Hope Down win - they have played the best football in the championship.

'Listening to the game from the shores of Lake Titicaca in Peru!
Eoin Waldron.
21 min Kerrigan sends a shot wide with Conor Counihan looking on with a worried expression written all over his face. Sheehan is now right-half forward, with Kerrian gone left. They needed to change something.
20 min Brendan McVeigh's clearance is poor, Cork pick up the ball and begin to pass it around.
Paudie Kissane comes under fierce pressure and Down win it back.
Hughes feeds Poland, who in turn gives to Clarke to run on to.
Clarke's ball is won by Cork's Ray Carey, with the Cork defender winning a free. Frantic.
18 min They are scoring freely and Cork have no answer. McComiskey gets free from the Cork defence and shoots over. These chances are not difficult, Cork are not closing Down the Mourne forwards. Down 0-06 Cork 0-02
17 min Miskalla bursts forward but he looks very indecisive as he advances through the field. His shot comes up short, poor play by the Rebels.
16 min Fitzpatrick is the latest player to shoot wide.
1546 'Great to listen to Michael and follow the match with RTE here in Kabul. Enough problems here but today there are only one Rebels who matter!' - Edward Burke
15 min Eoin Cadogan under pressure when close enough to his own square gives away a free. Clarke will step up to take this once again and this is an even easier free.
Clarke converts the free. They've settled well after a shaky opening couple of minutes. Down 0-05 Cork 0-02
14 min This is proving to be a good opening for Down with John Clarke doing well hold the ball up and then sending a high shot between the posts. Cork yet to score from play. Down 0-04 Cork 0-02
13 min Martin Clarke takes advantage of a free kick that is moved forward because Cork did not retreat in time. Clarke is a sensational placed ball kicker and he shows it again with this effort. Down 0-03 Cork 0-02
12 min Goulding knocks the ball over. Croke Park is a bit quiet for what it should be, nerves all over the stadium. Down 0-02 Cork 0-02
11 min Kerrigan is fouled so Goulding will shoot from 25 metres to draw Cork level.
11 min Kerrigan's woeful effort doesn't trouble the Down goal. This start tells us many things. Both teams have scores in them but we could have a very high wide count.
10 min Poor shooting by Daniel Hughes as with time he sizes up a shot and knocks it just wide. That was a fine opportunity with other forwards well-placed.
8 min McComiskey could play in Coulter but he doesn't see the goal chance that is on for the Down star. McComiskey instead takes his point, which isn't the worst thing really as Down now lead. Down 0-02 Cork 0-01
7 min Coulter and Clarke record consecutive wides for the Mourne men. Both teams will be happy enough with this start. They are both enjoying a bit of the ball.
6 min Sheehan is continually getting the better of the Down defence. He is running through the Down half but as he approaches the Down goal he loses the ball. Bouncing the ball on this wet surface is not a good idea it seems.
5 min That will settle James McCartan's men. A patient build-up allows Daniel Hughes a shot on goal and he sends the ball over from inside the 45 metre line. Cork 0-01 Down 0-01
1534 Thank god for RTÉ online - Mona and John Boylan can listen into the match from farflung Western Australia while enjoying the wines of the region!
3 min Finally Down get out of their own half with Benny Coulter shooting wide with their first shot on goal.
2 min Pa O'Neill wins a free in front of the posts with Daniel Goulding converting the free. It could be 1-02 to 0-00 inside two minutes. Cork 0-01 Down 0-00
2 min What a miss, what a save and what a start to this All-Ireland final.
Ciaran Sheehan is through on goal after a well-worked move by Cork.
Sheehan's shot is saved by Brendan McVeigh and then Daniel McCartan blocks the second effort on the line.
Down somehow survive but Cork are breaching them with ease.
1 min With 15 second gone, Alan O'Connor snatches a shot wide with acres of room from 25 metres out. A poor miss and a frantic start.
1528 A rousing rendition of the national anthem concludes, refeeree David Coldrick is about to throw the ball in.
1527 Cork will have a light breeze behind them for the first half. They'll be shooting towards Hill 16.
1524 The rain has cleared with the two teams behind the marching band for the parad. Great colour from the Down support, hopefully both teams perform today and we have a great game.
1523 Barring unforseen events, Joe Brolly can only see a Cork win today.
1522 President Mary McAleese is greeting the players. It looks like we'll start on time anyway.
1520 Canty has put his gum shield in. Hmmm.....
1518 'Thanks for many wonderful years of broadcasting. The match reports will never be the same.
'Whatever you do in the future may you enjoy it as much as we have enjoyed your commentaries. Again,very best wishes.'

Philip Naessens

1517 Down, in yellow, and Cork, in white, are on the pitch and going through a warm-up.
Down engage in a huddle, they look fired up for it with Cork showing a bit more focus.
We'll see if that is true or not in just over 10 minutes!
1515 I hope Cork lift Sam today so that the team can bring the cup to my school in Osaka, Japan so that we can have a half day.
'Corcaigh abu.
'JJ - in Kyoto, ex Douglas Minor C, stilll awaiting my medals.'
1513 A lot of focus on 22-year-old Martin Clarke today. He has done so much for Down in this year's Championship and they need another peformance from his today.
1510 The rain is getting heavier in Croker. Miskella is in for Canty, Down are unchanged.
1504 It does feel like all the pressure is on Cork today yet everyone is pointing to their experience today. I'm really looking forward to just seeing the first 10 minutes, it will tell us so much.
1501 'I am and Armagh man supporting Cork in a small town called Nambour on the East coast of Australia... Not a pub near me is open to be able to watch the game!

'Thank God for RTE online commentary!'

Bernard, from Killeavy, Armagh

1456 Cork: Alan Quirke, Eoin Cadogan, Michael Shields, Ray Carey, Noel O'Leary, John Miskella, Paudie Kissane, Alan O'Connor, Aidan Walsh, Ciaran Shehan, Pearse O'Neill, Patrick Kelly, Daniel Goulding, Donncha O'Connor, Paul Kerrigan
1454 Down: Brendan McVeigh; Daniel McCartan, Dan Gordon, Damian Rafferty; Declan Rooney, Kevin McKernan, Conor Garvey; Peter Fitzpatrick, Kalum King; Daniel Hughes, Mark Poland, Paul McComiskey; Benny Coulter, John Clarke, Martin Clarke.

1453 'I came home specifically from Moscow city so that I could listen to the game on RTE radio, online of course.
'The first time I met Micheal I was going up to collect his son Cormac for a game (I was a St. Brigids player from Blanchardstown), his voice and commentary has made home feel a little closer in the last 14 plus years that I've been living outside of Ireland.

'I'm listening with my little boy so that he can say in the future that he remembered this day in history, when the voice of the GAA did his last All-Ireland.

'I'm neutral on the result as a Dub and just hope that there won't be another Louth mishap.

'Greetings from Moscow as the sun begins to lower in the sky! I know my family will be listening and watching at home and will see them in the middle of next month!'

Alan Moore
(ex-St. Brigids GAC Blanchardstown, Dublin and Naomh Moninne HC, Dundalk, Louth).
1449 The bookmakers make Cork 4/7 favourites, with Down 15/8 and a draw 8/1.
1446 It's getting exciting now.
'If Cork are allowed to express themselves today, they will win it.'
Pat Spillane's view ahead of this game.
1441 Graham Canty will definitely not start for Cork. Throw is at 3:30pm folks.
1433 Great celebrations for the Tyrone minors, they were excellent at stages today and I think it is fair to say they earned their victory.
1432 The Cork players are heartbroken, they'll leave plenty of regrets in Croker today.
1431 A brave fightback by Cork proves in vain, Tyrone have taken the Minor title by the narrowest of margins.
Result - Tyrone 1-13 Cork 1-12
TYRONE ARE ALL-IRELAND MINOR CHAMPIONS
1430 Dan McEoin points, this has to be the last period of the play.
1429 We're in the final minute of added time, Cork are on the attack.
1427 Tyrone worked so hard to get that ball forward with so many Cork players battling for the ball.
Jamie Burns is through on goal after a great passing sequence, he goes for goal with just a minute remaining but the goalkeeper prevents it from finding the net.
The rebound comes to Ronan O'Neill who point. We're in stoppage time now so Cork need a goal realistically.
1425 Amazing, O'Rourke claims the loose ball and sends it over the bar. O'Rourke shows plenty of emotion as that ball goes over the bar. Two minutes remaining and there is a point i n it. Tyrone 1-12 Cork 1-11
1424 Dan MacEoin turns and scores once again. The Cork crowd are right behind their Minor side now.
1423 Four minutes left and Cork are back ot within three points.
1422 Hallisey gets Cork right back in it with a fine goal after a quick pass by Hurley. A fine goal, with the ball finding the bottom corner of the net from Hallisey shot.
1420 Cork get a chance to claw a point back as Tyrone handle on the ground after a player slips on the wet surface. We'll be watching out for that in the final. Cork aim the free towards the square and eventually Dan MacEoin points. Tyrone 1-12 Cork 0-08
1417 Two wides in-a-row for Cork, with each miss it seems as if their chances are fading. Just 10 minutes left in this final now, with Croker filling up nicely now.
1415 Grugan hits another point for the Red Hand, this is their title to lose now.
1413 He is a contender for man of the match based on his shooting alone today.
John McCullagh adds to Tyrone's lead after pulling away from his man.
Wth 15 minutes left Cork will be thinking it's a goal they need quite soon.
1411 That's a magnificent score with the left foot by Jamie Burns. A difficult angle, but he just sneaks it inside the far post.
1409 Ronan O'Neill works a chance for Ryan Devlin with a brilliant fisted pass. Devlin just can't get ahead of the Cork defender so he turns back and kicks over for a point.
1407 Hurley misses an easy free but the signs are better for Cork. Tyrone have struggled in the last few minutes.
1406 Cork get themsevles into a fantastic position with goal chance for O'Rourke or a colleague if he chooses to pass, but he slips at the crucial time before he can do anything.
1404 John O'Rourke links up with Damien Cahalane, with O'Rourke converting the point.
1402 Dan MacEoin, under pressure, produces a superb score to get the Rebels first point of the second half.
1401 Cork need to start taking their chances with Conor Sullivan shooting wide from in front of the posts 25 metres out.
Wide County - Cork 6-1 Tyrone.
1359 John McCullagh (fisted effort when running in on goal from the right side of the field in front of Hill 16) and Ronan O'Neill (free from 35 metres or so) give Tyrone the perfect start to the second half.
1357 The referee is just about to get the second half underway.
1355 Colm O'Rourke and Pat Spillane are discussing the tough conditions in Croker today. The pitch is very slippy with all the rain in Dublin this morning.
1346 Half-time in Minor final in Croke Park. Cork did well to get themselves back in this game after a disasterous start. Tyrone will still be confident of seeing it out.
1344 Michael Donaghy ends a 10-minute scoresless spell for Tyrone as we approach added time in the first half.
1343 That was a big goal chance for the Rebels as the ball drops to Hurley, his shot is blocked and Hallisey fires over the bar with just the goalkeeper to beat. Only three points in it now.
1342 Hurley's free from hands about 40 metres from goal goes right between the posts for Cork.
1340 'Heading to Fado in Atlanta to watch Down win the game with my two sons Conor and Brendan, and my wife Kathleen. It's her birthday, so no better present that seeing Down go 6 for 6. Tyrone for the minor title too.'
Derek
1339 Brian Hurley's free just stays on target. Cork finding some form but Tyrone still looking dangerous. Tyrone 1-05 Cork 0-03
1338 'Why does the latest score say TYRONE 0-02 Cork 0-00? Shouldn't it be DOWN 0-02 Cork 0-00?'
Alan Hoey
Hi Alan. This is the Minor final between Tyrone and Cork.
1336 Cork finally get up and running from a free, but with eight minutes left in the half they need a few more.
1334 Cork are in big trouble now. This is becoming a rout as Og Conlon finds the net for Tyrone at the second attempt in front of goal.
1333 Thomas Canavan's free goes between the posts.
1332 Cathal Grugan extends Tyrone's lead to four points.
1330 Bad miss by Conor O'Sullivan as he shoots wide from about 25 metres out.
1327 Very good score by John McCullagh. His lofting shoot from the left side of the field about 30 metres out just creeps inside the far post. Cork yet to get on the scoreboard and we're nearly halfway through the first period.
1326 Ronan O'Neill's point effort drops short. Tyrone are definitely the stronger of the sides so far. It is an interesting encounter.
1324 Cork have done OK so far, without posing any significant threat in attack. There are 10 minutes on the clock.
1322 'Cork will today make up for all the recent heartbreaking defeats in Croke Park and take Sam Maguire Leeside.
'Let's hope it's a great game. Happy Retirement Micheal O Muirchertaigh.'
Brendan in Singopore.
1322 'Rebel Exile in Iraq hoping we can do it today.'
Ryan Dumigan

1321 John McCullagh adds another point for the Red Hand, they've made a good start here.
1318 First score of the day goes to Tyrone from from Niall Sludeen. Four minutes gone.
1314 We're about to get underway in the Minor match in a rainy Croke Park.
1254 'Greetings from Dubai ! Here is to a great football game and it is with real sadness that the greatest commentator of a generation is retiring...may he live many more healthy years....come on Cork !'

1247 Down don't have a hope today.
1243 After a long and enjoyable year of tracking matches, today I have to offer an apology to Tipperary.
On All-Ireland hurling semi-final day I said the winner of the Tipp v Waterford game would be defeated in the final.
There were one or two complaints from Tipperary fans and I said I'd apologise if proved wrong.

Sorry lads.
1239 'Being a Rebel 'til the day I die, I hope Cork will win - 20 years is a long wait.
'It is time for the Sam Maguire to return 'home' to County Cork!
'Micheal O Muirchertaigh - beannacht De ort agus go raibh mile maith agat.
'Beidh me ag eist leat inniu.
'Go n'eiri an bothar leat.'
Imelda Ni Shiochain [i San Franscisco]

1236 Pat Spillane is tipping Cork to do the business today.
1233 Much discussion from the panellists about whether Graham Canty will start.
1221 The Sunday Game begins at 12:30pm for our users in Ireland.
Remember there will be text commentary on the minor game here from 1:15pm.
1212 Wood carver John McCauley's prediction for the final.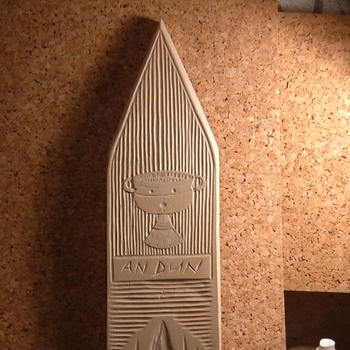 1207 It really does make you realise this is a global event.
1206 'Good luck to County Down in the All-Ireland Final today from the biggest Down supporters in Perth, Australia watching the game in the Irish Club in Perth.

'All the best....

'The gang from Liatroim, Atticall, Castlewellan, Kilcoo and the two new supporters from Donegal.'
1203 'Gathered around the radio in the (Roscommon) kitchen listening enraptured to Micheal O'Hehir in 1960, one wondered then if there could ever be as good in the future.
'Listening to Micheal O Muirchertaigh in Shanghai via internet this evening, and for many years in many places outside of Ireland for the past three decades, there is no doubt that we have been doubly blessed.
'Go raibh mile maith agat agus guim slainte agus luchair ort sna blianta le teacht.'
M. Donnellan

1201 'Hello to my little sister, Suzie "Spin" Blake, supporting Cork in Shanghai China!'

Blake

1200 We'll have a few message like that today and they are more than welcome for the great man. It will be an emotional day for many of the listeners today.
1156 'To wish Michael a heathy and happy retirement.
'It is with great sadness I heard his announcement.
'Hopefully it will give space for his family to benefit from the phenomenon that he is.
'Thank you' - Marie Kinsella

1155 Seamus actually got a few predictions right in recent week so it could bode well for Down today.
1150 Less than four hours to go now until throw-in, while the Minor match will be underway at 1:15pm. I wonder if Cork can do the double or will the Rebels be empty handed leaving Dublin this afternoon?
Our esteemed colleague and GAA sage Seamus Leonard is predicting a Down victory. Read his preview here to see if you agree.
1100 Good morning. Well it's the third Sunday in September, so that can only mean one thing for all you sports fans. Yes it's All-Ireland football final day as Cork and Down battle it out for the title.
Well it looks like it might be a messy affair at Croker this afternoon as the rain has been lamping down all night and the dark clouds are still hanging around the north Dublin venue. So don't forget the raincoats and maybe throw an extra layer of cling film over those chicken and stuffing sandwiches before you set off this morning.