Cooney - Leinster final a watershed for GAA
Updated: Friday, 16 Jul 2010 20:24
GAA President Christy Cooney has said that the controversial Louth v Meath Leinster Senior Football Championship final was a watershed for the Association.
Meath won the match in controversial circumstances when they were awarded a late goal by referee Martin Sludden. Replays clearly showed that Joe Sheridan had thrown the ball over the line to win Meath their 21st Delaney Cup.
That sparked a pitch invasion in which Sludden was jostled by angry Louth supporters.
Speaking to RTÉ Sport's Marty Morrissey, Cooney agreed that the match was a watershed for supporters in particular and said he hoped presentations would take place in the middle of the pitch at Croke Park in future.
The GAA made an effort to have the Cup and medal presentations in the centre of the pitch at Headquarters at the end of last year's All-Ireland finals but the new system did not work and supporters filled the field after both the hurling and football finals.
Both presentations took place in the Hogan Stand.
Cooney believes the events after the final whistle prove the case in favour of keeping people off the pitch after games.
He said: 'It has reinforced to everybody that we need to ensure that patrons stay off our pitch at the end of matches, that we need to do our presentations and that we need to give our players and officials the opportunity to leave the pitch with dignity and to celebrate with dignity.'
He did not rule out the possibility of having fencing around Croke Park.
Louth players commended for defending referee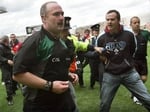 Cooney also commended the Louth players for their actions after the match: several players defended the referee as supporters ran on to the pitch.
Speaking about he Louth supporters who jostled Sludden, Cooney added the matter was currently one for the Gardaí. However, he added that the GAA and the Leinster Council could yet ban people who took part in assaults on the referee.
Cooney also defended the GAA against accusations that it did not provide enough support to the Leinster Council or the counties involved during the controversy.
Officials from Louth and Meath have both accused to Association of failing to enough provide guidance and ultimately, Meath were left to decide on whether or not to give Louth a re-fixture themselves.
Cooney said: 'I believe we have acted very responsibly since the event took place last Sunday. I believe we gave appropriate advice to the Leinster council.
'We gave appropriate advice to both Meath and Louth on how to deal with the matter and I was quite surprised to hear and to read some of the comments that came from both counties. Both counties are well aware of our views on that. I don't believe there was any lack of support.'
'Croke Park weren't in a position to make any decision on this. All we could do was offer support and advice. The match was under jurisdiction of the Leinster council.'
After the match, the subject of whether the match should be replayed was hotly debated. Meath opted not to offer a replay, citing the fact that Sludden said in his report that he would have given Meath a penalty had a goal not been scored.
Cooney - 'would like to have seen replay'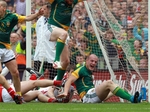 Cooney said he would like to have seen the Leinster Final played again.
Cooney said: 'It would be fair to say that we would have all like to have seen a replay.'
He added: 'Meath decided otherwise. Within rule there was no other avenue for us to go; no other avenue for the Leinster council to take. I can't tear up a rulebook and make any decision that I want as President. That's not possible.'
Cooney is determined that the Association will not react in a kneejerk manner to the controversy and that time will be allowed to pass before any decisions are taken.
He continued: 'Last Sunday's circumstances were bizarre. I have never seen circumstances like it as long as I have been a member of this Association. Will I ever see them again as long as I live? Maybe not in my lifetime.
'Do we need to make massive changes? Do we need to throw out our rulebook? Do we need a rush of blood and change things immediately? Of course not.
'We need to give it some thought, and we need to do what's right. We need to take time to consider it.'