As It Happened - Sunday's GAA Matches
Updated: Sunday, 11 Jul 2010 18:55
By Rory Houston - sportonline@rte.ie
Result - Meath 1-12 Louth 1-10
Result - Cork 2-15 Waterford 2-15
Result - Fermanagh 0-07 Armagh 0-11
1855 So Dublin's match with Armagh is the standout tie of the round. Thanks for staying with us today, it certainly have been a dramatic day in the Championship. See you all again next week.
1849 Dublin v Armagh
Wexford v Cork
Derry v Kildare
Offaly v Down.
1848 The draw is underway.
1840 Just to confirm the teams involved are:
Wexford, Cork, Offaly, Derry, Dublin, Kildare, Down and Armagh.
1835 The draw will begin in 10 minutes time. This will be one of the days we look back on in the 2010 Championship, it has been memorable for many reasons. I wonder if the qualifer pairings will round it off.
1810 Stay here to watch the draw for the Football qualifiers.
1745 Just to remind you the draw for the Football qualifiers will take place in one hours time.
1740 Phew. Another dramatic finish as Waterford rescue a replay when on the verge of losing the Munster final.
1739 Armagh are through to the third round of the qualifiers.
1736 Full-time and there will be a replay of this Munster final.
Result - Cork 2-15 Waterford 2-15
1735 Cussane had a chance to win it at the end but his effort came up short. Cork 2-15 Waterford 2-15
1733 Goal for Waterford! The free is saved but it comes to Tony Browne who finds a gap to send the ball into the middle of the goal. Cork 2-15 Waterford 2-15
1732 Cork give away a free in front of goal, can Eoin Kelly draw them level?
Result - Fermanagh 0-07 Armagh 0-11
1731 Ben O'Connor sends the ball over the bar with ease. Cork 2-15 Waterford 1-15
1730 Cork try to run down the clock and then win a free on the 45 line. This should be the clinching score.
1728 Waterford win a 65 while Kelly converts. There will be four minutes of added time. We're beginning them in 30 seconds. Cork 2-14 Waterford 1-15
1727 Two minutes left in each game and you have to say Waterford and Fermanagh need goals.
1726 Cork put a goal between the teams while Darren Swift may well have put Armagh in the next round with a point in Enniskillen.
Cork 2-14 Waterford 1-14 * Fermanagh 0-07 Armagh 0-11
1725 Five minutes left in Brewster Park and everytime Fermanagh cut the gap to two, Armagh go up the field and score. Fermanagh 0-07 Armagh 0-10
1724 Donal Og manages to clear the ball with Dan the Man Shanahan looking dangerous.
1721 Brian Murphy doubles Cork's with seven minutes to go. Cork 2-13 Waterford 1-14
1720 Ten minutes left in both matches, Semple Stadium has erupted after the three quick goals. Cork lead by a point but this is anyone's game.
1718 Goal for Waterford! That is how you take charge of a game. Kelly beats O'Neill to the ball, shrugs off his challenge and the finish is magnificnet. It left Donal Og with no chance. Cork 2-12 Waterford 1-14
1717 Eoin Kelly adds a point for Waterford from a free than Cusack cannot stop from going over. Cork 2-12 Waterford 0-14
1716 Time running out for Fermanagh, they now trail 0-09 to 0-06 against the Orchard County. Fermanagh 0-06 Armagh 0-09
1714 Goal for Cork! Ben O'Connor finds room on the right, Waterford can't get close enough to put in a challenge and he makes it two goals in quick succession for the Rebels. Cork 2-12 Waterford 0-13
1712 Goal for Cork! Aisike OhAilpin. He receives an offload from Ben O'Connor and when a Waterford defender puts in a challenge the Rebel forward brushes him off and fires the ball into the roof of the net. Cork 1-12 Waterford 0-13
1711 It is still scrappy in Brewster Park and two points is the difference between the teams with about 18 minutes to go.
1710 Cork are level, substitute Eoin Cadogan with a well-taken score. Cork 0-12 Waterford 0-12
1708 Aisike receives a long punt forward, claiming it well. He is taken down by a Waterford defender and O'Connor scores from the free. Cork 0-11 Waterford 0-12
1707 Waterford restore their two point lead as John Mullane's effort just creeps inside the post. Cork 0-10 Waterford 0-12
1706 Naughton could draw Cork level but his shot goes wide.
1705 John Gardiner is playing very well in this game, he scores two points in succession. The first was from play from just inside his own half, the second was a free from a similar distance.
1702 Armagh have missed a penalty at the start of the second half. They remain two points ahead thanks to Jamie Clarke's point. Fermanagh 0-05 Armagh 0-07
1700 Ben O'Connor, who's free-taking has been a bit suspect so far, fires over from 20 metres. Cork 0-08 Waterford 0-11
1659 Kevin Moran shows superb skill to keep the ball and launch a superb strike between the posts. Cork 0-07 Waterford 0-11
1658 Tom Kenny gets on the scoresheet, that should settle Cork. Cork 0-07 Waterford 0-10
1657 Eoin Kelly's fifth point of the game makes it a four point game.
1656 Shane Walsh is brought down and Eoin Kelly converts the free. Great start for the Deise. Cork 0-06 Waterford 0-09
1655 Mullane takes 16 seconds to score the first point of the seco nd half. Cork 0-06 Waterford 0-08
1653 The second period are about to get underway. Waterford will be a bit unhappy that they are not further in front but then Ben O'Connor was guilty of plenty of misses. Here we go...
1637 Half-time in Semple Stadium, Waterford lead in an encounter dominated by the defences. Cork have yet to get going and both teams will look to build on their defensive showings.
1636 Stephen McDonnell makes its 0-06 to 0-04 to Armagh on the half-time whistle in Enniskillen.
1635 John Gardiner takes over free-taking duties and scores from 65 metres. Cork 0-06 Waterford 0-07
1633 Great save by the Waterford keeper but Ben O'Connor has been quite disaappointing with frees.
1630 End-to-end now with Donal Og saving well from Mullane. Kelly then scores his third free of the game. Cork 0-05 Waterford 0-07
1628 Eoin Kelly puts Waterford back in front with a free from 35 metres. Cork 0-05 Waterford 0-06
1627 Score of the game from Seamus Quigley and Fermanagh needed that. Fermanagh 0-02 Armagh 0-03
1626 Sean Og O hAilpin scores his first point of the game to end a nine-minute scoring drought. Cork 0-05 Waterford 0-05
1625 Kenny's goal effort is blocked by the Waterford goalkeeper.
1624 Armagh have moved into a two-point lead in the football qualifier.
1621 Cork and Ben O'Connor registers another wide. Cork yet to get going fully here.
1617 Waterford go ahead through Eoin Kelly from a free. Cork 0-04 Waterford 0-05
1615 Point for Stephen McDonnell to put Armagh ahead. Fermanagh 0-01 Armagh 0-02
1614 Ben O'Connor sends the ball over the bar to make it 0-04 each.
1613 Darryl Keenan and Ryan Carson miss two great goal chances for Fermanagh.
1611 Cork get a point back, 12 minutes in. Cork 0-03 Waterford 0-04
1610 John Mullane with another excellent effort from distance, Waterford will be pleased with this start. Cork 0-02 Waterford 0-04
1609 Shane Walsh superbly cuts the ball in from the touchline and over the bar. Cork 0-02 Waterford 0-03
1608 John Mullane brings things level with a point from 35 metres. Cork 0-02 Waterford 0-03
1607 Jamie Clarke makes it 0-01 each in Enniskillen.
1604 Two quick scores from Cathal Naughton put Cork ahead, two excellent strikes. The second was from 60 metres or so. Cork 0-02 Waterford 0-01
1602 Great score by Shane O'Sullivan for Waterford, they lead. Cork 0-00 Waterford 0-01
1600 We're under way in Semple Stadium.
1559 Robert Doyle, someone had to say it.
'I've been to more rugby matches in Croker than football matches but I have to say that the Meath score was the best try I've ever seen at that stadium!'

1556 I'll be focusing on the hurling final but expect regular updates from Enniskillen. This has a lot to live up to after the end of the Leinster final.
1550 'Disgraceful scenes at the end of the game, but Louth deserve a replay. An absolute joke if they stand with this decision.' Liam Ryan.

1548 Your e-mails are flooding in on this dramatic and disgraceful conclusion to the Leinster final.
'As a Tipperary man my heart is breaking for Louth.

'But as I said nothing can excuse the Louth supporters. We were done out of the All-Ireland by bad refereing last year, but attacking the referee is not going to help. John Cash.
1547 We have the Munster Hurling final and Fermanagh v Armagh to come in 10 minutes time.
1545 Pat Spillane has called for the match to be replayed. I don't know if you blame Joe Sheridan, but referee Martin Sludden and the umpires are guilty of a catastrophic mistake.
1542 It wasn't just an isolated incident, several fans attacked the referee there. Meath have just been awarded the trophy.
1540 More disgraceful scenes as the referee eventually runs to safety.
1537 The referee is then attacked by several supporters, being shouldered and then appearing to receive blows to the face.
1537 Unbelievable scenes as the referee blows for full-time. The Louth players protest, the referee goes to the officials behind the goals but they give the goal. From the kick-out the referee blows for full-time.
1534 Goal for Meath and the most controversial decision in recent memory. The ball is launched forward, I think it was Kenny that won it and an unbelievable block on the line stops it from going to the net. Sheridan has the ball yards from the goal and runs it into the net. He doesn't throw it, he basically carried it over. Meath 1-12 Louth 1-10
1531 We're in the final minute. This is Meath's final chance as they have a free inside their own half. It'll be a long punt forward.
1530 Ninety seconds to go and Louth a kick out from their own half. The Louth fans are on their feet.
1529 Louth miss the chance to seal it as Brian White curls a free wide that he really should have scored. Pressure got to him there. We're a minute into three added on.
1528 It drops short and the ball is cleared. 30 seconds.
1527 Colm Judge sent off for a late tackle, second yellow. That was stupid and Ward now has the free to level it.
1526 JP Rooney is booked when one-on-one with Harrington, he was trying to go for another goal that definitely would have sealed it. Two minutes left.
1525 Four minutes to go, Colm Judge booked for wasting time.
1524 Another great score from Ward, Meath seem to have woken from their slumber after that goal. Meath 0-12 Louth 1-10
1523 Paddy Keenan cynically fouls Stephen Bray when he was about to burst through on goal. Ward converts the free, two points in it. Meath 0-11 Louth 1-10
1522 And after all the poor finishing today, that is how you do it. Long ball forward and Meath fail to clear, Rooney curls the ball from hands into the top corner of net. Can Louth hold on? Meath 0-10 Louth 1-10
GOAL - LOUTH - JP ROONEY
1521 This is a real thriller now and the crowd are as nervous as the players on the pitch. Meath 0-10 Louth 1-10
1520 Andy McDonell ends a 14-minute spell of not scoring for Louth. We're level with nine minutes left. Meath 0-10 Louth 0-10
1518 This is what we'll be looking at come full-time if Meath win this. Brian White works his way through on goal but his shot cracks off the post and wide.
1516 Joe Sheridan compounds a shocking second half performance with a sliced kick wide. He has 12 minutes to make up for it.
1515 Great point from Anthony Moyles, well-judged kick and The Royals lead. Louth will be kicking themselves. Meath 0-10 Louth 0-09
1513 We have 15 minutes to go and Louth have history in their own hands. I fear they are throwing it away as Judge misses an easy free that makes it wide number 12 for the Wee County.
1510 Meath win a free, Cian Ward kicks over from his hands. His second of the day and we're level for the fifth time. Meath 0-09 Louth 0-09
1509 Henry in Kerry: ' John in Tipperary, I would agree. Almost as disgraceful as Meath fans cheering passes every time their team builds up a lead in big games, going back as far as 2001.'
They won't be doing it for a while yet anyway.....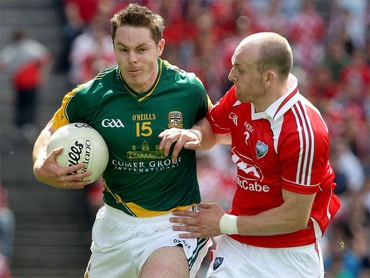 1508 Another wasted position for Louth, Lennon's kick is miles from goal.
1506 Stephen Bray is fouled near the toucline and Cian Ward shoots off the post and wide. Meath's first shot of the second half.
1505 Score of the day from Adrian Reid, showing the most composure when scoring all day. Meath 0-08 Louth 0-09
1504 Mark Brennan missed another opportunity and this was a really easy one from 20 metres with time and a decent angle to shoot. Poor effort.
1502 Really simple finish by Colm Judge, twisting and turning Chris O'Connor and placing it over the bar. Meath 0-08 Louth 0-08
1501 The Wee County could regret these wides, Stephen Fitzpatrick slices another effort wide.
1500 This is a great start from Louth, they are back to within a point.
1459 White makes no mistake this time with an excellent effort. Meath 0-08 Louth 0-07
1458 Nigel Crawford is booked for protesting about the referee awarding a free against him. It looked a poor decision. White will have another go to make it a one point game.
1456 Anthony Moyles handles the ball on the ground but White misses the free.
1455 Brian White with the perfect start for Louth as his high lofting shot goes over. Meath 0-08 Louth 0-06
1454 The attendance in Croke Park is just under 49,000.
1453 Longford won the MFC final earlier, beating Offaly 0-14 to 0-08.
1451 The teams are back on the pitch.
1450 An e-mail from John in Tipperary:
'As a neutral I was hoping Louth would win today.
''That was until I heard the disgraceful behaviour of their fans, when Meath were taking a free.
'One can only ask why Louth brought soccer hooligans to a GAA match.
'If this is how they intend to behave we can manage without them for another 50 years.'
1436 Half-time as Judge missed a point effort for Louth on the whistle.
1435 We're into one minute of added time, Louth need the whistle at this stage.
1432 Meath beginning to pull away and Graham Reilly is the man making the difference. Louth are giving him too much space, another fine point, his fourth of the game. Meath 0-08 Louth 0-05
1431 Another point from Graham Reilly as the ball is kicked forward by Bray from the ground and Reilly lofts it over the bar. Meath 0-07 Louth 0-05
1430 Meath back in front as Crawford with plenty of room fires over the bar. Meath 0-06 Louth 0-05
1429 Louth draw level through Colm Judge but it was a very soft free, Lennon was brought down just outside the area. Meath 0-05 Louth 0-05
1428 Brain Meade is cautioned for Meath.
1426 Cian Ward from the resulting free from 50 metres out. He slices it wide to the right.
1426 McDonnell is booked for a foul on Nigel Crawford.
1425 Andy McDonnell receives a blow to the head but he'll be OK to continue.
1424 Shane Lennon is unlucky to miss from 20 metres when under pressure from three Meath defenders.
1422 Meath really have the better of this Louth defence. Good passing, Joe Sheridan nearly gets inside his marker but he works to Bray and over the free man Graham Reilly who kicks over. Meath 0-05 Louth 0-04
1421 Brian White misses his first chance of the game from a free from distance. 21 minutes gone.
1420 Shane Lennon missed another goal chance for Louth, they worked it well with an extra man over but Lennon's shot went through the legs of the goalkeeper and wide of the far post.
1418 Brian White brings Louth level after Chris O'Connor fouls Andy McDonnell. Meath 0-04 Louth 0-04
1417 Louth wide a free 25 metres from goal and Brian White kicks excellently to make it a one point game. Louth have to happy with that, 18 minutes gone. Meath 0-04 Louth 0-03
1416 Shane O'Rourke kicks Meath's sixth wide, Louth need possession.
1415 Cian Ward wins a free close in on goal, he kicks from hands from 10 metres or so. Meath 0-04 Louth 0-02
1413 Nigel Crawford with yet another Meath wide. Louth have totally lose their way. They could do with another score to settle them.
1412 Meath win it in midfield again and the ball is played forward to Bray who gives the Royals the lead. Meath 0-03 Louth 0-02
1411 Meath are missing these chances but worringly for Louth the Royals are well on top in midfield.
1411 Meath's third wide of the game, this time for Caoimhin King. We're into the 11th minute.
1410 Meath are level are Stephen Bray gets by Eamon McAuley with ease and advances on goal before shooting over. Meath 0-02 Louth 0-02
1408 Cian Ward, Meath's free expert, shoots wide from a tough angle in play.
1406 Great score from Graham Reilly. He had plenty of time on the right when shooting into the Hill. Thanks to Paul McClean for the photo below by the way. Meath 0-01 Louth 0-02
1405 Paddy Keenan doubles Louth's lead with a decent score. Great start for them. Meath 0-00 Louth 0-02
1403 Meath hit the first wide of the game in the second minute. The counter-attack from Louth is excellent and JP Rooney points from 30 metres. The Louth fans are making tremendous noise and they loved that score. Meath 0-00 Louth 0-01.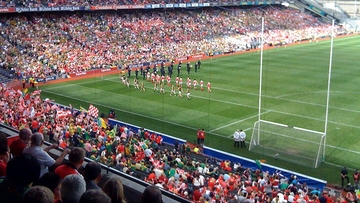 1401 Rip-roaring start, Meath win an unchallenged throw-in but Joe Sheridan loses the ball. The Wee County move up field and win the line ball. JP Rooney finds space and a goal chance presents intslef inside the first minute. Rooney shoots and with the keeper at full-stretch the ball just goes wide of the post.
1359 The pre-match events have concluded. Martin Sludden set to throw the ball in....
1356 Much nicer day in the capital today. Peter Fitzpatrick and Louth look a small bit nervous.
1353 Very colourful crowd in Croker, great to see. It may not be anywhere near full, but it is nice to have a break from the usual sea of blue.
1349 President Mary McAleese is meeting and greeting the players on the pitch.
1348 Louth manager Peter Fitzpatrick was questioned by Joanne Cantwell a short time ago. When asked about the five goals Meath scored against Dublin and how much it worried the Wee County, Fitzpatrick hit back by asking how the Royals would cope with a Louth side that hit 1-22 against Kildare.
1345 'Paul the Octopus could not have predicted these teams would be in the final'- Pat Spillane.
1344 Tony Davis is confidently predicting a Meath victory.
1340 There are big question marks over Louth's nerve and composure going into the final. It is difficult to look past Meath because of that.
1330 The Sunday Game is underway so click on the link above if you are in Ireland. We're 30 minutes away from throw-in for the Leinster Football final...
1252 Finally we have Fermanagh against Armagh in the final qualifier round two clash, also at 4pm. The draw is at 6:45pm for the third round. Also 'loive' on The Sunday Game on television and online.
1250 The Munster Hurling final is at 4pm, with Cork playing Waterford in Semple Stadium. Just to remind you both matches are live here on RTÉ.ie and RTÉ Two.
1246 What a day for Meath and Louth. The Royals have not won a Leinster title since 2001. For the Wee County, it has been 1957. No pressure today lads.
1237 Louth: Neil Gallagher; Eamon McAuley, Dessie Finnegan, Ronan Greene; Ray Finnegan, Michael Fanning, John O'Brien; Paddy Keenan, Brian White; Andy McDonnell, Mark Brennan, Adrian Reid; Colm Judge, Shane Lennon, JP Rooney
Meath: Brendan Murphy; Chris O'Connor, Kevin Reilly, Eoghan Harrington; Anthony Moyles, Gary O'Brien, Caoimhin King; Brian Meade, Nigel Crawford; Seamus Kenny, Joe Sheridan, Graham Reilly; Cian Ward, Shane O'Rourke, Stephen Bray.
1230 I bet Peter Fitzpatrick didn't sleep a wink last night......