Tyrone 1-15 Kerry 0-14
Updated: Tuesday, 02 Dec 2008 18:36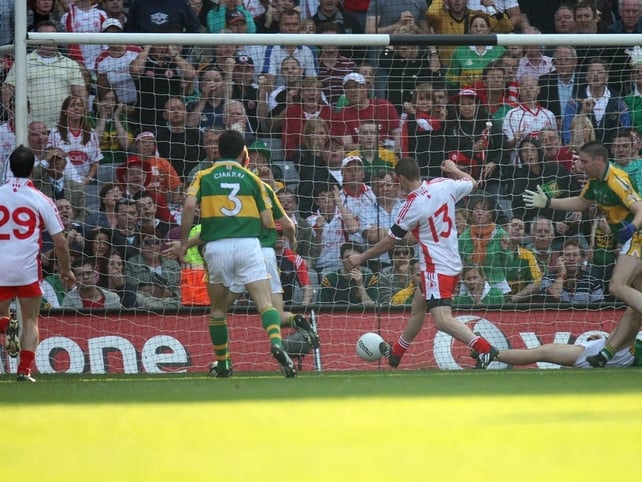 Tyrone simply wore Kerry into the ground as a priceless goal from Tommy McGuigan and a string of late points inspired Mickey Harte's side to their third All-Ireland title of the decade.
Read Shane Murray's minute-by-minute text matchtracker.
Another typically energetic display saw Tyrone crush the defending champions' three-in-a-row hopes in a final tinged with emotion, following the death on Saturday of their goalkeeper John Devine's father.
Devine's place in the team was taken by Pascal McConnell, who made his presence felt by superbly denying Kerry two goals.
The sides were level seven times before Colm Cooper nudged Kerry 0-08 to 0-07 ahead before the break.
But just 22 seconds after the restart, McGuigan scrambled the ball to the Kerry net after Kevin Hughes' initial shot was blocked by Diarmuid Murphy.
With captain Brian Dooher and Sean Cavanagh pulling the strings, Harte's men went 1-09 to 0-09 ahead.
<notforsyndication>View our match gallery. </notforsyndication>
Substitute Darren O'Sullivan made a big impact, bringing the Kingdom back to life with Darragh Ó Sé instrumental throughout.
Cooper's sixth point had Kerry back in front but the victors closed out a stunning win by scoring the game's final five points, with three of them from the Cavanagh brothers, Sean (two) and Colm.
Who would have thought, back on that night in Newry on 14 June, that the evergreen Brian Dooher would be striding up the Hogan Stand steps to accept the cup from GAA President Nickey Brennan?
Tyrone have shown great resolve this season, after an indifferent league campaign and that Ulster Championship exit to Down in June, to reclaim past glories and confirm themselves as the best team in the country once again.
<notforsyndication>We've rated the players and now you can too. </notforsyndication>
They certainly did it the hard way, having to replace their first choice goalkeeper and then three further late changes before the throw-in.
Martin Penrose and Ryan Mellon came into the attack for Brian McGuigan and Ciaran Gourley, with Joe McMahon, one of Tyrone's hirsute heroes, being redeployed to the full-backline, where he lined out alongside his brother Justin.
The 'will he-won't he?' issue of former Footballer of the Year Stephen O'Neill's selection was ironed out when Harte added him to the substitutes' bench.
Kerry, chasing their 36th title in all, lined out as selected. Darragh Ó Sé, gunning for a sixth winner's medal, and Padraig Reidy were preferred to Micheal Quirke and Tommy Griffin respectively.
Back from his much-talked about suspension, Paul Galvin joined the Kerry substitutes in the Hogan Stand as the match began at break-neck pace.
Kerry manager O'Shea was hoping for his tenth win in 12 Championship games, while Harte in the red corner eyed up his 22nd victory of a 34-match Championship career.
<notforsyndication>Read your comments from before, during and after the match.</notforsyndication>
More than that, this was about arguably the greatest two teams of the decade going toe-to-toe for football's biggest prize and Tyrone, written off by many pundits beforehand, showed their mettle early on.
Wearing black armbands in memory of John Devine Snr, the men in white and red were stirred into action.
Enda McGinley charged forward right off the throw-in to win a free which Colm McCullagh sent through the posts. Tyrone ahead after only 37 seconds.
There were a couple of notable switches in the Red Hands' rearguard as Ryan McMenamin moved in to mark Eoin Brosnan and Conor Gormley picked up Cooper.
Kerry were level within a minute, thanks to a fine catch and pass from Darragh Ó Sé and a neat finish from Cooper.
Cooper looked to be rediscovering some of his better form in the opening 35 minutes, although his scoring chances were largely limited to frees.
Indeed, of Kerry's half-time total, there were only three points from play, two of them from former skipper Declan O'Sullivan.
Kerry's 'twin towers' of Kieran Donaghy and Tommy Walsh were not allowed enough space to cause their usual havoc, with Joe McMahon literally in the face of the 20-year-old Walsh.
Sean Cavanagh dropped a chance short before he was fouled by Tom O'Sullivan in the sixth minute, and Tommy McGuigan slotted the resulting free.
The pattern of placed balls being won continued. Surrounded by three defenders, Walsh drew a foul for Cooper to level at 0-02 apiece.
A feature of Tyrone's play was the advanced positions, at times, of wing-backs Philip Jordan and Davy Harte and the latter fired over an excellent, angled point in the 11th minute, after taking a short pass from McGuigan.
Cooper popped over another free, teed up by a raid forward from Killian Young, and Kerry took the lead for the first time when another excellent catch by Ó Sé sprung his side forward and Declan O'Sullivan fisted over.
Kerry's aerial dominance was confirmed by the statisticians - they had won six of Tyrone's first seven kick-outs - and Ó Sé, also back from suspension, was lording it.
Tyrone got back on terms at 0-04 apiece in the 17th minute, when a quickly-taken free from McCullagh freed up Cavanagh for a right-footed score.
And while their half-forward line took their time to get into the game, Tyrone had Cavanagh in fine form as he shrugged off Tom O'Sullivan to fist between the uprights and edge his side ahead again.
Kerry collected the next two points, firstly freeing up Declan O'Sullivan to cover 30 yards before chipping over McConnell's crossbar.
Bryan Sheehan then punished Justin McMahon for a foul on Donaghy and the energetic O'Sullivan popped up at the other end of the pitch to put in a stunning and vital block to deny Cavanagh.
In the 23rd minute, Cooper engineered a goal-scoring opportunity for Walsh but the youngster's powerful effort was bravely kept out by McConnell.
A goal there and Tyrone heads might have dropped slightly, but roused by an inspirational point from Dooher, who danced along the right sideline and past Young, the Ulstermen remained well in the hunt.
They nipped into the lead again, at 0-07 to 0-06, when Penrose, finding himself in acres of space, pinged over the lead point.
That advantage did not last long however, as a stylish free from Sheehan and another placed ball effort from Cooper handed Kerry their 0-08 to 0-07 half-time buffer.
The evident tension in the match, which surfaced in the opening minutes when McMahon gnarled at Walsh, spilled over in the closing stages of the first half.
Donaghy, who was kept largely quiet, was clearly frustrated by his lack of possession and a move to midfield paid some dividends.
Nonetheless, the Tralee giant was rightly yellow carded for a neck-high challenge on Joe McMahon and two more Kerry players entered referee Maurice Deegan's notebook before the half-time whistle.
Stephen O'Neill, out of retirement and on the pitch in place of the injured McCullagh, was in the thick of the action as Kerry defender Aidan O'Mahony earned a yellow for retaliation.
And with seconds left in the half, Darragh Ó Sé was booked for a silly elbow into the back of Cavanagh as the Tyrone full-forward fell to the ground.
Matters were duly cooled at half-time and Tyrone certainly responded the better as they waltzed through a sleepy Kerry rearguard to slot home the final's only goal.
They raced forward off the throw-in, an incisive handpass from O'Neill sprung substitute Kevin Hughes into space and although his effort was partially blocked by Diarmuid Murphy, the rebound fell invitingly for McGuigan to blast home past the outstretched leg of Padraig Reidy.
Subsequent points from Ryan Mellon and Dooher sandwiched Kerry's opening effort of the half, which came from the freshly introduced Darren O'Sullivan.
Dooher's score was another one for the DVD collection as he bounded forward, showing no signs of wilting, and skilfully stepped inside Young before finding the posts.
Kerry had waited until the ninth minute of the second half to add to their tally but they dominated the next ten minutes to impressively regain the lead.
Only Cavanagh could respond for Tyrone during that time. Walsh, Cooper, stand-in captain Tomás Ó Sé and the increasingly influential Darragh Ó Sé all pointed as O'Shea's side came with a spurt.
The Kerry defence had been badly exposed at times, but they shored things up, allowing Tomás Ó Sé to thunder forward and pick off one of his trademark points on the run.
His brother Darragh brilliantly stepped around a challenge from McMenamin, in the 55th minute, to rasp over a left-footed point which levelled the game at 0-13 to 1-10.
Some expert fielding from Donaghy, who was restored to full-forward, created Cooper's sixth point but suddenly flattened by Tyrone's late crescendo, Kerry dropped out of the game over the final quarter-hour.
Although O'Neill clipped a '45' wide of the mark, star man Cavanagh really started to come into his own and he claimed a much-needed 58th-minute point to stop the rot.
Then after a tense few minutes, Cavanagh sliced through again to put Tyrone 1-12 to 0-14 ahead and they never looked back, displaying their sheer hunger and desire to win.
They looked much the fresher, enjoying more possession as the minutes ticked by and leaden-legged Kerry just simply had no answer.
The result would probably have differed had Declan O'Sullivan's low shot not been saved and pushed away by the inspired McConnell, four minutes from time.
But Kerry could not sustain their attacks and a Sheehan wide from the resulting '45', their tenth wide in all, left the champions under pressure.
Substitutes Owen Mulligan and Hughes then botched what should have been a Tyrone point.
Yet there was a huge sense of relief for the Red Hand faithful when they scored three points in as many minutes to put the result beyond doubt.
Midfielder McGinley drove forward to score the first of these, then Hughes pointed off the next attack and a blunder from a Kerry kick-out gave substitute Colm Cavanagh the honour of raising the final white flag in injury-time.
Game over and what was a memorable way to finish off Tyrone's third All-Ireland triumph, proving their critics wrong as a jubilant Sean Cavanagh said afterwards.

Tyrone: P McConnell; R McMenamin, Justin McMahon, Joe McMahon; D Harte (0-01), C Gormley, P Jordan; C Holmes, E McGinley (0-01); B Dooher (capt) (0-02), M Penrose (0-01), R Mellon (0-01); T McGuigan (1-01, 0-01f), S Cavanagh (0-05), C McCullagh (0-01, 1f).
Substitutes used: S O'Neill for McCullagh (25 mins), K Hughes (0-01) for Holmes (half-time), B McGuigan for Penrose (51), O Mulligan for Mellon (57), C Cavanagh (0-01) for T McGuigan (68).
Kerry: D Murphy; M Ó Sé, T O'Sullivan, P Reidy; T Ó Sé (capt) (0-01), A O'Mahony, K Young; D Ó Sé (0-01), S Scanlon; B Sheehan (0-02, 2f), Declan O'Sullivan (0-02), E Brosnan; C Cooper (0-06, 3f), K Donaghy, T Walsh (0-01).
Substitutes used: Darren O'Sullivan (0-01) for Brosnan (42 mins), T Griffin for Scanlon (52), P Galvin for T Walsh (59), D Moran for Sheehan (67).
Referee: Maurice Deegan (Laois).