by Con Murphy
100 not out.......
It's hard to believe that we've already clocked up 100 MNS programmes, since the programme's inception at the start of the 2008 season.
Some panellists have come and some have gone back to the mad world of football management, but it's fair to say that we've had a great old journey so far, and we'd hope that things will continue to go from strength to strength.

It's been a real rollercoaster few years for the League. Some big highs including great results in Europe, and some real downers as well, with the demotion of top clubs because of financial problems probably the lowest of the low.
One thing is for sure: there is never a dull moment in the Airtricity League, and hopefully in the coming years we'll see a wider geographical spread in the Premier Division, and crowds that will grow as a result.
I know I can be accused of being a glass half full merchant when it comes to the League, but I go to games every week, and I can see that there is so much to be positive about. I've written here about many things in the League that drives me batty, but with the bad, there's also plenty to be upbeat about.

Enter the charecters who we all get great craic out of.

Sports television producers love managers who are passionate, entertaining, and will go beyond the usual clichés in after match interviews.

Think Mourinho, Keegan, and Strachan; those three would always bring a bit of drama to their after match interviews. Whether it's the Special One being provocative, Keegan cracking up, or Strachan being sharp and funny at the same time, they all had the X Factor when in front of the camera.
More recently, Ian Holloway of Blackpool has been a breath of fresh air. Very honest in his assessment of the games, and often likely to drift into issues like the meaning of life, of national politics, which is a far cry from the "we'll take each match as it comes merchants".
Paul Cook - will assess the game very honestly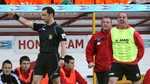 Here we have Paul Cook. I love listening to his interviews. That voice for starters. What's left of it after 90 minutes of shouting at his players, the referee, the fourth official, the crowd, and anybody else who drifts into his line of vision during the game.
Cookie is another who'll assess the game very honestly. When his team hasn't played well, he'll call it as he saw it. He usually has a chirpy quip about something, as most Scousers do I suppose, and I was delighted he returned to the Showgrounds when it looked at one point that he might be on his way out due to the lack of funds being made available to him.
The league is definitely a more interesting place with Paul Cook around.
Another manager who wears his heart on his sleeve is Sean Connor ( I defy any older reader to read that line about heart on his sleeve, without singing the old Gallagher and Lyle hit from the 70's to themselves).
Sean has done a tremendous job at Galway in frustrating circumstances this year, and has received some real knock backs this campaign having been forced to sell some of his top players.
When he faces the cameras, he can be forthright to a fault.
He was unhappy after the recent cup match at Shamrock Rovers, and the referee took the brunt of his ire. His comments may or may not land him in hot water with the authorities, but I'd have to say in his defence, that managers are asked to face the cameras straight after a match without pause for thought and sometimes they say things they might later regret.
However, I'd far rather that situation, than the one where managers trot out clichés to get the interview over and done with.
Controversy: the life blood of football......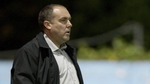 Football needs controversy, and talking points, be they great players, great goals, dodgy decisions, bust ups, crowd displays etc. They all give fans something to talk about, and if a manager or player says something in an interview that gets people talking, then that isn't such a bad thing. We need as many characters in the League to create a buzz and get the public talking. Paul Cook and Sean Connor are just two, but there are several others.
Pete Mahon may shoot from the lip sometimes, but he's another who will generally say something interesting although I have to say that Pete's insinuation in the St Pats programme the other night that the FAI Cup draw may have been in some way fixed was a step too far.
Some posters on the MNS Facebook page suggested that the draw had been pre-recorded in Abbotstown earlier in the day. So let me confirm, 100% that the draw was live in the MNS studio.
Marco Tardelli and Paddy McCaul were in a corner of the studio with Darren Frehill who conducted the proceedings, and there was absolutely no question of the draw being pre-recorded. That will never happen on MNS. So take my word for once and for all - the semi final draw was live.
Finally, thanks to everyone who's contributed to the success of MNS over the first 100 programmes. I think most viewers have no idea about the amount of work that goes on behind the scenes to get every single match filmed, and edited for broadcast each Monday evening, along with all the other items such as cult heroes, favourites etc.
We love making the programme, and by and large the response from the viewers has been very positive. We'll try to make the next 100 programmes even better, and every suggestion is considered, so if you have any ideas about things you'd like to see going forward, feel free to email us at mns@rte.ie, go to our Facebook page Monday Night Soccer finds us there, or on Twitter (www.twitter.com/rtemns), and not forgetting our postal address: MNS, RTE TV, Donnybrook, Dublin 4 will get us.