The photo on the sports pages of Saturdays newspapers told us everything we needed to know. The thumbs up, and big smile on Keith Fahey's face as he left the field at the Republican Stadium in Yerevan spoke volumes.
His match winning goal announced his arrival as someone who quite possibly will, and indeed already has, played a major part in Ireland's journey to the Euro 2012 finals in Poland and Ukraine.

I was presenting RTÉ Radio's coverage of the match with Damien Richardson and Richie Sadlier.
I made the point that Keith's celebration after his late winner wasn't exactly Tardelli-esque on the over excitement scale, and Richie, who knows Keith well from his days as St Pat's CEO, said that he felt Fahey would have been almost embarrassed to be the centre of attention and hence his slightly muted celebration after the goal.
There was no questioning the delight in his face when he was coming off the field though, and the former Saint has done his international prospects no harm with that hugely valuable goal against the Armenians.
Keith Fahey - ex-League of Ireland man scores for Ireland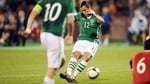 As Fahey combined well with Kevin Doyle late in the game, I thought to myself, that St.Pat's and Cork City fans would be very happy to see their former players doing so well for Ireland. It emphasises once again, that players plying their trade in the Airtricity League need not feel that international football is out of reach.
None of our panellists were surprised that Trappatoni went with an unchanged starting eleven for the match against Andorra. It would seem that it's harder to get out of the Irish team than it is to get into it! Hopefully Keith will keep knocking at the door.

I will be away next week, and unfortunately that means I'll miss a couple of matches in the Airtricity League. Fortunately I'll be able to watch the live match between St.Pat's and Shamrock Rovers on the RTÉ website.
For fans of the league living in far flung parts of the globe, the benefit of being able to access the matches on the RTÉ website is massive and by all accounts the number of people who hit on www.rte.ie/sport is increasing all the time.
It's not the same as being at the ground, but definitely the next best thing.
Just my luck that a Monday night series of matches has also been scheduled while I'm away, although Monday night matches are hard to get to because generally I'm otherwise occupied between 7 and 8pm on a Monday evening.
Although the crowd might have been small at the UCD last week, those present were treated to an absolute cracker of a goal from Ciaran Kilduff.
His 10th of the season for the students, and a number of people contacted our Facebook page to say 'Killer' should be snapped up by one of the bigger clubs.
Eoin Hand made the point on the programme this week that UCD tend to be a selling club, who bring good quality players through but are forced to sell them on when they blossom.
Pádraig Amond - set for MNS interview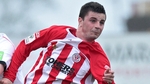 It must be very frustrating for UCD fans, but I suppose it's just a microcosm of League of Ireland clubs in general, being forced to sell their gems on to UK or European clubs. Pádraig Amond is a good example of that. We hope to speak to Podge shortly on the programme to see how he's faring at Pacos Ferreira in Portugal.

One match that won't be broadcast live on the RTE website, but that I'll be interested to get news of is the meeting of a Longford Town selection versus Liverpool Legends XI at Flancare Park on Sunday afternoon the 12th of September.
It's been suggested by those in the profession that the MNS lads know nothing about management, so on Sunday we'll see that theory put to the test when our own Eamonn Donohoe takes charge of the Longford Town selection.
Eamonn will be ably assisted by his No. 2 Barry Ferguson and has pulled together a strong outfit of Town heroes such as Vinny Perth, Paul McNally, Stephen Kelly and Richie Parsons, while the opposition will include John Aldridge, Jason McAteer and four-time European Cup winner Phil Neal.
Kick-off at Flancare Park is 1.45pm and if you've got nothing better to do, get along and give Eamo and the Longford lads some much-needed support on his managerial debut.

Fógra:
Drogheda man Brian Whelan has recently completed a book on the history of his local Club, Drogheda United. 'DUFC, A Claret and Blue History' takes you through the history of the club.
This anecdotal account of the club's history is told through the stories of over 70 people, including; those who have played for, administered, observed and followed Drogheda.

MNS regulars Damien Richardson and Colm Foley are just two of those interviewed.

All the proceeds from the sale of the book are being donated to the local Gary Kelly Cancer Support Centre. For further information you can go to www.drogsbook.com or contact Brian directly at drogsbook@gmail.com.