by Brendan Cole

As Stephen Jones's penalty kick arced across the Millennium Stadium in March last year, Ireland's self-worth as a rugby nation probably lay just beyond the crossbar.
If this one went over, the kick in the teeth that was Vincent Clerc's late try would have appeared a foothill alongside what would have been an Everest-sized moment of cosmic unfairness: Irish rugby's 'Hand Of Henry' moment.
Instead, the ball rose slightly too high and spun slightly too much before dropping just short into the arms of Geordan Murphy. Seconds later, as the Leicester man gleefully punted the ball high into the stand, Irish rugby soared towards cloud nine.

Horan. Flannery. Best. Hayes. O'Callaghan. O'Connell. Ferris. David Wallace. Heaslip. Leamy. O'Leary. Stringer. O'Gara. D'Arcy. Paddy Wallace. Fitzgerald. Bowe. Murhpy. Kearney. Kidney. O'Driscoll.

We now see them as winners: men with a secure place in history.

But it might not have ended that way: a couple of debatable penalties and one or two missed tackles in the final quarter almost let it all slip away. Fortune ultimately favoured Ireland at key moments: will that knowledge form part of the mental build-up for this year's tournament?
Hard to say, but there will surely be a slight sense that, for Ireland, this season is about backing it up. The great teams win at least twice.
Ireland have added depth to their playing group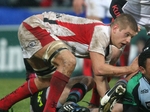 The positive is that, as a playing group, they are arguably stronger this year than last, though Luke Fitzgerald's spark on the wing and Denis Leamy's man-mountain quality in the back row will be missed. Cian Healy, Sean O'Brien, Keith Earls, Chris Henry and, most of all, Jonathan Sexton are players who can make Ireland a better team this season.
There are other plus points. Unlike last year, Gordon D'Arcy is fully fit and in absolutely terrific form for Leinster, while Andrew Trimble is playing the rugby of his life on the wing for Ulster and looks like a man with a destiny again. Ronan O'Gara is also playing better than he was at this time in 2009.
The negative is that this group has a tougher mountain to climb and despite the generally rosy picture, there are one or two weaknesses to be negotiated. Half-back and the scrum are both potential tripwires.
Sexton v O'Gara will require delicate handling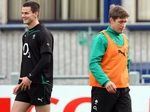 In the case of the former, the Sexton/O'Gara selection issue will require delicate handling, while Tomás O'Leary's form at scrum-half could also become a focus. When selecting his 10, Kidney will obviously be keen to pick the right man but getting the optics right is also important. Whatever happens, O'Gara - much like Rory Best last year - will have a senior player role. Starting would, you suspect, be much easier for him.
The front row could also potentially leave Ireland hamstrung: a wonderful back row and exceptional backs playing on a faulty foundation will not deliver a Slam. Both sides are potential problem areas.
At loosehead, Cian Healy, as every young prop tends to, has had occasional tough days in the scrum although only against the very best, such as Australia, who have turned up two absolute gems in Benn Robinson and Benn Alexander. Worryingly, however, Scotland were able to get headway against the same Wallaby scrum that decimated Ireland earlier in the series. Australia, it is worth noting, have used a dedicated scrummaging coach (former England prop Trevor Woodman) to turn a weakness into a strength.
Marcus Horan's good showing for the As - for whom he looked in excellent form - may give Kidney a dilemma. At hooker, Rory Best also looked in top class form against the Saxons and his excellent all round game can give Ireland an extra dimension in the tight, with Jerry Flannery also on the comeback trail.
John Hayes - guts + smoke and mirrors?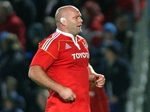 But tighthead may be the biggest problem. John Hayes' difficulties against Perpignan and Northampton have been the subject of much comment and Ireland may again have to rely on the old combination of smoke and mirrors, and sheer guts. The worry would be that a referee takes against the Ireland scrum away from home.
There are some potential solutions: despite being low impact around the park, Mike Ross's very positive contribution at scrum time against England A may give Kidney pause for thought. Ross is not a regular starter for Leinster but his sheer size could make him the man to give Ireland a basis in Paris and London. That said, Ireland's lineout probably still need Hayes and Ross is probably an outsider for a back up slot at best.
Having looked at the problems, it is worth recalling Ireland's large array of strengths: Kearney's solidity at the back, the cutting edge he and Tommy Bowe supply, the majestic O'Driscoll, the pace and power of Sexton, the awesome back row and the industry of O'Connell.
All told, Ireland have an excellent chance of competing for the Championship again, at least. However, the salutary tale of Wales last season is worth recalling: favourites at the outset they blitzed Scotland on day one looking like world beaters. Somehow, between Warren Gatland's motormouth, a one dimensional gameplan and one or two injuries, they let the magic slip away over the following weeks and ended the Championship as also rans.
With Kidney gently and quietly steering a more mature and settled group of players, that doesn't look like happening to Ireland.
This looks like a team with more to say.
Style: Aggressive defence was the basis for last year's victory but Kidney is probably too wise to go to war with an exact replica in terms of strategy and attitude.
With Sexton, Ireland can penetrate down the 10 channel and out wide and a more expansive style is open to them. Pushing Heaslip and Ferris out wide, with Wallace, O'Connell, Healy and Best grinding it up in the tight would also add a new dimension to Ireland's game.
Three To Watch: Sexton's first Six Nations outing will obviously be worth keeping a close eye on - the young St Mary's man looks tailor made for the France match in particular. Stephen Ferris is another in absolutely mighty form and is good enough to emerge as the tournament's best back-rower.
Brian O'Driscoll's marvellous career shows no sign of slowing down and Irish fans will hope for another gasp-inducing year.
Will Be Missed: Luke Fitzgerald and Denis Leamy are both out for the duration.
Good Year/Bad Year?: A repeat Slam would put Irish rugby into a phenomenally strong position. Defeats away from home to England and France would be a major downer, while a loss to Wales or Scotland would really put the skids under things.
Fantasy Rugby Must-Haves: Lots of good options. O'Driscoll, Ferris, Wallace and Heaslip should probably be in every team while Sexton's improved goal kicking and penetrating running make him a good pick if Ireland get into free scoring mode.
Tommy Bowe's proven try scoring prowess makes him another to give strong consideration to.