by Brendan Cole

Inevitably, this year will see a focus on England's use of New Zealand-born talent in their back division. A potential issue with the captaincy will also attract media attention after Martin Johnson refused to back Steve Borthwick for the role beyond the first match against Wales.
On the New Zealand front, it is worth remembering that rugby has always had a grand tradition of allowing players to line out for whichever nation they happened to fetch up in, and Ireland has benefited considerably from that tradition down the years.
But this latest trend must surely prompt a fresh look at the regulations by the International Rugby Board.
Few would quibble with Dylan Hartley lining out for England – the Northampton hooker moved there as a teenager and was never really on the radar for New Zealand honours. But players such as Riki Flutey and Shontayne Hape, who follow Lesley Vainikolo and Henry Paul, are arguably a different kettle of fish.
In Hape's case, it is legitimate to wonder whether Rugby League international caps count against players who make the switch to Union? France, who have ex-ARL stars Sonny Bill Williams and Mark Gasnier both playing Top 14 rugby, could also benefit in due course – unfairly? – if the rules are not looked at.
In any case, England will come into this year's RBS 6 Nations needing to string together several serious performances if a gathering tide of media moaning is to subside. They have assembled their strongest squad in quite some time.
However, Johnson's men were stodgy in November and more of the same will make the former captain's position as head coach tenuous, despite the RFU's protestations that they are in it for the long haul.
'Over-prescriptive' coaching hampered England?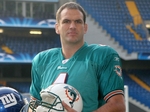 Johnson has at least taken the step of admitting to 'over-prescriptive' coaching during November and that tendency will need to be restricted. Rugby Union is not, after all, American Football and the coaching staff cannot control every play from the sideline. But it is one thing for Johnson to talk about his team needing to play 'heads up' rugby, and another to actually get them doing it.
On the selection front, the tight five looks like being a durable and difficult-to-beat platform that should deliver set-piece and attack at scrum time. But the Borthwick captaincy issue could blow up in Johnson's face the moment his side starts to shudder and with several young options – such as Courtney Lawes – and old stager Simon Shaw still knocking around, the ingredients for a media frenzy are already present.
In the back row, England have plenty of honest, hard-working players – the likes of Lewis Moody, Joe Worsley, Jordan Crane and James Haskell - but not many who can contribute real positive attacking play.
Nick Easter is arguably a cut above but again, not a man who will dominate, while Steffon Armitage looks like more of a good support act and Tom Croft has not convinced too many observers outside of England. It is hard to pick a really good trio and Ireland and France both look to have far better quality.
Behind the scrum, Hape and Flutey will give Johnson much needed options at centre with the Jonny Wilkinson/Shane Geraghty 10-12 experiment certain to be abandoned. The main options at 13 would appear to be Matt Tait and Dan Hipkiss, unless Johnson opts for a double Kiwi partnership of Hape at 12 and Flutey at 13. It is that duo which might spell most trouble for Ireland and the rest. Jamie Noon is not on the radar despite an excellent record of keeping Brian O'Driscoll relatively quiet whenever they face off.
England's back-three options also look strong with Delon Armitage back in the frame for the 15 jersey after an injury lay-off. On the wing, Matt Banahan may move down the pecking order with Ugo Monye and Chris Ashton possibly offering more pace and mobility.
England's tournament will be defined by their opening-day clash with Wales. Playing at home, Johnson needs to show the Twickenham crowd that he can get his side playing rugby with a bit of zip.
If he can, England are probably the side with the most improvement in them and could become serious title contenders.
But they need that good start.
Conor O'Shea's Expert View: England are definitely on the comeback trail. Their clubs may not be ripping up the European fields but their squad has a much stronger look to it and the hope has to be that they let their flair players express themselves.
There may be no Cipriaini or Geraghty but Care, Flutey and Armitage are players who, with a big pack in front of them, can cause real damage.
Style: England tried to use Wilkinson and Geraghty to give their attack width and link with pods of forwards up the middle in November but the partnership never really looked comfortable and the apparent distinction between 'passers' and 'carriers' always looked contrived.
With Flutey back and Hape in the frame, they will have more penetration and fluidity alongside Wilkinson without losing much in terms of passing ability – the guts of a varied threat that can play flat or deep and really ask questions. More pace, less mindless bosh should be the approach but the weakness of the back row could limit their ability to play really good rugby.
Three To Watch: Riki Flutey didn't quite set the Lions Tour alight as he threatened to but he and Wilkinson are well matched and he brings a hard edge to England's back division. Steffon Armitage could also be a nuisance if England play the laws well while Matt Tait will be of interest – to attacking teams as well as viewers – if, as seems likely, he gets a run at outside centre.
Will Be Missed: England don't have too many injury problems this season though Mike Tindall is out. Aside from that, the large contingent in France includes Noon, Iain Balshaw, Andy Goode and several others who could have made this squad if they played their rugby at home.
Good Year/Bad Year?: England have a realistic shot at the title and could even sneak a Slam. A bad year will open with a defeat to Wales, lose to Ireland at Twickenham before going down to France on the last day.
Fantasy Rugby Must-Haves: Chris Ashton's tremendous try-scoring form makes him a dark horse if he gets a start while Wilkinson should be a reliable enough points machine at 10 with England possibly likely to get ample penalty shots if they continue to struggle to get over the try line.