by Brendan Cole
Having used shock tactics to claim an RBS 6 Nations Grand Slam in Warren Gatland's first year in charge, Wales need to add a little subtlety and depth to their game if they are to challenge for this year's title.
They must also address the apparent long-term loss of key distributor Gavin Henson, who initiated much of Wales' wide play over the last few years.
Henson's passing gave Wales the ability to move the ball wide across the pitch in a split second and the likes of Lee Byrne and Shane Williams benefited enormously from that space and time. They have been less effective since he embarked on his break from the game.
Now, Wales are reduced to running big men into the congested inside channels, putting more pressure on Stephen Jones at out-half - the Llanelli man has many qualities but a good long pass is not one of them - and cramping their play. Ospreys 10 Dan Biggar could yet find himself getting a run before the end of this tournament.
More broadly, Wales have also struggled to react to other sides' successfully adjusting to their high-intensity game. Wales upped their pace significantly when Gatland came in and while it played as something of a shock tactic in 2008, in 2009 it was absorbed more easily by everyone but Scotland, who succumbed on opening day.
Welsh gameplan has been adjusted to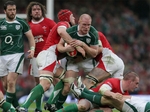 Wales do have a lot of good qualities. They defend well, though the blitzing of a couple of years ago has now been adjusted to by opposition attacks, who know what to expect. Ireland certainly seem to have figured out how to handle it with chips, loops, depth and delayed target runners.
The kicking and chasing game is also usually good though, again, the standards among opposition sides have improved enough to nullify the Welsh advantage.
To-reignite his side, Gatland has said he will turn to his tight five and Gethin Jenkins and Adam Jones are a pair of props that can power a high-intensity game in the tight, while Matthew Rees' availability at hooker will be seen as a boost. In behind, Alun-Wyn Jones will be keen to establish his credentials as one of Europe's top locks and is being tipped to do so despite lacking the power of Paul O'Connell or the combination of weight and athleticism of Simon Shaw. In truth, Ireland, England and France will fancy themselves against whatever quintet Wales field.
But it is in the back row that Wales really need to have a re-think. Andy Powell has been taking on plenty of ball but his play frequently adds up to very little, while Ryan Jones has also slipped back a bit and looks slower and less agile than his counterparts in other squads.
Martyn Williams has also struggled to make an impact with the new rules arguably making his attacking approach - which depends on quick, clean ball - less effective.
Overall, it is hard to see the Ireland and Scotland teams of Declan Kidney and Andy Robinson being intimidated and outpaced as those of Eddie O'Sullivan and Frank Hadden were a couple of years ago. Ireland in particular are more resilient and capable of absorbing pressure these days.
Without that trump card, Wales seemed less sure of themselves in November and look to be something of a team in a mental cul de sac. With a tough opening-day fixture against England, they may struggle to escape it this term.
Style: In better days, Wales could either hit it up hard and fast in close around the Stephen Jones/Martyn Williams axis or go very wide through Henson, setting quite a tricky problem for defences. Now they will have to use their centres in more traditional mode, with the straight running of Jamie Roberts setting targets for the forwards in midfield. Much easier to cope with.
The coaching team of Gatland, Rob Howley and Shaun Edwards may turn to a Wasps staple in the form of probing the blindside this term.
Three To Watch: Gethin Jenkins is one of the top props in the wolrd and can get involved all over the field while Martyn Williams will be a key man. After a tricky 12 months or so, Shane Williams will also be worth keeping an eye on.
Will Be Missed: Gavin Henson, pantomime villain and all that he is, was a character and the loss of the passing range he gave the backline will limit the Welsh attack.
Good Year/Bad Year?: Gatland needs to make sure his team is still considered one of the big boys at the end of this tournament. That looks like being very tough and losses to any two of England, France and Ireland would make it a poorish year.
Fantasy Rugby Must-Haves: Shane Williams, if selected, could be a good man to have as he is due a turnaround in form. Stephen Jones can also rack up the points from out-half.