by Brendan Cole
France, like everyone else, are well down the track to their stated target of Rugby World Cup 2011 but the latest 30-man squad confirms the sense that there has been little serious squad development during controversial head coach Marc Lievremont's time at the helm.
Lievremont took over promising significant change after the disenchanting finale to the Bernard Laporte era. And while he has been a bold selector at times, this season's squad boasts plenty of familiar faces, along with more than a few surprising omissions. All in all, it looks like a confused rather than revolutionary 30-man squad.
As usual, France will boast a bruising pack and have plenty of class in the backline, but Lievremont has denied himself numerous players who have proven their worth at international level.

Arguably, this squad leaves them light at full-back, lacking poise at out-half and short of quality in one of the centre positions.
Of course they still have the potential to win every game and any pack that fails to stand up to the power and athletic ability of the French forwards is likely doomed to defeat, as South Africa found in November.
Handle the French pack to find weaknesses behind?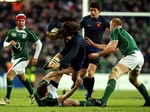 However, Lievremont's fellow coaches will prefer to focus on France's display against New Zealand a week later. Les Bleus were not able to dominate up front that day, and deficient control at out-half and a softness in defence were exposed. France were eventually over-run by an All Blacks side in mighty form.
In selection terms, out-half remains the central problem. Compounding the lack of options is the coach's apparent blind spot: Lievremont appears determined to select Francois Trinh-Duc come hell or high water. The 23-year-old undoubtedly has some skills but he is short of size and speed, not a particularly good kicker and frequently appears to take too much out of the ball.
Against New Zealand, he simply looked out of his depth at times and one wonders what the seasoned pros in this France squad make of Lievremont's persistence. Scrum-half Morgan Parra has been more successful since getting his first cap aged 19, and has been picked up by a big club in Clermont-Auvergne, but he is not obviously superior to Jean-Baptiste Elissalde.
Benjamin Boyet, the other out-half in the squad, has looked a classy operator for Bourgoin over the last few years and could prove a surprise package behind a powerful pack, but only if he gets game time. Arguably, he also needs an armchair ride from his forwards. Fabrice Estebanez is selected among the centres but can also play 10 and full-back but Lievremont would be in real trouble if were to begin selecting the Brive captain.
At centre, Yannick Jauzion will, obviously, pose a threat too and can organise and instigate the play out wide as well as anyone. Of those contending to play alongside him, Matthieu Bastareaud is a dump truck when carrying the ball up but has not shown the consistent quality needed to unlock better defences. Teams with fitness, organisation and defensive linespeed should be able to deny him pace coming onto the ball with relative ease.
David Marty has good vision and can time a pass but is hardly a fearsome prospect either, while Estebanez is a surprise inclusion and hardly set the world alight playing for Brive against Leinster.
Eye-catching omissions may hamper France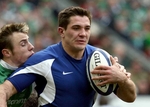 Toulouse quartet Freddy Michalak, Maxime Medard, Cedric Heymans, and Florian Fritz, and Stade Francais' out-half Lionel Beauxis, might have addressed some of those deficiencies. Injured Biarritz trio Dmitri Yachvili, Damien Traille and Fabien Barcella will also be missed. The decision to ignore Fritz, Jauzion's partner at Toulouse, is in particular a strange call.
Overall, France will obviously pose a huge challenge for Scotland and Italy, who will likely prove overmatched up front. Wales could also find it hard to live with the juggernaut pack. But Ireland and England both have hardy sets of forwards and Ireland in particular may also have the edge in the back division, though Declan Kidney's men will have to cope with the French scrum.
All in all, France do not look to be progressing and could find themselves even more becalmed after this tournament.

Style: The big men up front will pummel, while the back-rowers hang out wide in the tram lines, link with the outside backs and try to work the magical, off-the-cuff short passing moves that are the hallmark of this rugby nation's style.
Three To Watch: Harinorduquy's athleticism and handling are always a pleasure to observe, while Louis Picamoles is a fearsome carrier of the ball. Keeping an eye on Trinh-Duc to see if we can spot any of what Lievremont sees will also be diverting.
Will Be Missed: Fabien Barcella, Les Bleus' hero against South Africa, could have done serious damage from loosehead prop but misses at least the early rounds while his Biarritz colleagues Dmitri Yachvili, who has been showing serious form at scrum-half, and Damien Traille are also out.
Second row Romain Mill-Chluski - a man in the Trevor Brennan mould - has also been ruled out at least of the early rounds with an injury.
Julien Dupuy and David Attoub are absent having been found guilty of eye-gouging against Ulster in Round Three of the Heineken Cup.
Good Year/Bad Year?: It's time for France to deliver and a title is required at this stage in Lievremont's reign. Defeat to Ireland and England – both very possible – would make this another Six Nations to forget.
Fantasy Rugby Must-Have: Vincent Clerc is the man no side should be without. Elissalde and Parra could also prove useful – go with whichever gets in the side - as they are likely to take the kicks if Trinh-Duc starts.