Maura & Dáithí's baby boom!
Monday 24 February 2014
Maura & Dáithí: With both Today hosts becoming parents for the first time, Janice Butler heads to Cork for a revealing chat
RTÉ Guide - On Sale Now
1 of 1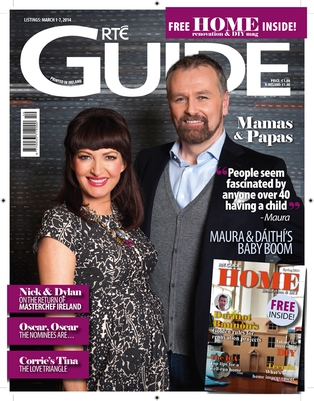 MasterChef Ireland: Time to get back into the kitchen: Dylan and Nick are back! Donal O'Donoghue catches up with the intrepid duo
Oscar bravo! Who'll win the big prizes on March 2? Michael Doherty sets the scene
The reluctant mistress: Julie Lordan talks to Michelle Keegan about Corrie's love triangle

Brendan Cole: Darragh McManus meets the Kiwi star of Strictly Come Dancing, who is bringing his touring show to Irish fans
The RTÉ Guide Puffin Children's Short Story Competition 2014: it starts here!

Plus! New Irish comedy The Walshes starts this week; Kate Mara talks House of Cards; Moone Boy and King & Maxwell; Catherine Fulvio's tips for the perfect pancake; things to do for St Patrick's weekend; and your chance to win a weekend break at Farnham Estate