Prime Time's Miriam O'Callaghan & David McCullagh
Monday 18 May 2015
Cover story: Investigating Prime Time - Donal O'Donoghue goes behind the scenes with Miriam O'Callaghan and David McCullagh on RTÉ's current affairs programme
RTÉ Guide - On Sale Now
1 of 1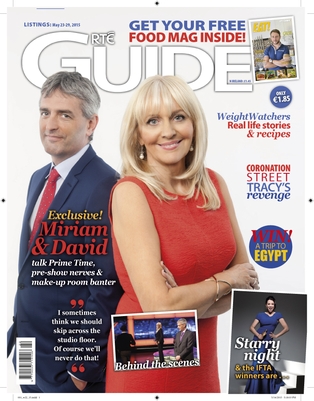 IFTA special: It's IFTA Awards time, so we have plenty of coverage this week. Janice Butler meets the new host, Caroline Morahan, and we check out this year's contenders

Aine Lawlor: The broadcaster is co-hosting RTÉ's coverage of Bloom this year. She tells Donal O'Donoghue why gardening plays such an important role in her life
WeightWatchers: Tips, recipes and a success story!
Top Hat: With Irving Berlin's classic musical coming to Dublin, Michael Doherty travels to Canterbury to meet its tap-dancing stars
Corrie special: Julie Lordan chats to Corrie veteran Kate Ford and finds that for Tracy Barlow, revenge is a dish best served cold
Glamour at the IFTA Awards: Make-up? Check. Frock? Check. Time for some IFTA red-carpet action! Plus! Memorable fashion moments
Plus! New reality series Exiles, the RTÉ Guide / Puffin Young People's Short Story Competition winners! Catherine Fulvio's barbecue time, your chance to win a luxury holiday in Egypt!