King Nidge!
Monday 29 September 2014
Cover story: Love/Hate season five starts this week with Tom Vaughan-Lawlor tight-lipped about what we can expect. Janice Butler looks back at the highlights so far and looks at what we can expect from Nidge & co. this time around
RTÉ Guide - On Sale Now
1 of 1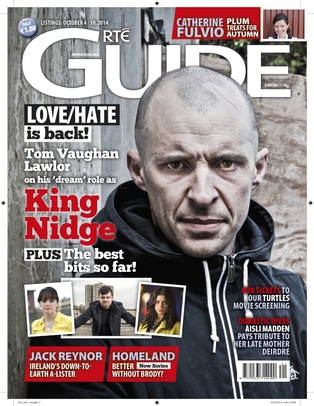 Carla O'Brien: The presenter of RTÉ 2's Newsfeed tells Andrea Byrne how her career in Riverdance helped with her job as a newshound
Domestic Diva: Aisli Madden tells Donal O'Donoghue that she gets her infectious energetic attitude from her mother
Jack Reynor: Although the Hollywood A-list beckons, the young Dubliner is keen to work on Irish projects too, he tells Michael Doherty
Homeland: As the drama returns to our screens this week, the death of Brody means the focus is back on 'Cryface' Carrie. Donal O'Donoghue thinks it's going to be a good one
Plus! Twiggy's ancestors, a trip around the coast, a Scorsese retrospective, Catherine Fulvio's plum surprise, the Soundtack of Lisa Dwyer Hogg's life and your chance to win a regal weekend for two at Ashford Castle in Co Mayo or a €500 Kilkenny Shop voucher!