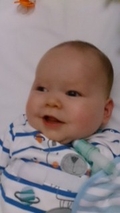 As we've heard, many of the young patients in the hospital are here for a long term stay. Valerie Cox met some Michelle Dowd, a Sligo woman who is in the Transitional Care Unit with her 7 month old son, Kyle.
Kyle was born on 9th May this year and has spent almost of his life in Crumlin after he was diagnosed with tracheal stenosis, this means that his osophagus is being supported by air while it gets the chance to grow. So, in this interview you will hear the noise of the air pump. Kyle was born with a hole in his heart but then the doctors in Crumlin realised there was another problem.
The Transitional Care Unit is a step down frpm ICU or a High Dependency Unit as the clinical nurse manager, Rachel Wallace, explains.