Getting the children to eat fresh vegetables can be a battle until little taste buds develop and mature to accept new tastes and textures. Until then, we must find creative ways to get the good stuff into them with becoming mortal enemies!
Bright Fruity Veggie Salads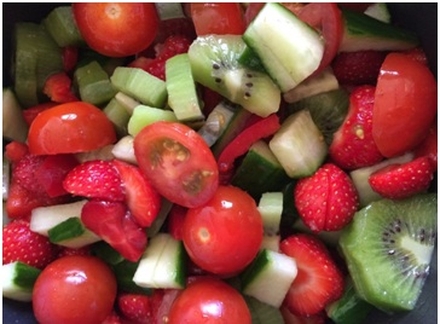 What you need…
A Selection of Crisp Fresh Salad Vegetables such as;
Cucumber
Cherry Tomatoes
Red or Yellow Peppers
Spring Onions
A Selection of Favourite Fruits such as;
Strawberries
Blueberries
Kiwi Fruits
Pineapple
Sharp Green Apples
Slices of Peeled Oranges
A Squeeze of fresh lemon juice
1-2 Tablespoons of Olive Oil
Sea Salt & Freshly Ground Pepper
What you do…
Peel and slice or chop your vegetables into bite size pieces and mix thoroughly making sure to catch all the tomato & fruit juices from the chapping board.
Drizzle over lemon juice and Oil seasoning to taste with the pepper & salt.
Turkey Kebabs with Raita and Green Leaves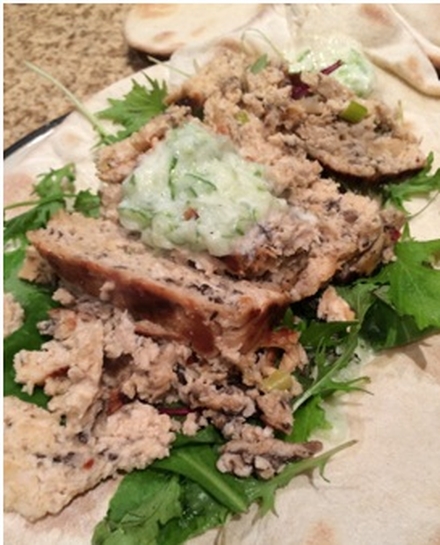 What you need…
450g Minced Turkey
½ Red Onion Grated
2 Table Spoons Sweet Chili Sauce
1 Tablespoon Soy Sauce
Handful of Chopped Coriander
1 Egg
Handful of Wet Breadcrumbs – or a slice of bread dampened under the tap torn up
Salt & Black Pepper to season
Raita
Half a Cucumber, grated
Handful Coriander, chopped
200g Natural Yoghurt
Dash of Tabasco
Salt & Pepper to season
Pre-heat the oven to 180c
What you do…
Mix all the ingredients together for the kebab and get your hands in there to mix in well. Fill a loaf tin with your mixture and bake for about 50 minutes – using a metal skewer, pierce the centre leaving the skewer in for 10-15 seconds…place the skewer on the back of your hand and if it feels hot, your meat loaf is done.
Remove the loaf from the tin and slice very thinly laying several slices on pittas or wraps, topping with fresh salad leave and the cucumber raita.
Loaded Skins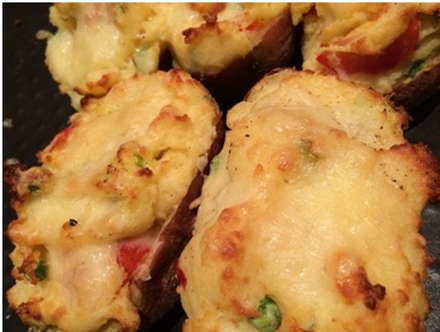 Great as a side to your dinner or a little meal itself served with salad.
What you need…
5 Large Roosters, or Other Baking Potatoes (Or one for everyone in the audience…)
3 Spring Onions
1 Red Pepper
Two Large Tomatoes Chopped
Handful of Frozen Peas
100g Butter
Dash of Milk
50g Parmesan, Grated
100g Cheddar Cheese, Grated
Salt & Freshly Ground Pepper
What you do…
Pre-heat the oven to 180c.
Put the potatoes in the oven and bake for about an hour or until a metal skewer glides easily all the way through.
Meanwhile chop and prepare your vegetables and place them in a large bowl with the parmesan, salt pepper, butter & milk setting aside until the potatoes are ready to come out of the oven.
Using a clean tea towel, remove the potatoes from the oven and working quickly using the tea towel to protect your hands, slice each one in half lengthways and with a dessert spoon, scoop out the fluffy center coming as close to the edge as you dare without risking tearing the skins. Mash the potatoes either roughly with a fork or using a potato masher.
Mix the vegetables through the potato and check your seasoning. Check your consistency and adjust by adding more milk or butter if required.
Spoon the combined mixture back into the potato skins and lay the loaded skins on a baking tray.
Sprinkle the grated cheese over the tops and bake for 25 minutes until the cheese is melted and starting to crisp.
These can be made and frozen once baked for a good snack after school, Saturday lunches or Friday night TV dinner with a fresh salad – just heat through in a microwave after defrosting thoroughly.
Maple & Soy Glazed Root Vegetable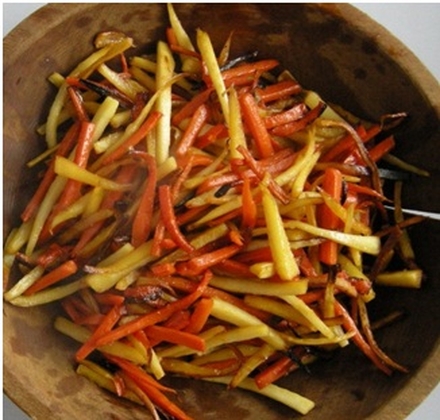 What you need
4 Carrots
2-3 Parsnips
2 Tablespoons of Maple Syrup
2 Tablespoons of Soya Sauce
Juice of Half a Lime
What you do…
Preheat the Oven to 220
Finley slice your root vegetables and place in a roomy bowl.
Drizzle over the maple, Soya and lime and mix well to ensure all the vegetables are well coated.
Spread in a single layer on a baking sheet and roast on the oven for 25 minutes until tender and crisping at the skinny ends – watch for over browning because of the sugar content in the maple syrup and give the tray a good shake halfway through to avoid this.
Garlic Roasted Broccolli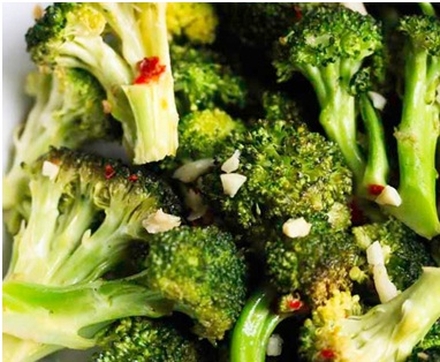 What you need…
2-3 Large broccoli heads
2 tablespoons olive oil
3 garlic cloves, minced
Juice of ½ Lemon
40g Finely Grated Parmesan
Pinch salt
Freshly Grated Black Pepper
What you do…
Preheat the Oven to 200C
Toss the broccoli in a large bowl with olive oil, salt, pepper and garlic. Spread the pieces on a baking tray and place in the pre-heated oven. Roast for 15-20 minutes until broccoli is just barely cooked.
Remove the tray from the oven and drizzle with lemon juice sprinkling with parmesan just before you serve.
Follow Tracy on Twitter.
Visit Tracy's website.