Listen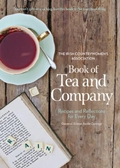 The Irish know better than most the importance of a good cup of tea and a good chat. We offer tea at funerals, the birth of a child, the break-up of a relationship...it's the cure-all and there's not an Irish household in the country that doesn't put the kettle on when somebody calls to the door.
A new book by the ICA – Tea and Company – looks at our various rituals around tea drinking, and includes recipes, meditations and thoughts for whatever sort of day you might be having.
So stick the kettle on there as guests Aoife Carrigy, editor of the book, and Anne Payne, Secretary of the Laois Federation of the ICA tell Sean how to make the perfect cup of tea.
The ICA Book of Tea and Company is published by Gill and Macmillan and is priced at €22.99.