Listen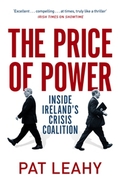 by Pat Leahy (Penguin Ireland)
It was a Government that hit the ground running, literally with the new Taoiseach bounding into work walking. But what he and his coalition partners found in the State's coffers made grim accounting....they had inherited a country poised on the cliff edge of ruin.
So with no other options available the new government was forced to follow the economic blueprint left by their predecessors and answer to their new economic masters the TROIKA.
Now that the first half of the Government's term has come to an end deputy and political editor of The Sunday Business Post, Pat Leahy has set out to tell the story as seen from the inside in his latest book The Price of Power – Inside Ireland's Crisis Coalition.