Listen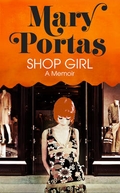 She's the flame-haired, straight-talking retail expert who transformed the fortunes of Harvey Nichols as well as campaigning to save the high street.
Her BBC series, Mary Queen of Shops, elevated failing businesses to the modern age and she was made a high-street star by the Tory party.
But she is also the woman who held her family together after her mother's death and is now a poster-woman for same-sex marriage and her new series, Secret Shopper, is running on Channel 4 on Tuesday nights.
Shop girl by Mary Portas is published by Doubleday.