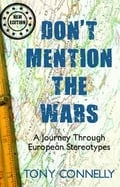 By Tony Connolly (New Island)
In the last five years the eurozone has undergone profound change and Europeans, increasingly in defence mode, have re-discovered the knack of insulting each other. So do any of the old stereotypes still ring true or has the euro crisis taken the fun out of them?
Sean spoke with Tony Connolly, Europe Editor for RTE News and Current Affairs and author of Don't Mention the Wars – A Journey Through European Stereotypes.