Listen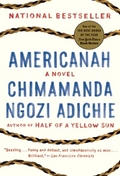 In our book club this month we've been reading Americanah by Chimamanda Ngozi Adichie, a book which is nominated for the IMPAC book award later this month.
Americanah is a story of love and race centered around a young man and woman from Nigeria who face difficult choices and challenges in the countries they come to call home.
Joining Sean in studio were Chinedu Onyejelem, Editor of Metro Eireann; Natasha Fennell, Director of Stillwater Communications; columnist Ger Colleran and Angela Ficther, a young writer from America via Donegal.
Americanah by Chimamanda Ngozi Adichie is published by 4th Estate, £8.99.