Listen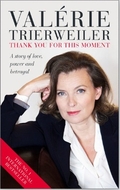 Valerie Trierweiler shot to international fame when her partner, the French President Francois Hollande, was exposed for having a year-long affair with the actress Julie Gayet.
After months of rumours, Trierweiler discovered the affair when the celebrity magazine Closer published photographs of Hollande visiting Gayet's apartment on a motorbike. Trierweiler was subsequently hospitalised, suffering from 'very strong emotional shock' and her role as first lady was revoked.
Less than a year later, she published her explosive memoir, Thank You For This Moment, and it's our book club choice this month. To discuss, columnist and former editor of The Star Ger Colleran, Natasha Fennell, director of Stillwater Communications, journalist and writer Olivia O'Leary and Michael Colgan, director of the Gate Theatre joined Sean in studio.