Listen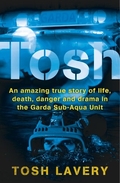 During thirty years in the Garda Sub-Aqua Unit Tosh Lavery worked on many murders and most of Ireland's missing persons cases, as well as high profile investigations such as the Whiddy Island disaster and the Mountbatten assassination.
He became obsessed with a job that demanded utter dedication and total fearlessness. But along the way, he battled alcoholism and his marriage ended. Tosh's story is an uncompromising and revealing look at the macho world of the guards and what it's really like on the inside. Tosh joined Sean this morning in studio.
Tosh Lavery's book TOSH: An Amazing True Story Of Life, Death, Danger and Drama in The Garda Sub-Aqua Unit is available in bookshops now and is published by Penguin.