Listen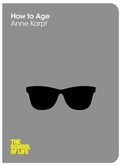 The life expectancy of the human race is increasing. With every passing generation, there is the promise of living longer, staying healthy for longer and being around to see not only grandchildren, but great grandchildren.
But as society becomes more obsessed with fighting wrinkles and denying old age, it might be questioned whether living longer is really a blessing or just a lengthening of the agonising over every grey hair and liver spot.
Anne Karpf is the author of a new book called 'How to Age' and she jspoke to Sean this morning.