Listen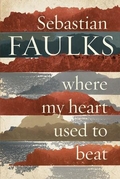 To some listeners, our next guest is perhaps known as the writer of the James Bond tribute novel 'Devil May Care', but to many more, he is the author of the hugely acclaimed novel, 'Birdsong'.
Where My Heart Used to Beat is the title of his latest book. It tells the story of Robert Hendricks, a disillusioned psychiatrist who is unexpectedly forced to confront the events that made up his life.
Sebastian Faulks spoke to Sean this morning.