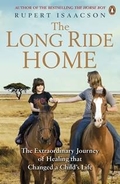 By Rupert Isaacson
Autism affects one in 100 people in Ireland and there is no known cure.
In 2004, Rupert Isaacson's 2 year old son Rowan was diagnosed with Autism. Rupert and his wife Kristin tried all sorts of treatments and therapies, but it wasn't until Rowan threw himself under the hooves of an old horse called Betsey that Rupert thought about the idea of 'horse therapy'.
He spoke to Sean this morning.