Listen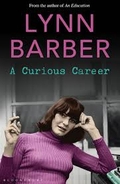 Lynn Barber is an award-winning journalist who has worked for Penthouse magazine, Vanity Fair and The Observer newspaper to name just a few.
Her famously scathing celebrity interviews earned her the nickname 'Demon Barber'. And her memoir, An Education, about her teenage affair with an older man was made into the feature film of the same name, starring Carey Mulligan and Rosamund Pike.
She has just published a new memoir - A Curious Career - in which she recounts some of her most famous – and difficult – interviews, as well as discussing growing older, the changing nature of celebrity and media.
She joined Sean this morning from London.