Listen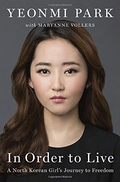 Yeonmi is twenty three years old and in 2007, she escaped from North Korea with her mother and sister.
As we know, North Korea is a poor isolated country where people struggle to survive under a regime that feeds propaganda to its citizens instead of food.
Yeonmi has just published her autobiography entitled In Order to Live: A North Korean Girl's Journey to Freedom.
While her English is a little hard to understand initially, hers is an extraordinary story of courage.