Listen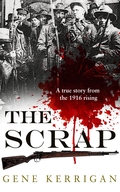 As Easter 1916 neared thousands of Irish people were looking forward to what many called 'The Scrap' - the day when the military action replace marches, meetings and drills.
Survivors of the rising later gave researchers vivid accounts of what they had done and seen and heard during a week of fighting that left 450 people dead, thousands injured and the centre of Dublin in ruins.
Writer Gene Kerrigan has woven these accounts into a book called 'The Scrap' and he joined Sean this morning.