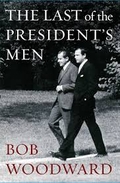 Bob Woodward helped bring down a president, often described as a legendary journalist and has been played on screen by one of Hollywood's greatest leading men.
Bob Woodward and his Washington Post colleague Carl Bernstein broke the story now known as the Watergate scandal that led to the resignation of US president Richard Nixon 41 years ago.
And now, he's back with a new book which reveals previously unheard insights into what Nixon was like behind closed doors and he joined Sean on the line.