Listen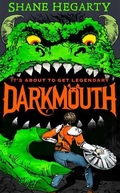 Two weeks ago, Shane Hegarty wrote his final column in The Irish Times. In the year before that, he gave up his role as the newspaper's Arts Editor, after landing a staggering four-book deal with Harper Collins Children for his Young Adult series "DARKMOUTH".
The first installment is published this week, and it has just been announced that the film rights have been sold for a substantial amount. Shane Hegarty joined Sean in studio to talk about the book and upcoming film.
Darkmouth is published by Harper Collins.