Listen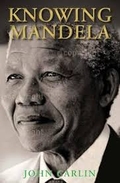 Knowing Mandelais a personal tribute to Nelson Mandela, written by the acclaimed South Africa correspondent and author of the international bestseller Playing the Enemy (filmed as Invictus with Morgan Freeman playing Mandela) who has been reporting on Mandela throughout the 1990s.
John Carlin began covering South African politics while serving as the London Independent's Bureau Chief in South Africa in 1989, and formed a relationship with Nelson Mandela in the decades since. Mandela has called Carlin's journalism 'courageous' and 'absolutely inspiring'. Now, Carlin reflects back on the man he has studied and admired for much of his career.
The book largely focuses on the period between 1990 and 1995 when Mandela faced his most daunting obstacles and recorded his greatest triumphs.