Listen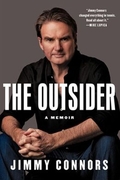 As a tennis player, my next guest made up one part of probably the most famous three pronged sporting rivalries of all time. Between them, he, John McEnroe and Bjorn Borg enthralled the crowds on court at Wimbledon, Roland Garros, Flushing Meadows and elsewhere. However, as the title of his memoir – The Outsider - suggests, Jimmy Connors was a little different.
He was to transform the game forever with his two handed backhand and the country club gentility of tennis, once he entered the arena, would take a back seat as he rip roared his way through the competition. In 1974 he won 95 out of 99 matches and during his stellar career he won eight Grand Slam singles titles, staying among the top ten best players in the world for sixteen straight years.
But The Outsider has received as much attention for his life off court as it does for his life on court.Pat spoke to Jimmy Connors.