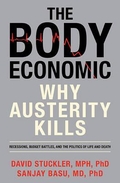 By David Stuckler and Sanjay Basu (Allen Lane)
In Ireland we've experienced at first hand the grim consequences of the global financial crisis. Unemployment , austerity and a collapse in property prices have had consequences for many people. Of course we are not alone , other nations from Greece to Iceland have experienced dramatic declines in wealth.
But we have little sense of how it affects one of the most fundamental issues of all: our physical and mental health.
A recently published book "The Body Economic" puts forward a radical proposition. Austerity, it argues, is seriously bad for your health. The conclusions it draws are both surprising and compelling: remarkably, when faced with similar crises, the health of some societies - like Iceland - improves, while that of others, such as Greece, deteriorates.
David Stuckler and Sanjay Basu, put ten years research into the book, and one of its authors David Stukler joined Pat this morning.