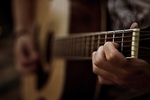 The John Murray Show and Saturday Night Show are jointly running a music competition - click here for full details. Emerging musicians are invited to send in their music to the John Murray Show by email.The John Murray Show decides on a shortlist of the 20 best acts.A panel of experts will reduce the field from 20 to six.
These six are all played (pre-recorded) on the John Murray Show in a semi-final on Friday, May 16, where the top three are decided by a panel on that show.
The final three then play live in Studio 8 in the John Murray Show final on Thursday, May 29.The overall winner plays again on the Saturday Night Show on Saturday, May 31. Please ensure the soloist and/or band members are available for these key dates.