Listen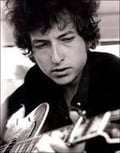 In a few minutes we'll be talking to a former Taoiseach about his passion for Bob Dylan music but first in studio with Kathryn is Tony Clayton Lea who writes for the Irish Times.
'Aside from, possibly, the back catalogue of The Beatles, the songs of Bob Dylan have been squinted at & analysed more intensively than any others in pop music. It is testament to their enduring eloquence, wit and insight that much of Dylan's 1960s material remains such a puzzle.'
Tony wrote that following the release on Dylan's last album - The Bootleg Series No 9 & 'The Bootleg Series, Vol 10 - Another Self Portrait' is released today. Tony joins Kathryn to review the album & look at Dylan's enduring impact and appeal & we are also joined on the line by former Taoiseach, John Bruton, a big Dylan fan!