John F. Kennedy – the man, the myth, the legacy
As we approach the centenary later this month of President John F. Kennedy's birth, we're attempting to disentangle the man from the myth, with a panel in studio:
Noel Whelan, political analyst and founder of the Kennedy Summer School.
Kate Fitzpatrick, American Civil Rights Lawyer and former Massachusetts Assistant Attorney General.
Dan Geary, Associate Professor in American History at Trinity College, Dublin.
And we also have recorded contributions from:
Samantha Power, former US Ambassador to the United Nations, and Professor of Practice at Harvard's Kennedy School of Government.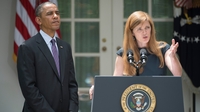 Congressman Joseph Kennedy III, three-term Democratic Congressman; grand-son of Bobby Kennedy; and grand-newphew of President John F. Kennedy.

Dr. Peter Arnds, Head of Germanic Studies at Trinity College, Dublin.
Ryan Tubridy, broadcaster and author of JFK in Ireland: Four Days that Changed a President; and co-author with PJ Lynch of Patrick and the President.