The History Show Sunday 23 February 2014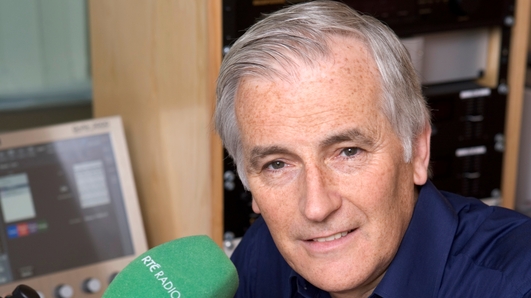 The History Show
Bringing the past to life! Discover how our world was shaped as Myles Dungan and guests explore events ranging from medieval times to the recent past
Irish Brigades Abroad
From the time of King James II's reign over the three kingdoms of England, Ireland and Scotland, swashbuckling young Irishmen achieved great success and fought with distinction in most of the major battles in Europe and beyond – as Lorcan Clancy told us.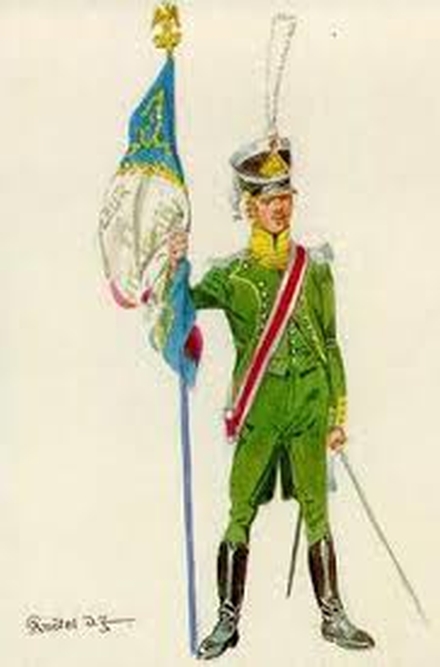 Irish Legion Colour Bearer
Myles was joined by Stephen McGarry, author of Wild Geese: the Irish Brigades Abroad which examines the complete history of the Irish regiments in France, Spain, Austria and beyond.
As this month marks the 200th anniversary of the last major action of Napoleon's Irish Legion when a 500 strong battalion defended the Belgian city of Antwerp, Stephen focussed on the Irish Legion in France.
An article written by Stephen McGarry about the history of the Irish Brigades abroad appears below.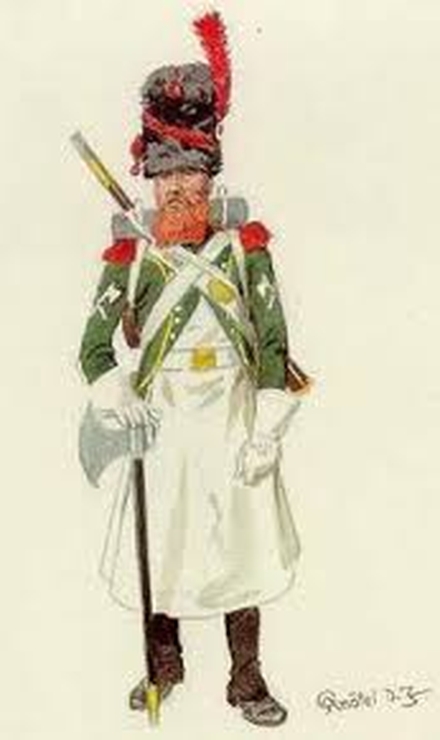 Irish Legion Sapeur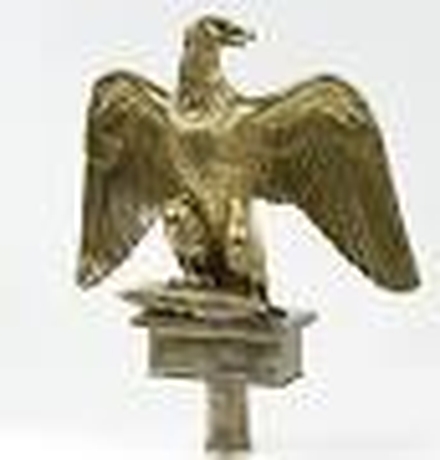 Irish Legion Eagle
Wild Geese: the Irish Brigades Abroad by Stephen McGarry (History Press)
'Irish Brigades Abroad', is the first stand-alone history written on the Wild Geese in 143 years. This is a re-discovered area of Irish history and much new research on the Brigades have been brought to light, for example, the disputed British Colour taken by the Irish at the Battle of Fontenoy in 1745 has been finally identified. Stephen McGarry tracked this flag down in the research library in Paris - nearly 270-years after the event. This contentious flag has been the subject of debate by historians for very many years. This book examines the complete history of the Irish regiments in France, Spain, Austria and beyond. Covering the period from King James IIs reign of the three kingdoms of England, Scotland and Ireland in 1685, until the disbandment of the Irish Brigades in France and Spain. What emerges is a picture of the old-fashioned virtues of honour, chivalry, integrity and loyalty, of adventure and sacrifice in the name of a greater cause.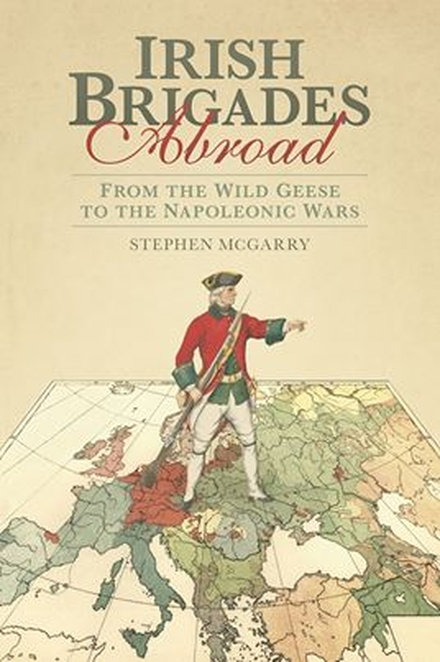 The Irish Brigades Abroad
by Stephen McGarry
The tradition of Irishmen in continental European armies dates back to 1587 when Irish regiments were formed in the Spanish army. Many were forced to seek their fame and fortune abroad after failed rebellions and religious discrimination at home, particularly after the Jacobite War (1689-91), which was fought in Ireland between supporters of the deposed Catholic king, James II, and the Protestant King, William of Orange.
'The Flight of the Wild Geese' was the romantic term given when the 14,000-strong Irish army withdrew to France following the Jacobite War. The Irish army were formed into units called the Irish brigades in France and Spain, along with Irish units formed in Austria, Bavaria and in Catherine the Great's Imperial Russia.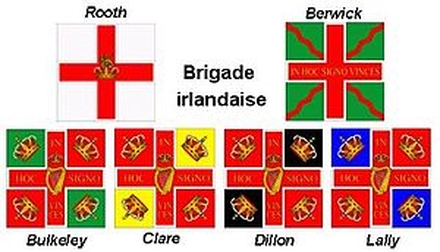 The Irish Brigades were Catholic Ireland's army-in-exile who sought French and Spanish patronage to bring about a free and independent Ireland. However they have been too easily dismissed by historians as mercenaries lacking a political ideology. They wore red uniforms-the colours of the deposed Catholic king, James II, as they hoped that his restoration would finally return Catholic lands and rights back home. The Irish quickly established a reputation as the storm troopers of the Continental armies, which also took its toll in battlefield casualties.
The French Irish Brigades most famous victory was the part they played in the Battle of Fontenoy (1745). In the battle, six Irish infantry regiments in the French army succeeded in pushing back a British infantry advance and secured victory for France. Enemy flags were often a prime-target on the battle-field as their capture often represented a major disgrace to a regiment. While researching the book, I finally discovered the famous British flag captured by the Irish Brigade at Fontenoy. There has always been controversy about this flag as it was never correctly identified. But I came across a reference to it in a French newspaper from 1745 and was finally able to track it down in an illustrated hand-painted manuscript in the research library in Paris. If I ever was to have a 'eureka' moment-it was now.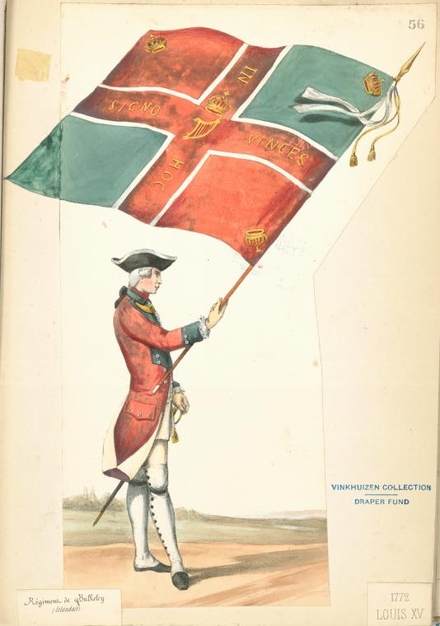 The Irish military diaspora in France and Spain have more often than not, been too easily dismissed by historians as simply mercenaries lacking a political ideology. However they supported the deposed King James as the Jacobite army-in-waiting in the hope that his Restoration would finally return Catholic rights and land. The Irish Brigade of France was disbanded during the French Revolution. But several years later in 1803 Napoleon formed a new Irish unit to spearhead an invasion of Ireland. Napoleon's Irish Legion comprised many United Irishmen who had fled to France following the 1798 and 1803 Rebellions. Two hundred years ago this month, in 1814, the 500-strong Irish Legion were serving in the Low Countries and garrisoned the Belgian city of Antwerp and held out when it was besieged by a British army as part of the Allied invasion to remove Napoleon from power. The Siege of Antwerp was to be the Legion's last major action, as the unit was shortly afterwards disbanded when Napoleon was removed, ending a 125-year-old tradition of Irish service in France.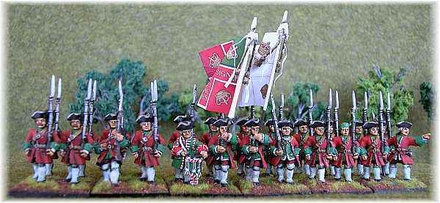 Irishmen frequently faced their fellow countrymen on the field of battle and this sadly occurred far too often. In 1702, Irish troops in the Imperial Austrian army fought their compatriots in the French army in the Italian town of Cremona. An epic musket duel was fought during the Battle of Malplaquet between two Irish units, one in the British, and the other in the French army. Napoleon's Irish Legion also crossed swords with Irish units in the British army; when the Legion was serving in Holland and Spain they faced the formidable Connaught Rangers.
Well over 50,000 Irishmen served in the armies on the Continent and thousands rose to high rank across Europe. Henry Clarke was Napoleon's Minister of War and was central to the creation of the 'Grand Army' and was on horseback beside Napoleon at Waterloo. General Charles Kilmaine born and bred in Temple Bar in the centre of Dublin commanded the French army in Italy. An Irish officer in France called General Thomas Conway from County Kerry served with the American rebels in the Revolutionary War as the high ranking inspector-general but became involved in a plot to oust General George Washington as commander of the American Continental Army.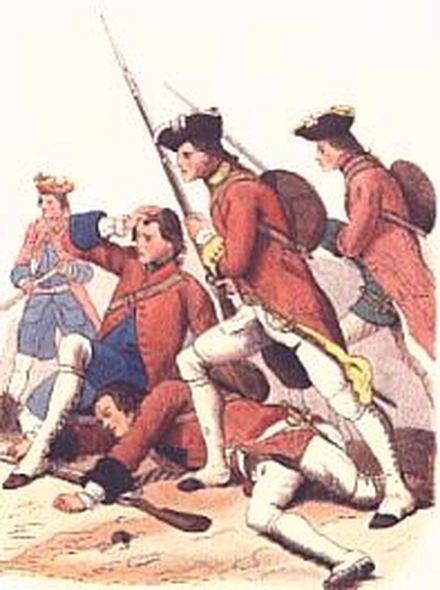 'For in far foreign fields from Dunkirk to Belgrade', Thomas Davis wrote famously, 'lie the soldiers and chiefs of the Irish Brigade.' After several years of army service many ventured into business. Some established the 'wine geese' vineyards, many of whom are still operating today, such as the Bartons and Lynch's. Richard Hennessy served in Clare's Regiment and later founded his famous distillery in Cognac. Others used their success for political purposes and funded Bonnie Prince Charlie's campaign to reclaim the Stuart crown in the 1745 Scottish Rising. Irishwomen became Ladies-In-Waiting to the French queen, Queen Antoinette, and had fashionable boutiques on the Champs Elysees.
Their legacy was felt well into the 20th Century. Probably the most famous Frenchman of all time, President Charles DeGaulle was descended from the powerful MacCartan clan in Co. Down before they were unseated during the English Conquest. DeGaulle's ancestor was Captain Anthony MacCartan who went to France with the 'Flight of the Wild Geese'. Ireland experienced a 'brain drain' in the 'long' eighteenth-century with so many eminent Irish Catholic gentry families being driven away. Ireland's loss certainly turned out to be Europe's gain.
Keywords
Irish Poets of World War I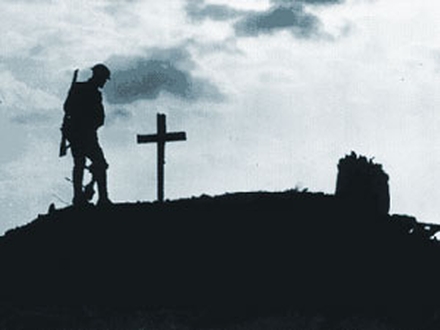 During the month of March, the National Gallery will host a series of lectures as well as full day seminars on the subject of war poets and war artists spanning many decades.
With so many to choose from, this week, we decided to focus on three Irish poets from the Great War.
Gerald Dawe, Professor of English at Trinity College Dublin talked about three Irish poets of the Great War - Winifred M Letts, Thomas MacGreevy and Patrick MacGill.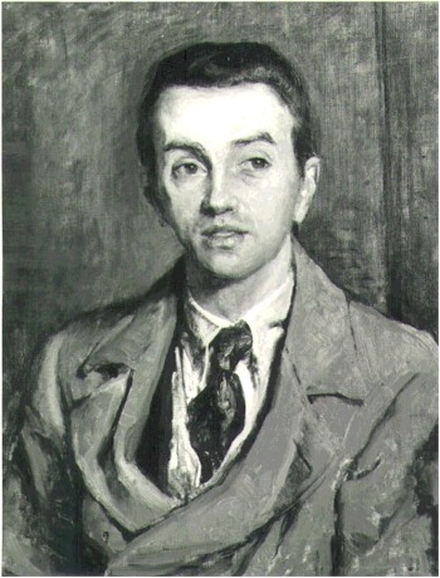 Thomas McGreevy
1893-1967
Thomas McGreevy was born in Kerry and moved to Dublin in 1910 where he worked for the Irish Land Commission. He was Second Lieutenant in the Royal Field Artiillery during the First World War, after which he studied at Trinity College Dublin. He became the director of the National Gallery of Ireland in 1950. MacGreevy is considered to be the first Irish modernist poet.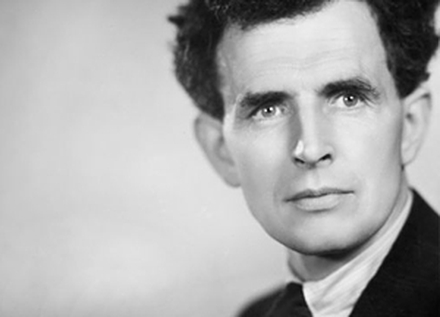 Patrick MacGill
1890-1963
Patrick MacGill was born in Glenties, Co. Donegal. He worked as an itinerant labourer until his poetry collection, Gleanings from a Navvy's Scrapbook, was published in 1911. He fought with the London Irish rifles during the First World War and was wounded at the Battle of Loos in 1915.
Winifred M Letts
1882-1972
Poet, novelist, children's writer and playwright, Letts was born in England and raised and educated in Dublin. She worked as a nurse during the First World War and her groundbreaking poetry collection, Hallowe'en and Poems of the War, was published in 1916.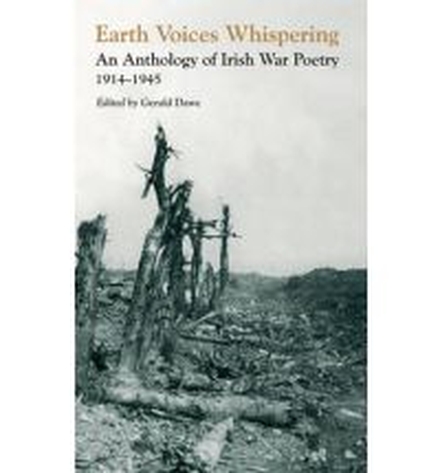 Earth Voices Whispering: An Anthology of Irish War Poetry 1914-1945 Edited by Gerald Dawe is published by The Blackstaff Press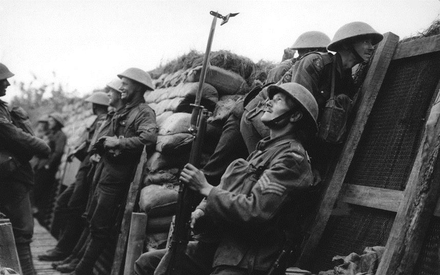 Click here for National Gallery's War Artists Day on 1 March
Click here for National Gallery's War Poets Day on 2 March and March programme
Press Coverage of Poets during 1914
Maureen Kennelly, director of poetry Ireland has been looking back at what newspapers had to say about poets of the day back in 1914. She joined Myles to talk about her findings.
From this April, there will be a dedicated poetry section in the Century Ireland online newpaper. This will include poetry readings from 100 years ago by young people between the ages of 13 and 18.
Click here for Century Ireland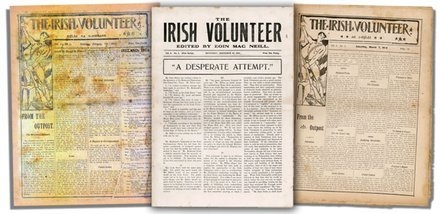 Press coverage of poets during 1914
By Maureen Kennelly
T.D. Sullivan
On March 31st T. D. Sullivan died; the following day, April 1st,it's in all the newspapers. As this extract from Wikipedia makes clear, he was a significant presence in the nineteenth and early twentieth century – 'He was a member of the Home Rule League, supporting Charles Stewart Parnell in the 1880 general election, being "convinced that without self-government there could never be peace, prosperity or contentment in Ireland". He joined the Irish Parliamentary Party when it was established in 1882. When the party split in 1891 he became an Anti-Parnellite until the Nationalist factions were reunited in 1900.' He wrote a sketch of his political experiences called Recollections of Troubled Times in Irish Politics, published in 1905, and was editor of a number of publications including The Nation.
Yeats had this to say of Sullivan's contribution to music and poetry in Irish Literature ed. J. McCarthy (Washingon 1904): 'The agrarian movement that followed produced little poetry, and of that little all is forgotten but a vehement poem by Fanny Parnell and a couple of songs by T. D. Sullivan, who is a good song-writer, though not, as the writer has read on an election placard, "one of the greatest poets who ever moved the heart of man."' While not the highest of praise, it shows that he was regarded for his contribution to the arts, especially for having written the Irish national hymn "God Save Ireland".
Upon his death, commentators in the Irish Independent, The Irish Times and the Freeman's Journal note that Sullivan was a poet as well as a politician. On April 2nd there are numerous instances of people writing in to the Irish Independent to express their sadness at the news; there are even poems written in memory of him – a "Townsman's tribute". There is also the inclusion of a facsimile production of his verses.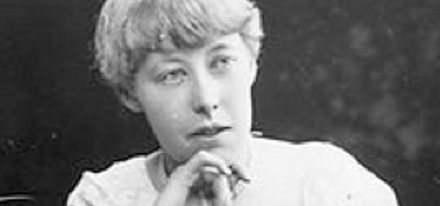 Katherine Tynan
On April 6th there is a review in the "Books and Booksmen" column (Irish Independent) of one of Katherine Tynan's collections. The main significance of the article is to give a sense of what poetry was popular at the time.
Edward Dowden
On May 25th there is an article devoted to Edward Dowden who died on April 4th the previous year. The article notes his significance as a critic, but also that fact that he was a writer of poetry. The Yeats biography I've been reading gives a good idea of his influence as a poetry critic; in one of Yeats's earliest attempts at establishing him own voice publicly, he chose to rail against Dowden in a review (October, 1886) of the poetry of Sir Samuel Ferguson. Here is the excerpt included in the biography:
If Ireland has produced no great poet, it is not that her poetic impulse has run dry, but because her critics have failed her, for every community is a solidarity, all depending upon each, and each upon all … It is a question whether the most distinguished of our critics, Professor Dowden, would not only have more consulted the interests of his country, but more also, in the long run, his own dignity and reputation, which are dear to all Irishmen, if he had devoted some of those elaborate pages which he has spent on the much bewritten George Eliot, to a man like the subject of this article.
Despite this flagrant denouncement of Dowden's well-known cosmopolitanism in favour of a more nationalist stance, Yeats and Dowden were apparently soon friends again.
The Exclusion of Ulster
On April 4th in Sinn Féin there is an interesting article entitled "The Exclusion of Ulster". The first line gives a good indication as to just how central poetry was to the nationalist media at the time, stating that "the bards are up in arms". Sinn Féin has a lot more content devoted to poetry than the Irish daily newspapers who seem to write more about upcoming plays and concerts. This article is concerned about poetry submitted to the paper denouncing the proposal to partition Ireland. The poem they include is by Philib O'Neill. The first line of poem reads "When Saxon foot first dared pollute our fair and verdant land".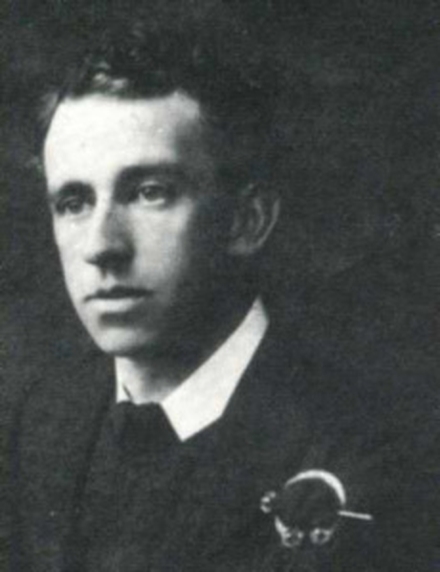 Thomas MacDonagh
Also on April 4th is a review of Thomas MacDonagh's latest poetry that criticises its apparent introversion in comparison with his early work: 'It is a treasure house of his very own satisfaction, a mint whose currency may be valuable to him, but to him alone.'
Seamus O'Sullivan
On July 11th there is a review of Seamus O'Sullivan's An Epilogue to the Praise of Angus and Other Poems. It's worth noting as the review contextualises the collection in relation to Irish Literary Revival.
Bludgeons and Blarney
On May 30th in The Irish Worker there is a poem entitled "Bludgeons and Blarney", submitted under the pseudonym, Batanio. The poem gives some evidence of the kind of doggerel that can be found in both The Irish Worker and Sinn Féin. Though I don't have the lines with me to transcribe, the poem seemed like a good one to have read aloud. The language is phonetically rich and rollicking, poking fun the police for their dubious enforcement of the law.
The Gory Grenadiers – An Explanation
On June 6th there is an article entitled "The Gory Grenadiers – An Explanation". "The Gory Grenadiers" was published in The Irish Worker on May 16th and this article, written by the same poet, defends the content of the poem, claiming that it is not an attack on the Irish Volunteers as some readers have suspected. It's an interesting article because, like "The Exclusion of Ulster" article, it gives an idea of how involved poetry was in relation to the political and social climate at the time.
Keywords
Carlow Castle and Lunatic Asylums in 1800s
An illustration of the castle by Uto which shows how it would have looked in its prime.
200 years ago this month, an enormous explosion virtually destroyed Carlow Castle. At the time, Dr. Philip Middleton was converting the castle into a private lunatic asylum. Orla Rapple reported from Carlow where she found out more about this story.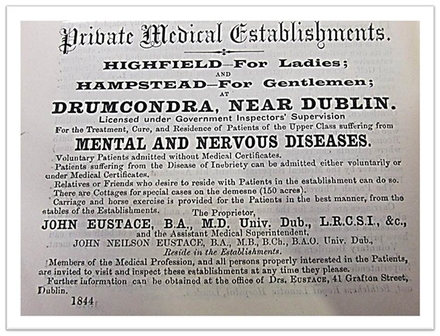 Professor Brendan Kelly from UCD and the Royal College of Physicians of Ireland joined Myles to discuss conditions in private asylums in the 1800s and the emergence of public asylums.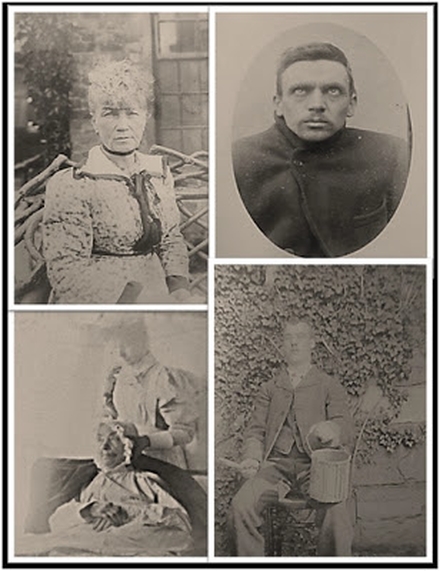 Paying Patients in Richmond District Lunatic Asylum (1885-1900)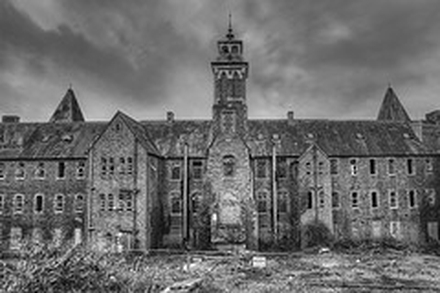 Brendan Kelly's forthcoming book, "Custody Care and Criminality: Forensic Psychiatry and the Law in Nineteenth-Century Ireland" will be published by the History Press in September.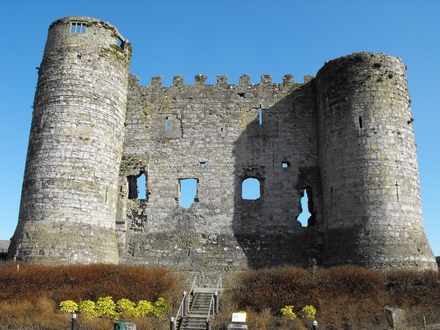 Carlow Castle
The ruins of Carlow Castle are free to visit all year round and a series of plaques and information boards are set out around the castle to provide a visual history of the Castle.
Publications available free of charge from Carlow County Museum and Tourist Office:
Carlow Castle Medieval Stronghold on the Barrow by Dr. Margaret Murphy.
800 Years of an Irish Castle by Turtle Bunbury.
A 3D printed model and historical reconstruction illustration of Carlow Castle are on display at Carlow College from Monday to Friday (9.30am-4.30pm). Both were commissioned by Carlow Town Council in 2013 to commemorate the 800th anniversary of the construction of Carlow Castle in 1213 AD and to mark the period that Carlow was the capital of Ireland.
50th Anniversary of Cassius Clay and Sonny Liston Fight
Today, we remember Muhammad Ali as probably the best boxer to ever step into the ring. That wasn't the case before his first heavyweight title fight, 50 years ago this Tuesday. Former New York Times boxing journalist Robert Lipsythe spoke to us about the then underdog taking on an unbeatable Sonny Liston. James Keating told the story.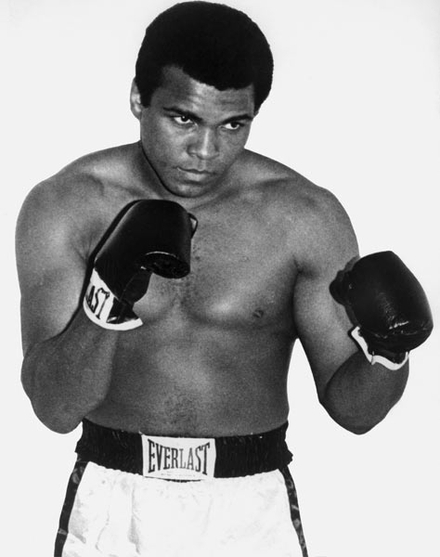 Cassius Clay 1964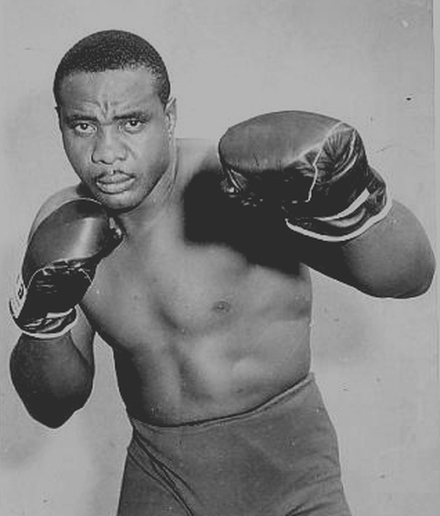 Sonny Liston 1964
Cassius Clay became Muhammad Ali in 1965. Robert Lipsythe became the main boxing writer for the New York Times. Sonny Liston and Muhammad Ali had a rematch in 1965. Muhammad Ali was again the winner. Sonny Liston had his final fight in 1970 - and lost.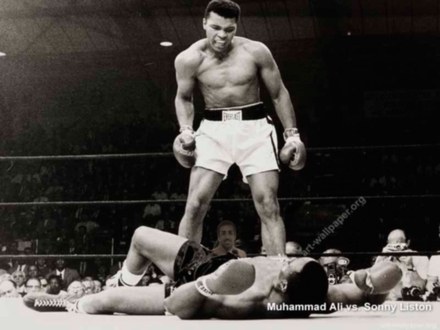 Keywords
Coming up on next week's programme....
How German radio broadcast Nazi propaganda to neutral Ireland – as Gaelige - during World War II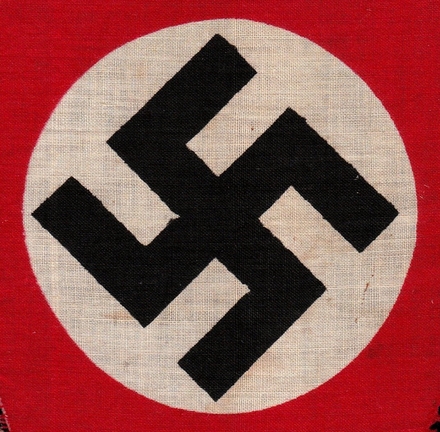 And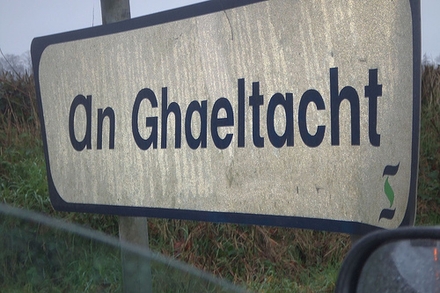 We'll examine the history of the State's project to revive Irish. Has it been an utter failure?
Get involved in the discusion by emailing history@rte.ie