The God Slot Wednesday 25 December 2013
The God Slot 25th December 2013
THE GOD SLOT.
WEDNESDAY, DECEMBER 25, 2013 8.00.
CHRISTMAS MORNING.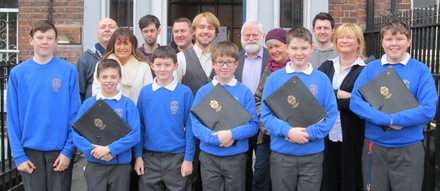 The cast and crew of The God Slot outside The Moving Crib.
Looking at the brightly but secularly coloured shop windows in Dublin city centre today, a visitor from another planet might be left wondering what this Christmas business is all about. Is it about over indulgence in food and drink, about spending lots of money on things we don't really need, is it just one long but meaningless party? Or is it about something else, a rather special birthday? Well, if we directed our extra terrestrial to Parnell Square, and showed him The Moving Crib, so beloved of generations of Dubliners and people from all over the country, he might just find some enlightenment.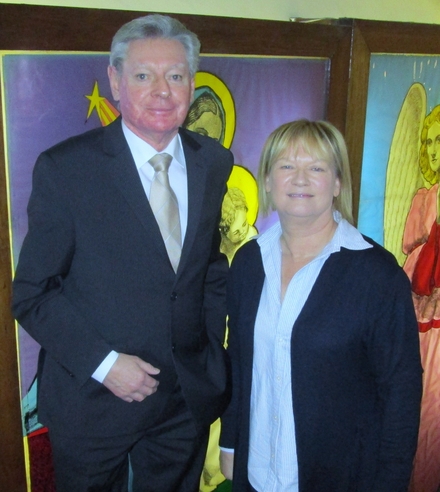 Eileen and Pat Cambell.
That's the setting for the Christmas morning edition of The God Slot, where Eileen Dunne is joined by boy choristers from The Palestrina Choir, regular contributor Ben Conroy, author on Theology Anne Thurston, journalist, author and broadcaster Fiona Looney, and fiddler and whistle player with the legendary Dubliners John Sheahan, for thoughts on this magical time of year with conversation, readings and lots of musical helpings. Long time volunteer at the Crib Pat Campbell starts the ball rolling by pointing out some of the main features and giving the history of The Moving Crib, so for the perfect way to ease yourself into Christmas Day, The God Slot Christmas Special is for you.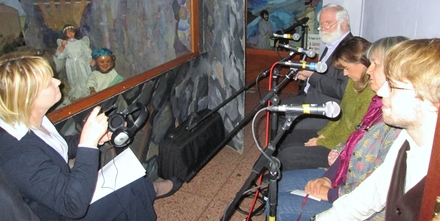 Eileen and guests and the Moving Crib.