The God Slot Friday 26 April 2013
Siobhan Mhic Craith, Liam Clancy's daughter.
Siobhan Mhic Craith belongs to one of the best known families in Irish folk music circles. At one stage, her father, two uncles and their friend from Armagh were thought to be the four most famous Irishmen in the world, and their albums outsold the Beatles in the US during the 1960s. Long before the phenomenon of 'boybands', they were international stars, and their red blooded versions of Irish ballads and folk songs delighted audiences all over the world. They were The Clancy Brothers and Tommy Makem, and Siobhan's father, Liam, was probably the best known of the four as his career lasted until 2009, when a painful and debilitating illness led to his death. He used to describe himself as the 'last man standing'.
In The God Slot, Siobhan talks about Liam's loss of belief in all religion, and his battles with his many demons, mainly alcoholism. She discusses her own deep faith, strengthened after a trip to Medjegorje, how it helped during her father's last hours, and how, despite his resistance, she believes prayer helped him.
This is probably one of the most moving personal stories yet shared on The God Slot, and should bring comfort to many listeners who battle with their own demons, or those of other family members.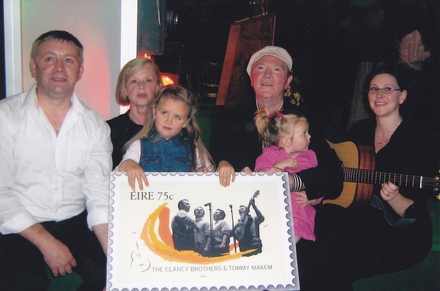 Left to Right: Cárthach Mac Craith, husband of Siobhan, Kim Clancy, Siobhan's mother, Ailidh Nic Craith, daughter of Siobhan, Siobhan and Liam. The little one is Siobhan's daughter Méin Nic Craith at the launch of the Clancy Brothers and Tommy Makem stamp which was part of the collection of stamps honouring Irish music greats.
Keywords