The God Slot Tuesday 25 December 2012
Noirin Ni Riain, Mark Patrick Hederman and Glenstal Abbey.
On Christmas morning at 10, we have a special programme recorded at the beautiful and world famous Glenstal Abbey, where Eileen Dunne and Gerry McArdle meet Sean Nós singer and Gaelic and Theological Scholar Nóirín Ni Riain, the prophetic figure of Abbot Mark Patrick Hederman, the Benedictine Monks and the boys choir from the Abbey's school. During the programme, we explore the nature of Holiness, what Christmas is really about and the significance of St. Nicholas to Ireland. Needless to say, the show will be interspersed with lots of music to raise hearts and minds to higher things.
(Pictured below: Eileen, Brother Michael, Nóirín Ní Riain, Gerry.)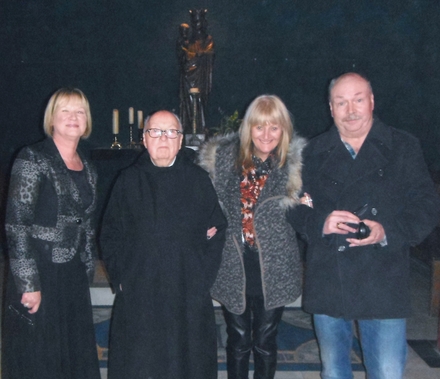 A very Happy Christmas to all our listeners.
Keywords