The Book Show, Saturday 28th October
This week The Book Show comes from Dublin's Smock Alley Theatre where a special hour-long episode was recorded in front of a live audience.
'A Letter To A Character' is a full episode looking at the role character plays in fiction and how the readers responds to favourite characters - or least favourite!
Sinéad Gleeson is joined on stage by Lisa McInerney (The Glorious Heresies, The Blood Miracles) who speaks about the central role character plays in fiction and also on stage with them is the Laureate for Irish Fiction, Anne Enright (The Gathering, The Green Road) who explains how in her own work she laboured to give her characters their own independence and their own voice.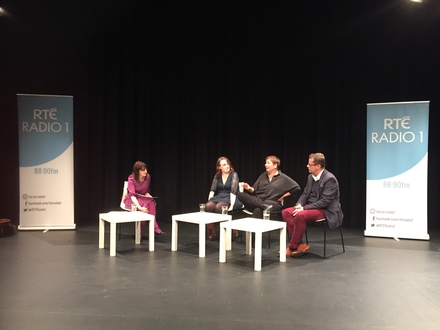 (L-R) Sinéad Gleeson, Lisa McInerney, Anne Enright and Paul Howard
Actors Derbhle Crotty and Dermot Magennis read some selections from the letters you wrote as part of our Dear Character competition. We hear a selection of readings at the start of the show and also, as we received so many letters addressed to characters from Jane Austen's novel Pride & Prejudice, we have selected some of these for the actors to read.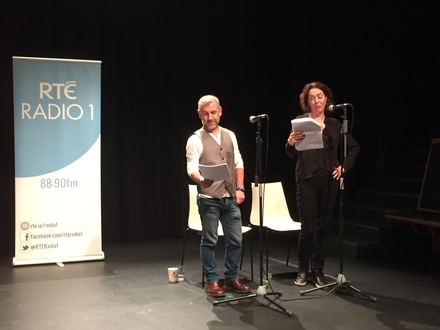 Dermot Magennis and Derbhle Crotty
Sinéad, Anne and Lisa discuss the appeal of the classics for some readers today.
The singer Lisa O'Neill is also on stage to sing two songs for us. 'Gormlaith's Grieving' is a song about the wife of Brian Ború and it's taken from her album Pothole in the Sky. she also sings The Lass of Aughrim, a traditional song and one which played a role in the life of one of James Joyce's characters from Dubliners, Gretta Conroy.
Paul Howard is the creator of one of Ireland's best loved characters, Ross O'Carroll-Kelly who has been on the go now for 20 years. As well as his weekly column in The Irish Times and a brace of books, Ross is currently treading the boards (via Rory Nolan) in his latest theatrical outing 'Postcards From The Ledge'. Paul, tells Sinéad about some of the background to his character, how Ross has changed over the years and how they can sometimes be mistaken for each other!
The three of them continue to discuss characters and which ones in particular they can identify with before Sinéad asks Anne to introduce the winning letter from our Dear Character competition. Aoife Kavanagh's heartfelt letter to Holden Caulfield from JD Salinger's The Catcher in the Rye is the letter which caught Anne's eye. It's written to Holden over the course of the writer's life as her relationship to him changes. Anne Enright says this captures in essence the relationship between readers and characters as both evolve over the years.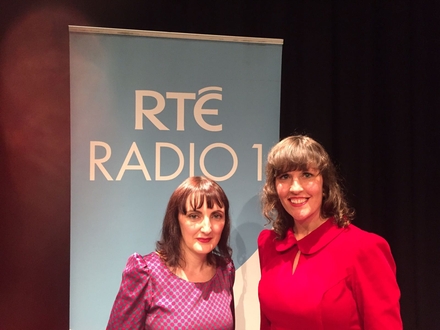 Sinéad with Aoife Kavanagh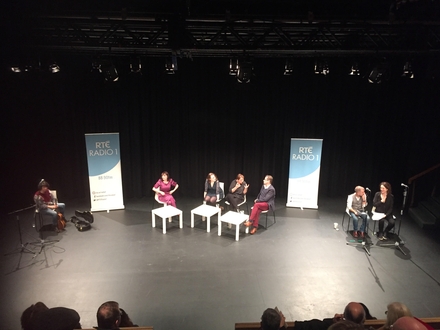 A Letter to a Character, Smock Alley Theatre
Aoife won a €250 book token and her letter is below.
My dearest Holden,
Where do the ducks go?
I am a people-pleasing, obsequious teenager.
I am in awe of your raucous, rebellious self, yelling farewell to school.
Nobody in my school knows that I spin around New York with you in the back of a yellow cab which smells of other people's cookies, and that together we swing in and out of bars and brothels.
You asked Sally Hayes to run away with you to a cabin camp to live simply by a brook – why? You should have asked me, Holden and waited 'til I was ready to run.
And where do the ducks go?
I have started college and my first boyfriend is so like you I sometimes call him Holden. He likes it; he says so. We meet on a library tour where he demonstrates how to source a book online. To impress him, I search for you, Holden, but instead I find him.
We married, Holden. You got an invisible wedding invite but you didn't show up. You probably thought that we were surrounded by phonies and maybe looking back, we were. When we divorce, my heart is like the starved frozen fish at the bottom of your lake in Central Park. I am the fish now, who cannot ignore the ice.
And where do the fish go?
I am a teacher now. I can smell your teachers; Mr Spencer with his Vicks nose drops and baptismal bathrobe; Mr Antolini with his booze-breath and cigarette swirls. I could have saved you, Holden.
You are not the only catcher in the rye.
I invite you to speak to my students and this time, you show up. I am disproportionately defensive and disappointed by their derision of you. A stocky student with forcibly tamed hair exclaims that she would never date you; that you are too irresponsible, too unpredictable. But this is what attracted me to you. I am old enough to feel that these girls are attacking my wayward son.
As a parent now, I watch you gingerly lodging Phoebe on the carousel. I understand how it feels to be torn between the desire to let a child spin with abandon and simultaneously wanting to cling to them.
And where do the ducks go?
It is thirty years since first we met. Even now, you are as frozen in my mind as your beloved stuffed eskimo who has eternally just caught two fresh fish, and is encased in a glass box in
the Natural History Museum. You are carefully encased in my mind and I am reassured by your unchanging permanent presence.
I feel lonely in Central Park without you. I make a secret pilgrimage to your lake each time I go. I will bring my grandchildren there to ask them, 'Where do the ducks go?'
X Your Aoife
'Dear Character' Competition Update
Thanks to everyone who has sent a letter to a character as part of our Dear Character competition. We have been delighted by the response and have drawn up a shortlist of letters which we have sent to our judge, the Laureate for Irish Fiction, Anne Enright.
She will choose a winning letter and this will be read at our special episode which will be recorded in Smock Alley theatre in Dublin on October 21st 2017.
The winning entry will also win a €250 book token.
At our Smock Alley show we will be reading excerpts from some of the letters. The winning letter will be published online on our RTÉ web page after the broadcast.
Sinéad Gleeson will be in conversation with Lisa McInerney, Anne Enright and Paul Howard. We'll have music by singer Lisa O'Neill and readings from some of our letters to characters by actors Derbhle Crotty and Dermot Magennis.
The show is now sold out but it will be broadcast on RTÉ Radio 1 on Saturday October 28th, 7-8pm.
A full list of those writers whose letters have been shortlisted is below - congratulations to all:
Character: Anna Livia Plurabelle
Writer: Holly Furey
From: Finnegans Wake by James Joyce
Character: Auggie Pullman
Writer: Keeva Holloway
From: Wonder by RJ Palacio
Character: Anna Arkadyevna Karenina
Writer: Lev Nikolayevich (Eoin Shaughnessy)
From: Anna Karenina by Leo Tolstoy
Character: Bobby Mahon
Writer: Rebecca Ivory
From: The Spinning Heart by Donal Ryan
Character: Captain Ahab
Writer: Stephen Phelan
From: Moby-Dick by Herman Melville
Character: George Smiley
Writer: Karen McCormack
From: Various George Smiley novels by John LeCarré

Character: Gregor Samsa
Writer: Bernard Mahon
From: Metamorphosis by Franz Kafka

Character: Holden Caulfield
Writer: Aoife Kavanagh
From: The Catcher in the Rye by J. D. Salinger
Character: June
Writer: Anita Fennelly
From: The Handmaid's Tale by Margaret Atwood
Character: Mr. Toad
Writer: Liam Cahill;
From: The Wind in the Willows by Kenneth Grahame
Character: Nora Webster,
Writer: Shelley Tracey,
From: Nora Webster by Colm Toibin
Character: Raskolnikov
Writer: Sylvia (AKA- Mark Dennehy)
From: Crime And Punishment by Fyodor Dostoyevsky
Character: Robinson Crusoe
Writer: Klara Golez
From: Robinson Crusoe by Daniel Defoe
Character: Rosaleen Madigan
Writer: Marion O'Donnell (Miriam Hurley)
From: The Green Road by Anne Enright
Character: 'She'
Writer: Papa (Stephen Wade)
From: The Road by Cormac McCarthy
Character: Voldemort
Writer: Claudia Rose-Mohan
From: Harry Potter and the Order of the Phoenix by JK Rowling

The Book Show
Presented by Sinead Gleeson, The Book Show is where we get to know a bit more about the books you love and talk about what you could be reading over the next few months.
Writers and publishers will talk stories, books and the world of writing and we'll have readings, reports and regular items. The Book Show will bring you the best in international and Irish authors, with weekly discussions, interviews, features and literary trivia.
If there's anything you'd like to hear covered on the show or have any comments to make, why not get in touch bookshow@rte.ie and you'll find us on twitter @bookshowrte and on Facebook.
Sinead Gleeson Photo credit: Annie Atkins