The Book Show November 2nd 2013
The Book Show
In a special programme to mark the beginning of the series The Book Show celebrates the writings of Maeve Brennan, talks to National Book Award Finalist George Saunders and looks at how contemporary Irish writing reflects Ireland today.
Maeve Brennan
This month is the 20th anniversary of the death of Irish writer Maeve Brennan. Brennan left Ireland at 17, and was to spend most of her life in New York as a staff writer at the New Yorker magazine. There, she penned witty, observational columns about New York life, and 41 short stories. Her back catalogue consists of just two short story collections, a novella and her New Yorker writing, and when she died in 1993, she was considered a forgotten writer. In tonight's show, we discuss Brennan's life, work and her importance as an Irish writer, with Dr Ellen McWilliams from the University of Exeter and Angela Bourke, whose biography Homesick at the New Yorker resurrected Maeve as a writer.
Homesick at The New Yorker – Angela Bourke
Springs of Affection (Counterpoint) - Maeve Brennan
The Rose Garden (Counterpoint) – Maeve Brennan
The Visitor – Maeve Brennan
George Saunders
Later this month, America's National Book Award winner will be announced. On a recent Book Show trip to New York, Sinead talked to George Saunders about his funny, surreal writing and his latest short story collection Tenth of December. The winner will be announced on 20th November 2013.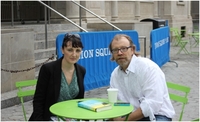 Sinead Gleeson and George Saunders in Union Square Park 2013
Football Type
I'm delighted to have a chance to feature football on the show, thanks to a new book called Football Type. We sent reporter Ken Early of @secondcaptains to ask its author Rick Banks about the stories behind the numbers and fonts used on football shirts. He also spoke to Eddie O'Mahony who has the largest collection of Irish match shirts.
Football Type – Rick Banks www.footballtype.co.uk
Ireland Soccer Shirts – http://www.irelandsoccershirts.com/
Boom & Bust Fiction
In the last 10 years Ireland has experienced the highs and lows of economic boom and catastrophic bust, but has the experience been reflected in books? Being Alexander published this month by New Island is the latest contemporary Irish novel to traipse through boomtown Dublin. We feature a reading by the author Diarmuid O'Conghaile, who incidentally is an economist by day, of Being Alexander and also Justin Quinn reading from Mount Merrion where the main character Boyle ends up in front of a the planning tribunal.

Peter Murphy and Ann Marie Hourihane join Sinead to discuss the books that reflect on contemporary Ireland.

Readings
Being Alexander (New Island) – Diamuid O'Conghaile
Mount Merrion (Penguin) – Justin Quinn

Other books mentioned
Donal Ryan - Spinning Heart
Alan Glynn - Graveland/Winterland
Claire Kilroy - The Devil I Know
Kevin Power - Bad Day at Blackrock
Forensic Songs/Notes From A Coma- Mike McCormack
Dark Lies the Island - Kevin Barry
Skippy Dies – Paul Murray
Broken Harbour – Tana French
This evening's Footnote talk about:
John Steinbeck - Of Mice and Men
'Dear Character' Competition Update
Thanks to everyone who has sent a letter to a character as part of our Dear Character competition. We have been delighted by the response and have drawn up a shortlist of letters which we have sent to our judge, the Laureate for Irish Fiction, Anne Enright.
She will choose a winning letter and this will be read at our special episode which will be recorded in Smock Alley theatre in Dublin on October 21st 2017.
The winning entry will also win a €250 book token.
At our Smock Alley show we will be reading excerpts from some of the letters. The winning letter will be published online on our RTÉ web page after the broadcast.
Sinéad Gleeson will be in conversation with Lisa McInerney, Anne Enright and Paul Howard. We'll have music by singer Lisa O'Neill and readings from some of our letters to characters by actors Derbhle Crotty and Dermot Magennis.
The show is now sold out but it will be broadcast on RTÉ Radio 1 on Saturday October 28th, 7-8pm.
A full list of those writers whose letters have been shortlisted is below - congratulations to all:
Character: Anna Livia Plurabelle
Writer: Holly Furey
From: Finnegans Wake by James Joyce
Character: Auggie Pullman
Writer: Keeva Holloway
From: Wonder by RJ Palacio
Character: Anna Arkadyevna Karenina
Writer: Lev Nikolayevich (Eoin Shaughnessy)
From: Anna Karenina by Leo Tolstoy
Character: Bobby Mahon
Writer: Rebecca Ivory
From: The Spinning Heart by Donal Ryan
Character: Captain Ahab
Writer: Stephen Phelan
From: Moby-Dick by Herman Melville
Character: George Smiley
Writer: Karen McCormack
From: Various George Smiley novels by John LeCarré

Character: Gregor Samsa
Writer: Bernard Mahon
From: Metamorphosis by Franz Kafka

Character: Holden Caulfield
Writer: Aoife Kavanagh
From: The Catcher in the Rye by J. D. Salinger
Character: June
Writer: Anita Fennelly
From: The Handmaid's Tale by Margaret Atwood
Character: Mr. Toad
Writer: Liam Cahill;
From: The Wind in the Willows by Kenneth Grahame
Character: Nora Webster,
Writer: Shelley Tracey,
From: Nora Webster by Colm Toibin
Character: Raskolnikov
Writer: Sylvia (AKA- Mark Dennehy)
From: Crime And Punishment by Fyodor Dostoyevsky
Character: Robinson Crusoe
Writer: Klara Golez
From: Robinson Crusoe by Daniel Defoe
Character: Rosaleen Madigan
Writer: Marion O'Donnell (Miriam Hurley)
From: The Green Road by Anne Enright
Character: 'She'
Writer: Papa (Stephen Wade)
From: The Road by Cormac McCarthy
Character: Voldemort
Writer: Claudia Rose-Mohan
From: Harry Potter and the Order of the Phoenix by JK Rowling

The Book Show
Presented by Sinead Gleeson, The Book Show is where we get to know a bit more about the books you love and talk about what you could be reading over the next few months.
Writers and publishers will talk stories, books and the world of writing and we'll have readings, reports and regular items. The Book Show will bring you the best in international and Irish authors, with weekly discussions, interviews, features and literary trivia.
If there's anything you'd like to hear covered on the show or have any comments to make, why not get in touch bookshow@rte.ie and you'll find us on twitter @bookshowrte and on Facebook.
Sinead Gleeson Photo credit: Annie Atkins