SUNDAY MISCELLANY GOES TO LIMERICK
Presented by RTÉ Radio One, Irish World Academy and Creative Writing at the University of Limerick, our next live recording is at 12.00 p.m. on Sunday 6th May.
This performance will feature writers including Joseph O'Connor, Donal Ryan, Martin Dyar, Sarah Moore Fitgerald and Mary O'Malley, and musicians Boris Hunka, Diane Daly, Seamus Fogarty and more.
Tickets priced at €15 are available from http://www.uch.ie/event/rte-ones-sunday-miscellany/
Sunday Miscellany
The programme's new radio essays and occasional poems, interspersed with complementary music, capture our times, passions and curiosities. The content is selected mostly from open submission, with some commissions. Submissions are welcome from new and established writers alike.
Reportage, appreciations, memory pieces, poetry, travel writing and personal accounts of events and happenings are the stuff of Sunday Miscellany. The programme is part of Sunday mornings since 1968. It is essential listening to many thousands across Ireland and more around the world.
Christmas Miscellany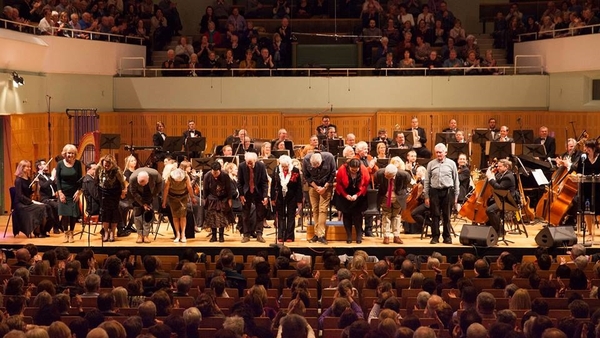 Sunday Miscellany Live at the NCH with the RTÉ Concert Orchestra: part 2
New writing:
Maeve, Christmas, and Unasked For Advice, by Chris Binchy;
A-Carolling We Would Go, by Mae Leonard;
Traveller Fashionista, by Rosaleen McDonagh, read by Kathleen Lawrence;
The Old Maid Josie Cross and the Lamb of God, a poem by Leo Cullen;
Red Berries and Mango Blossoms, by Lani O'Hanlon;
And A Lost Soul On Christmas Eve, by Cyril Kelly.

Music, all performed by the RTÉ Concert Orchestra and conducted by Gearóid Grant:
Sunday Miscellany's signature tune, Galliard Battaglia, composed by Samuel Scheidt, and arranged by Michael Allen;
Rondo, from Mozart's Horn Concerto No. 4, featuring soloist Cormac Ó hAodán;
Ding Dong Merrily on High, arranged by John Tate;
Andante Allegro from Handel's Harp Concerto in B Flat Major, Opus 4, no. 6, featuring soloist Geraldine O'Doherty;
Bugler's Holiday, by Leroy Anderson, featuring Shaun Hooke, Eamonn Nolan and Eoin Daly on trumpet;
Winter Song, by Sara Beth Bereilles and Ingrid Michaelson, and sung by special guest Camille O'Sullivan, with the Orchestra and, on piano, Feargal Murray, who also wrote the orchestral arrangement;
Adeste Fidelis, arranged by David Willcocks and sung by special guest mezzo-soprano Sharon Carty, with the Orchestra.