Seascapes Friday 2 May 2014
Next here on Seascapes to Olympic sailors Ryan Seaton and Matt McGovern of Providence Team Ireland sailing in the 49er Class -they secured a World Cup Silver medal last weekend in Hyeres in France ...congratulations also go to Anna Lise Murphy and Saskia Tidey and Andrea Brewster not forgetting James Espey.......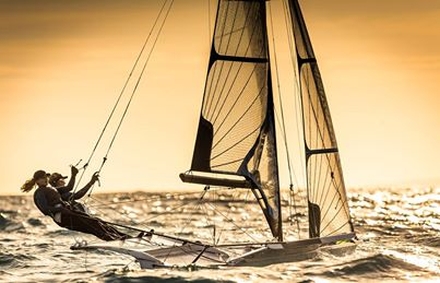 As the May Bank Holiday approaches, watersports clubs and training centres from Dublin to Galway and Donegal to Cork have joined forces to offer a unique range of free activities for children, teenagers and adults .....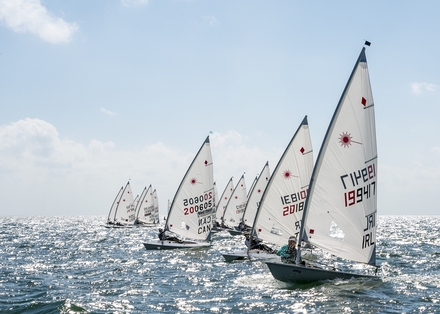 Sail Spree – an initiative developed by the Irish Sailing Association (ISA) three years ago to encourage people of all ages out on to the water – will run from this weekend in over 25 venues around the country. On offer will be various free taster sessions in sailing, windsurfing and power boating.
Many clubs will also provide plenty of entertainment back on dry land with BBQs, demonstrations and talks across a range of different topics. You 'll get to meet club members and find out how easy it is for you, and your family and friends to get involved in watersports. More detail on the Seascapes webpage and on the ISA Website www.sailing.ie
Last Friday evening saw a gathering of members of the Irish crew who were aboard the Astrid lost last July as they completed a reunion sail aboard the Spirit of Oysterhaven– the event was to launch a new club for Oysterhaven – Oliver Harte explains ...
The Spirit Trust website is www.spiritofoysterhavensailing.ie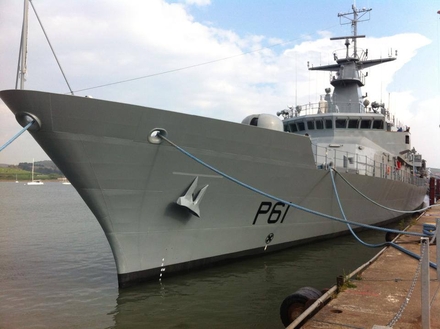 The new Naval Service ship LE Samuel Beckett has undergone successful sea trials in the UK in the past week. The ship, built by Babcock Marine in Appledore in Devon, is now at its new home and at the Naval Base in Haulbowline, in Cork...............The ship will be formally named and commissioned into the Naval Service on Saturday 17th May.....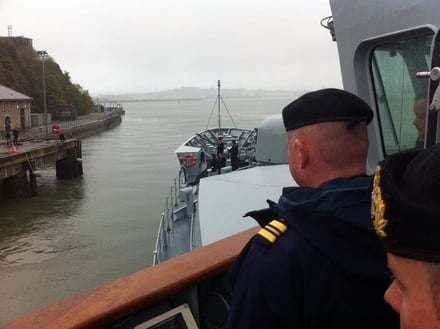 Interesting to read in the past few days about the revelations regarding the Lusitania and its cargo making it a target we'll be talking to the author of a forthcoming book on the topic here on Seascapes next week – historian, mariner and Molgogger – Michael Martin ...........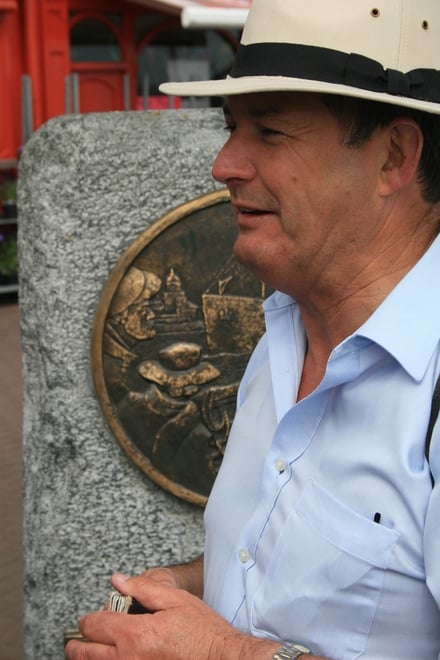 This weekend sees the launch of a beautiful book of photographs of our Western Islands by Photographer –John Carlos at the Inisbofin Arts Festival we'll be talking to John on Seascapes in the coming weeks and we'll have copies of the book in our competition – speaking of competitions the answer to last weeks was Irving Johnson was the man who inspired Ralph McTell to write "Around the Wild Cape Horn"...and the winner is
Kevin O Halloran in Youghal ....many thanks for all your entries...
A timely notice as ever from Irish Water Safety for this weekend requesting that you Always wear a Lifejacket when on water and ensure that it has a correctly fitted crotch strap.
Shore walkers should stay away from the edge and beach walkers should remain vigilant to the dangers of being stranded.
Anglers should be extremely vigilant when fishing from the shoreline of Atlantic swells.
Swimmers should swim parallel and close to the shore and be aware that water is still too cold for extended swims.
Alcohol should be avoided before or during any aquatic activity. On average, a third of drowning victims had consumed alcohol therefore it is best left until after your activity to celebrate.
In emergency situations, never hesitate to call 112 or 999 and ask for the CoastGuard.
More details on the Irish Water Safety website – www.iws.ie
The Courtmacsherry Lifeboat Lusitania Centenary Committee is appealing to anyone or any organisation that may have Lusitania artefacts, stories and memorabilia or know of any family members of those lost or saved in the tragedy to get in contact.
Next Wednesday 7 May, marks the 99th anniversary since the sinking of the Lusitania and Courtmacsherry RNLI's lifeboat will be visiting her resting place to lay a wreath to remember those lost.
The RMS Lusitania was a British ocean liner, launched in 1907 by the Cunard line, a holder of the Blue Riband and briefly the world's biggest ship. On 7 May 1915 on passage from New York, she was torpedoed and sunk by a German U-boat South of Courtmacsherry Bay, West Cork, Ireland with the tragic loss of over 1,200 lives.
Shortly after she was hit, Courtmacsherry RNLI's lifeboat, Ketzia Gwilt which was then stationed at Barry's Point under the command of Coxswain Timothy Keohane and his crew of 14 men, was requested to respond to reports of a large four funnel steamer in distress south east of the Seven Heads.
Courtmacsherry's lifeboat was launched, but in calm conditions without any wind, the sails were of no use so the entire distance of over 12 nautical miles to the casualty had to be rowed by the lifeboat crew.
Next year, to commemorate the centenary of the sinking, the crew of Courtmacsherry RNLI will perform a re-enactment of their call to service on that tragic day in 1915 and will row out to the site of the disaster in a restored original pulling and sailing lifeboat from 1900.
This commemoration event will be held during the May Bank holiday weekend and will be accompanied by a Lusitania exhibition in the lifeboat station and other related events at local venues.
Tadgh MacCarthy, Courtmacsherry RNLI second mechanic and committee member said: 'My ambition to join the lifeboat crew came at a very young age, shaped by the stories that my grandmother told me of watching the Lusitania sinking from the school yard in Butlerstown. As I grew older this enthusiasm also grew so eventually I followed in my grandfather and grand uncle's footsteps and joined the lifeboat crew to keep the tradition of providing help to those in need at sea.'
Dara Gannon from the Courtmacsherry Lifeboat Lusitania Centenary Committee added: 'The loss of the Lusitania is a huge part of Courtmacsherry history and it's not long since some retired lifeboat crew from that day in 1915 were around to recall it. Every Courtmacsherry crew member today holds admiration for all the hardy crewmen of long ago that responded in the attempts to rescue life that tragic day and hope that this centenary commemoration not only makes people think of the loss of life but also the gallant efforts made to save it.'
Anyone with information, questions or contributions are asked to email lusitaniacentenary@gmail.com or contact the station at +353 23 8846600. If you would like to learn more about Courtmacsherry RNLI Lifeboat's call to the sinking of the Lusitania, please visit our website at www.lusitaniacentenary.ie