Seascapes Friday 31 January 2014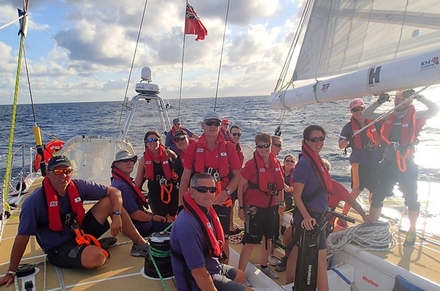 Small Fishing Vessels have a revised safety code of practice ....they are already required to carry EPIRBs (Emergency Position-Indicating Radio Beacons). The revised Code requires them to carry automatic, float-free EPIRBs, and for everyone on board such fishing vessels to wear Personal Locator Beacons (PLBs).
These changes to the Code follow several reports from the MCIB recommending the use of float-free EPIRBS on fishing vessels and the wearing of PLBs by all on board. Float-free EPIRBS are now much smaller and cheaper than earlier models.
Every fishing vessel will be required to be in compliance with these new requirements when they are next surveyed. This is in line with the safety initiative for the Irish Fishing Industry launched in Union Hall in July 2013 by Minister Varadkar and his colleague, Minister for Agriculture, Food and the Marine Simon Coveney. At the same event both Ministers also announced a new, enhanced Safety Equipment Grant Aid Scheme by Bord Iascaigh Mhara.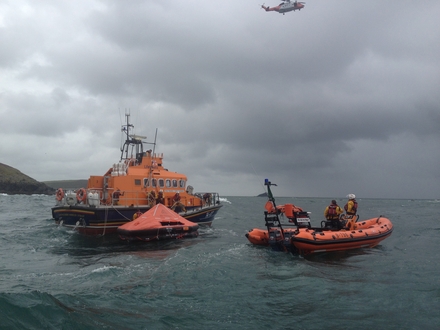 RNLI lifeboats in Ireland launched 1,087 times last year bringing 1,278 people to safety. The figures released by the charity this week are based on returns of service from all 44 lifeboat stations in Ireland. The statistics show that the majority of last year's call outs were to pleasure craft which accounted for 583 services, while there were 138 launches to fishing vessels. We hear now from Owen Medland –Divisional Operations Manager-Ireland Central....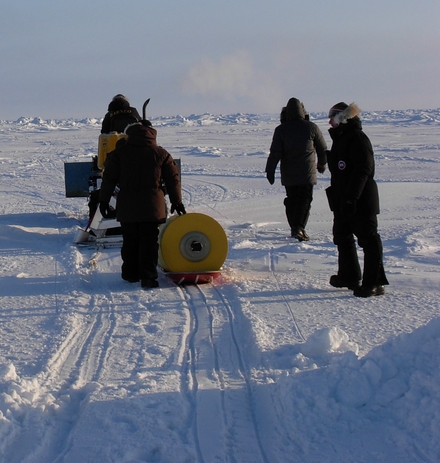 To the Western seaboard next and a remarkable story that forms part of an exhibition opening next Friday in Erris Arts Centre in Belmullet – Fergus Sweeney a film cameraman last Autumn found a large buoy washed up on the shore of the Mullet peninsula And so began a few weeks of detective work by Fergus to establish that the owners were Woods Hole Oceanographic Institution in Maine in the USA ....in a moment we'll hear from Brendan Murray first to Fergus Sweeney ......
Our thanks to Brendan Murray and Fergus Sweeney – you can see and read more about that Ice Tethered Profiler 47 and the Exhibition on the Seascapes webpage www.rte.ie/radio1/seascapes .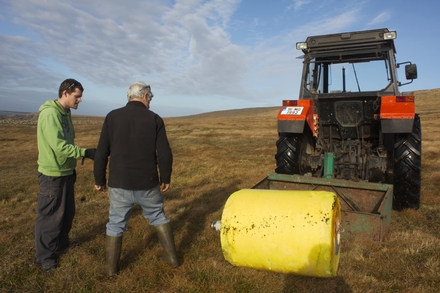 Chinese New Year began today – Yuan Tan – well in China The sinking of the Titanic: perhaps the most well-known maritime disaster ever, is the subject of a planned new attraction in China's Sichuan Province. The Seven Star Energy Investment Group group plan to pump up to one billion Chinese yuan ($165 million) into the project, most of which will go towards building a life-sized replica of the infamous "unsinkable ship."
"When the ship hits the iceberg, it will shake, it will tumble."
Not just a morbid replica, the ship, which will be permanently moored on the Qi river, will act as a museum that educates people on the disaster and also allow them to experience the grandeur of the lost ship. One of the main attractions will be an advanced "6D" simulator that will show hundreds of people at a time what it was like to be aboard the ship when it struck an iceberg. The Guardian quotes the Seven Star Investment Group CEO Su Shaojun's rundown of the simulator: "When the ship hits the iceberg, it will shake, it will tumble ... We will let people experience water coming in by using sound and light effects. They will think: 'the water will drown me. I must escape with my life.'"
The replica is based on designs for one of the Titanic's sister ships, the Olympic, and is scheduled for completion in two years time. Present at its announcement was Hollywood production designer Curtis Schnell, who worked on the design, and Bernard Hill, the British actor that played the ship's captain in James Cameron's 1997 film adaption of the disaster. Asked about the sensitivity of the project, Hill, who says he was not paid beyond expenses for his appearance, said the attraction was "approached in a very delicate and a very sensitive way and they are very aware of the extent of the disaster in 1912," adding that he doesn't believe it will "belittle" the disaster, which cost the lives of more than 1,500 of its 2,224 passengers and crew.
The latest edition of the White Star Journal is out now published by the Irish Titanic Historical Society.
Howth Yacht Club is running a Spring Laser Training Programme specifically designed to prepare sailors for the ISA Youth Pathway National Championships in April. Training will consist of Saturday afternoons from 1pm - 4.30pm on the following dates: February: 8th and 15th and March: 1st, 8th and 29th... A special Advanced Performance Easter Laser Clinic will take place from 10am - 4pm on the following dates: April 12th-15th See the ISA website for more info http://bit.ly/1d0S0l6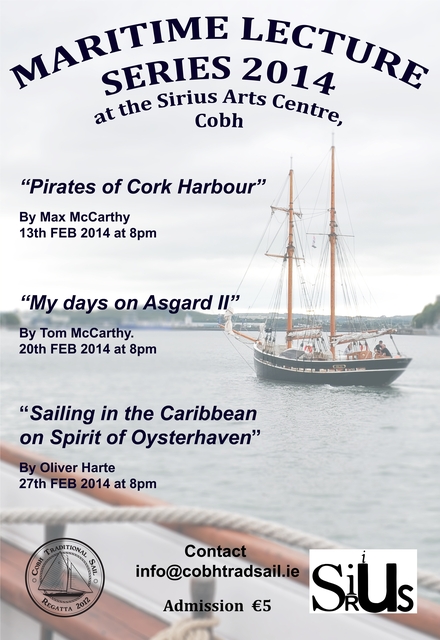 Next Tuesday Members of Glenua and Friends host an illustrated talk on the Traditional Boats of Ireland Book Project by Darina Tully the distinguished maritime archaeologist in the Poolbeg Yacht and Boat Club at 20.00hrs – Admission is €5 euro in aid of the RNLI ....More detail from Seamus Fitzgerald on 087 212 9614
" Next week here on Seascapes –we'll be talking to Sylvester O Muiri author of " The State and The Sea Fisheries of the South and West Coasts of Ireland -1922 to 1972 " - at his home on Helvic Head about how our native fishing industry developed prior to EEC membership ; we'll have the story of a Brassbounder in the British Merchant Navy from Kieran Devaney ; all that and much more here on Seascapes – until next Friday night – tight lines and fair sailing."
ANGLING – Inland Fisheries Ireland
It has been verywet, damp and windy in the past week but often quite mild with only some frost at night. It is not very normal winter weather but the main Rivers Shannon and Erne and their loughs are very flooded making angling impossible by land but there are many anglers out boat fishing mainly for Pike in these conditions. Despite the rain there has been a fair amount of sea angling taking place both from shore and boat.
Up in Antrim, charter skipper Hamish Currie kept a group of anglers fishing inshore because of stormy conditions picking up some nice skate up to 107 lb. and some conger. Down in Kerry, there were some codling, sea frogs and an early bass recorded off the beach. 67 anglers from the UK and Ireland fished the annual Irish Winter Shore Festival along the east coast and so far big flounders dominated catches along with some round fish.
The competition was very keen and Bray angler Paul Tyndall won the individual completion and the heaviest fish for a 36 cm flounder.The banner image in this week's ezine features the competitors enjoying an invigorating sand blasting on Kilgorman Beach. Out from Wicklow, Charter skipper Kit Dunne had a party of anglers out catching dogfish and some whiting.
A couple of more salmon were reported from the River Drowes where Richard Kinnaird caught and released a salmon caught on fly to win the catch and release trophy and ourCatch of the Week. Anglers struggled on Lough Currane where a fair few kelts were landed and quickly released in the stormy conditions that prevailed for most the week, but no fresh fish have been recorded so far. The big floods on most salmon rivers which open this weekend are not very encouraging for the anglers hoping to catch a salmon on the opening day on this Saturday.
While there was plenty of pike activity over the past week there was only one competition of note which saw Lloyd Lynch take top spot in First Newgrange Active Angling Outing 2014 to a few small loughs in Monaghan that were fishable and small pike dominated catches.
In the update this week there are numerous articles on how to fish, upcoming competitions and prospects for salmon anglers facing the flood conditions on the many waters which open for angling this Saturday.
Tight lines especially in Ireland,
Myles Kelly Catch, Photo, Release
Follow the Irish Angling Update on Twitter or Visit Inland Fisheries Ireland on Facebook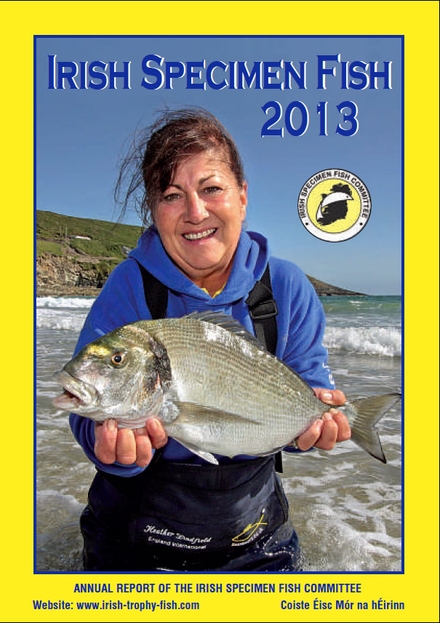 Irish Specimen Fish Committee report 2013 issued today
A new record Roach/Bream Hybrid from Monalty Lake in Co. Monaghan and a new record Gilthead Bream from Dingle in Co. Kerry dominate the record fish list just published.
It was a very good year for anglers with large numbers of specimen-sized fish caught and two new records established. High water temperatures during the summer was very good news for many sea anglers with some of Ireland's more exotic species like gilthead bream and golden grey mullet prominent in the overall specimen fish listings. Specimen smooth-hound and spurdog were also plentiful.
The two new Records are -
NEW RECORD Gilthead Bream
3.505 kg, Dingle, Co. Kerry, 17th August 2013 –Jeremy Coleman (UK)
NEW RECORD Roach/BreamHybrid
3.376 kg, Monalty Lake, Co. Monaghan, 3rd May2013 –Jason Dingle
A total of 595 specimens were ratified in 2013. The Lee Reservoirs in Cork feature heavily in the freshwater fish listings with Bream, Rudd and various hybrids taken there over the year. Species such as Thick-Lipped Mullet and Flounder from many different parts of the country were prominent in catches of specimen sea fish. Anglers both at home and abroad will be reading the report carefully to plan their angling trips to catch the big fish in Ireland in 2014.
Other important developments on the specimen fish front:
ISFC Awards Day is being held on 15th February in Dublin
Tope, Spurdog and Smooth-hound can be claimed as length-based specimens from 2014 onwards
Dutch anglers continue to dominate the specimen fish listings for overseas anglers
The report will is available on the ISFC website www.irish-trophy-fish.com
Invitations to the ISFC Awards Day will be issued to anglers from Ireland next week. If any angler plans to attend please email Shane.OReilly@fisheriesireland.ie as soon as possible. Overseas anglers are also very welcome to attend also. Certificates etc will be posted to anglers who cannot attend and it is hoped to present anglers in the Netherlands with their awards at the VISMA 2014 angling show in Rotterdam.