Saturday with Claire Byrne Saturday 13 April 2013
"Will Brexit lead to a United Ireland?"
Next Saturday, April 1st, Saturday with Claire Byrne will come live from the Oriel Centre Gaol Dundalk.
In the programme we'll be looking at Brexit and its effect on the border, trade and the economic and political future of the country.
Minister for Foreign Affairs, Charlie Flanangan, Gerry Adams, TD and President of Sinn Fein, Stephen Donnelly, Brexit Spokesperson for Fianna Fail, Jeffrey Donaldson, DUP MP, George Lee of RTE and Dearbhail McDonald of Independent Newspapers will debate the issues in front of a live audience.
If you would like to be part of that audience at the Oriel Centre, Dundalk Gaol, Dundalk then e-mail us at saturday@rte.ie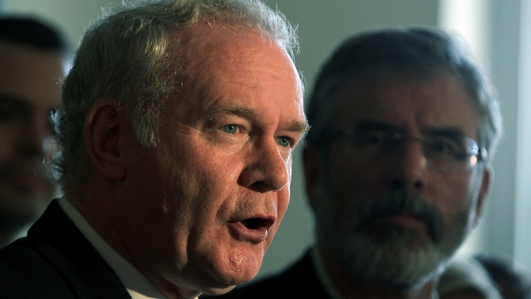 Saturday 13th April 2013
Live from the Sinn Féin Ard Fheis in Castlebar.
Joining Claire are: Deputy First Minister - Martin McGuinness, Sinn Féin Vice President - Mary Lou McDonald, political reporter with the Irish Times - Mary Minihan, Pádraig Mac Lochlainn TD - Donegal North East, Pearse Doherty TD Donegal South West, Senator Kathryn Reilly and Conor Murphy MLA.
About The Show
Saturday with Claire Byrne questions agendas, dissects the week gone by, and debates the likely issues of the week to come, each Saturday afternoon from 1pm – 2pm. Tune in to hear the very latest from newsmakers and from those whose lives are impacted by policy makers in Ireland.