Ray Darcy Monday 13 July 2015
Ray's Over Night Porridge (Oats) Recipe
1 Heaped Table Spoon of Rasins
1 Cup of Porridge Oats
1/2 Cup of Water
1/2 Tea Spoon of Cinnamon
***Soak Over Night***
1 Small Handful of Blueberries
1 Small Handful of Raspberries
3 Dollops of Natural Yogurt
Top with a Sprinkle of Granola
***ENJOY***
The Sound Barrier
The National Cochlear Implant programme has been in place since 1995 with around 200 people each year benefiting from surgery to enhance their level of hearing.
Tomorrow evening on RTÉ One a documentary called Sound Barrier, looks at people with hearing difficulties who made the decision to undergo Cochlear Implant in the hope they would be able to hear again. Ray talks to Gemma Lawlor and her husband Denis Lawlor and Richard Cantwell who all appear in the documentary
Keywords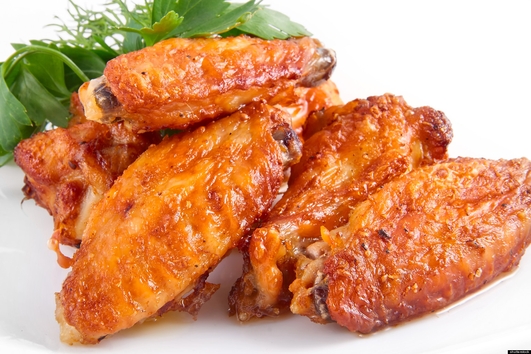 Best Chicken Wings
The Guardian food writer Felicity Cloake rifles through cookbooks for recipes for everything from Victoria sponge to buffalo wings to find the best one!
As you know we're looking for Irelands best chicken wings. So she lets us know what she thinks is the best recipe!
Here is Felicitys Recipie:
The preparation
Drying them before cooking, preferably for a few hours in the fridge, will help the skin to crisp up
The coating
Some books coats the wings with seasoned flour,
while others go for cornflour for "an even crispier exterior".
The cooking
Baked or deep-fried wings ??
The sauce
hot sauce and butter
garlic,
vinegar
Most recipes call for a specific brand of hot sauce such as Franks -a sour, piquant condiment made from cayenne peppers in Missouri, but, though it is available in this country,
The blue-cheese sauce
the natural accompaniment for spicy deep-fried chicken wings?
A rich, salty blue-cheese dip
Also
Mayonnaise supplies body,
and sour cream or creme fraiche the requisite tanginess;
A dash of vinegar accentuates the tang, along with just a splash of sweet and intensely savoury Worcestershire sauce.
Keywords