Mooney, Thursday July 31st 2014
Follow Us On Social Media:
Facebook: www.facebook.com/rtenature
E-mail Us: mooney@rte.ie
Caring For Wild Animals
Please note that many species of mammals, birds, invertebrates etc... are protected under law and that, even with the best of intentions, only someone holding a relevant licence from the National Parks & Wildlife Service should attempt the care of these animals. For full details, please click here to read the NPWS Checklist of protected & rare species in Ireland. If you are concerned about a wild animal, please contact your local wildlife ranger - click here for details.
Events & Listings
Click here for a full list of events taking place around the country, and movies currently on release, which might be of interest to wildlife lovers!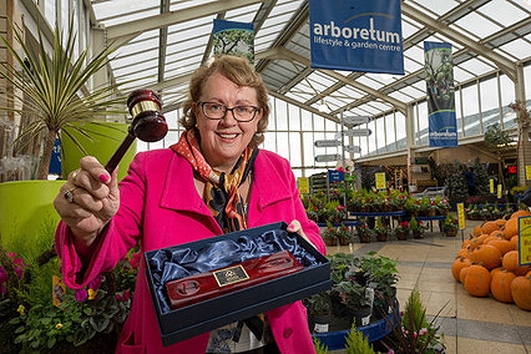 Annual Congress Of The International Garden Centres Association
The weather is warm and overcast, in Dublin anyway - perfect weather for doing a spot of gardening! But if your garden is looking a little 'drier' and 'crispier' than usual, help is at hand...
Rachel Doyle joins Olan in studio this afternoon. Rachel is the Managing Director of the Arboretum Garden Centre in Leighlinbridge, Co. Carlow and is also the President of the International Garden Centres Association, the first Irish President in fact!
She's a busy lady as she's also the woman responsible for bringing their Congress to Ireland in two weeks time when 230 Garden Centre Owners from 21 different countries will descend on Ireland.
She joins Olan to chat about the Annual Congress, tell us about productive plants that help us become better workers - and to answer your gardening questions!
If you have gardening questions for Rachel, you can text them to 51551 or e-mail mooney@rte.ie.
The product that Rachel mentions to help keep potted plants moist is called Swell Gel (www.swellgel.co.uk).
The Arboretum in Carlow
The Arboretum Home & Garden Heaven, in Leighlinbridge, Co. Carlow, is a family run business on a ten-acre site, employing 76 staff. For further information, including directions to get there, please visit www.arboretum.ie.
PRESS RELEASE: Productive Plants - Desk plants proven to increase employee productivity and reduce stress
We all know that plants have many great benefits, including being good for the environment, creating clean air, healing properties etc. but a study* has revealed that our green friends can in fact have more of an impact on our daily lives than we first thought! Plants have now been proven to be a contributing factor to increased employee productivity – the study shows that those who have plants on or around their desks respond positively and it is reflected in their work productivity.
According to a study by Helen Russell**, not only do plants have the ability to improve the air quality indoors, they can also reduce stress which, in turn increases productivity. This study showed that those in an environment surrounded by plants suffered from a lower level of stress than those in an area without. It was also discovered that those in an area with plants, recovered quicker from stressful scenarios and situations than those without, meaning they could get back to work more efficiently.
Focus and attention span were other aspects investigated in a Journal of Environmental Horticulture*** study. It was found that indoor plants aided employees to complete their work more efficiently and with more focus and that productivity increased by 12%.
* The NASA 'Clean Air Study'
**Helen Russell, Surrey University
*** Journal of Environmental Horticulture, Washington State University Study
Here are just some plants recommended as office or desk plants:
Spider Plant
This one is perfect for counter tops or high shelves due to its low maintenance nature and fondness of shade – it will even survive in your windowless cubicle!
Philodendron
Proven to be one of the top plants for purifying the air and getting rid of excess carbon dioxide, the philodendron only needs to be watered about twice a week and therefore is the perfect office companion.
Peace Lily
This is a great indoor plant – not only is it aesthetically pleasing, it is also a great source of clean air. A study carried out by NASA showed that this peaceful plant improves air quality in its surrounding environment.
Yucca
These pretty perennials hail from the Mexican deserts and are used to warm, indoor climates. Not only are they attractive to look at, they are both disease and pest resistant and require little watering – in fact, the most common cause of death for Yucca's is by over-watering.
Cactus Plants
Cacti are a well established member of the team when it comes to office plants! These prickly plants are often seen on window sills and desks in workplaces due to their near self-sufficient nature. Just water them occasionally and make sure no one pricks themselves on their spikes.
The Annual Congress of the International Garden Centres Association is an annual Congress held for one week between August and October, each year in a different host country. This comprises of a business meeting, which elects officals and administers the affairs of the Association, a concentrated business study tour and an excellent social programme. For further information, click here.
Dr Liam Lysaght's Wild Ireland Tour
The Tour de France has just finished, an epic race, which dates back 101 years. Last year, 2013, was the centenary. But on Friday, another epic cycle will get underway here in Ireland. The journey will take the entire month of August, and it will cover 3200 km, all around the coast of Ireland.
But it will feature just one cyclist, who happens to be a very good friend of Mooney Goes Wild!
That cyclist is Dr. Liam Lysaght, director of the National Biodiversity Data Centre in Waterford. He sets off tomorrow, August 1st, from the National Biodiversity Data Centre, and over the course of the month, will cycle through fourteen of Ireland's counties. He joins us this afternoon from RTÉ's Waterford studio...
To find out more about Dr Liam Lysaght's biking tour of Ireland's wildlife, visit www.wildirelandtour.ie.
Hedgerows: It is an offence to 'cut, grub, burn or otherwise destroy hedgerows on uncultivated land during the nesting season from 1 March to 31 August, subject to certain exceptions'. For more information, click here.
UPDATE: February 29th 2016 - Press Release From BirdWatch Ireland:
Putting the record straight: Dates for burning and hedge-cutting have NOT changed
BirdWatch Ireland, Ireland's largest conservation charity, is very concerned about misinformation that is currently circulating regarding the dates within which the burning of vegetation and cutting of hedges is permitted. It would like to remind landowners that all burning and cutting must cease on 29th February this year and that burning and cutting remains prohibited from 1st March to 31st August.
Despite attempts by the Minister for Arts, Heritage and the Gaeltacht, Heather Humphreys T.D., to change the laws regulating these dates by introducing the Heritage Bill 2016 earlier this year, it is important to note that the proposed date changes were ultimately NOT made. This is because the bill failed to pass through both houses of the Oireachtas before the recent dissolution of the Dáil in advance of the general election.
The laws in place governing the dates for hedge-cutting and upland burning therefore remain unchanged. The period within which cutting and burning is prohibited are set down in Section 40 of the Wildlife Act 1976 (as amended in 2000), which states that:
(a) It shall be an offence for a person to cut, grub, burn or otherwise destroy, during the period beginning on the 1st day of March and ending on the 31st day of August in any year, any vegetation growing on any land not then cultivated.
(b) It shall be an offence for a person to cut, grub, burn or otherwise destroy any vegetation growing in any hedge or ditch during the period mentioned in paragraph (a) of this subsection (above).
The existing law provides exemptions for road safety and other circumstances and should be read carefully to ensure compliance.
Section 40 of the Wildlife Act exists to protect nesting birds. Many of our upland bird species are in decline and are in danger of extinction in Ireland; amongst them is the Curlew, which has declined by 80%. Many birds which nest in hedgerows into August are also in serious decline, including the endangered Yellowhammer. The changes to the cutting and burning dates which had been proposed in the now-defunct Heritage Bill 2016 would have caused serious impacts to these birds. A petition launched by BirdWatch Ireland in conjunction with several other national conservation organisations to stop these changes attracted more than 16,200 signatures and rising.
BirdWatch Ireland would also like to advise members of the public that if they see hedges being cut or fires in the uplands on or after 1st March, such activity could be illegal. In such cases, we would encourage people to contact the National Parks and Wildlife Service (www.npws.ie) to report such activity.
BirdWatch Ireland warmly welcomes the demise of the Heritage Bill 2016 and sincerely hopes that any future administration will consider the importance of Ireland's natural heritage and will not attempt to reintroduce such a flawed and damaging piece of legislation.
To contact your local wildlife ranger, click here for contact details. To read the Wildlife (Amendment) Act 2000, click here.
IMPORTANT NOTICE
Please DO NOT send any live, dead or skeletal remains of any creature whatsoever to Mooney Goes Wild.
If you find an injured animal or bird, please contact the National Parks & Wildlife Service on 1890 20 20 21, or BirdWatch Ireland, on 01 281-9878, or visit www.irishwildlifematters.ie
***CLICK HERE TO FIND OUT EVERYTHING YOU NEED TO KNOW ABOUT DAWN CHORUS 2017!***
***Download the Dawn Chorus 2017 podcasts***
Dawn Chorus 2017 - First Hour - 00:00 - 01:00
Dawn Chorus 2017 - Second Hour - 01:00 - 02:00
Dawn Chorus 2017 - Third Hour - 02:00 - 03:00
Dawn Chorus 2017 - Fourth Hour - 03:00 - 04:00
Dawn Chorus 2017 - Fifth Hour - 04:00 - 05:00