Mooney Tuesday 22 July 2014
***MOONEY GOES WILD NOMINATED FOR ROSE D'OR AWARD!!***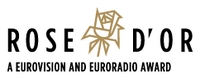 The prestigious annual Rose D'Or Awards (now in their 55th year) honour the very best of international radio, TV and online entertainment programmes, and they will take place later this year. Over 400 programmes from more than 130 broadcasters and production companies in 33 different countries were submitted for this year's Rose d'Or awards. For the first time, a new competition category, 'Radio Event Of The Year' was created. We entered European Dawn Chorus in this category, and we're absolutely delighted to let you know that we're one of the final nominees!! And another programme from the Mooney team, called A Very Merry Mooney Tunes, has been shortlisted in the Radio - Music Show category! Click here to read more about the 2016 Rose D'Or Finalists, and click here to relive - and re-listen to - all the beautiful Dawn Chorus birdsong from right across Europe.
***To visit The Mooney Show website, click here!***
Facebook: www.facebook.com/rtenature
Twitter: @naturerte
Giant Hogweed
We got an e-mail into the programme last week from a listener who wants us to help spread awareness of the dangers associated with a plant that can terrible burns if you come in contact with it.
David Gillic said he was out running in Kildare when he briefly made contact a plant that was unknown to him. He subsequently erupted into painful blisters, and found out that it was caused by Giant Hogweed, and invasive plant species that excretes a phototoxic sap…
David says: "I was personally shocked to learn of the existence of this type of plant as part of our national flora. Although not indigenous, it seems here to stay and I believe I'm more than qualified to state it poses a serious public health risk. Contact with the eyes can lead to blindness! Children too could be easily drawn to this plant as it resembles many other benign members of its own family closely.
I have added a few photos of the offending plant and of the results of my run in with what I feel is a plant sent straight from the gardens of Hell!

Please spread the word. It's a horrible plant.

Regards,
Dave Gillic
Well Dave, thank you for your e-mail, and to explain more about Giant Hogweed, we are joined in studio today by Dr. Joe Caffrey, Senior Research Officer with the Invasive Species Section of Inland Fisheries Ireland.