Mooney, Wednesday July 16th 2014
Follow Us On Social Media:
Facebook: www.facebook.com/rtenature
E-mail Us: mooney@rte.ie
Caring For Wild Animals
Please note that many species of mammals, birds, invertebrates etc... are protected under law and that, even with the best of intentions, only someone holding a relevant licence from the National Parks & Wildlife Service should attempt the care of these animals. For full details, please click here to read the NPWS Checklist of protected & rare species in Ireland. If you are concerned about a wild animal, please contact your local wildlife ranger - click here for details.
Events & Listings
Click here for a full list of events taking place around the country, and movies currently on release, which might be of interest to wildlife lovers!
There Was A Political Editor Who Swallowed A Fly...
Back in 2006, our very own Eanna ni Lamhna released a charity single of There Was An Old Lady Who Swallowed A Fly. Swallowing flies is something that many cyclists seem to have been doing in the last couple of weeks, as there appear to be swarms of them about!
Those pesky flies don't want to be eaten, but for those commuting on two wheels, inadvertently gobbling up winged insects on the way home is definitely one of the downsides of cycling!
But you think that trying to rid your mouth of a fly in front of a lane of motorists was a bit awkward, spare a thought for poor old Adam Boulton, Political Editor of Sky News. Yesterday, there he was, live on-air, reporting on the Cabinet Reshuffle in Britain when THIS happened...
Adam Boulton joins us on the show today to explain what happened!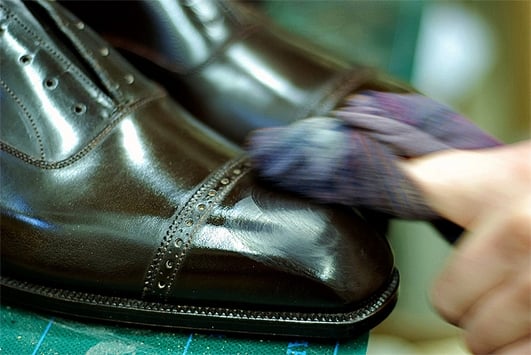 Shoe Shine
We were just having a chat in the office yesterday about the grooming routine we all go through first thing in the morning before we make ourselves presentable to the world. It's mostly the same for everyone.
You get out of bed, have a wash – that may be a shower for many or maybe, for some, just a splash of cold water on the face. Next up is the antiperspirant or body spray.
After you've put your clothes – neatly ironed and fresh from the night before – you might brush your teeth and fix your hair.
Anything left out there? Well, how many of us bother to polish our shoes? Just ask yourself, when was the last time you got the cloth and polish out and gave the brogues a good seeing too?
Do people even notice if our footwear are scuffed and scruffy looking?
Having a nice shiny pair of shoes is maybe something we only think about when preparing for an interview or a formal occasion like a ball or a dinner dance.
The art of shining and polishing shoes seems to have either died out or may be in decline. There's a shoe shine service at Dublin Airport, but there doesn't appear to be such a service anywhere else, either in shopping malls or on the streets.
In 1990, Derek made a documentary for BBC 5 Live about a shoe shine boy in New York City called Andre King, who had a novel way of attracting customers.
We find out more about the documentary, and Brenda visits the Cathal Brougha Barracks in Dublin to find out a bit more about military shining!
Brenda at Cathal Brougha Barracks
Brenda at Cathal Brougha Barracks with Private O'Hara
The Older Woman
Ladies of a "certain" age, listen up! Have you heard this song currently notching up hits on YouTube?
Older ladies are... DIVINE! is a song by Donnalou Stevens, a 55-year-old from Oakland in California – and in the space of five weeks it's had over 5 million hits on YouTube!
It seems that a song that celebrates sagging chins and wrinkles, and makes fun of when "thighs kinda jiggle when you giggle or wiggle" - has hit a chord with a lot of people out there.
It started out as a little ditty she sang with a bunch of girlfriends – but it's now turning into an anthem for women everywhere who want to shout it out loud that regardless of their ageing bodies they are still beautiful – both inside and out!
Joining Derek in studio to discuss the song is legendary Irish comedienne June Rodgers, we're joined on the line by Senator Marie-Louise O'Donnell and author and former politician Mary O'Rourke – and all the way from California, we're also joined by the songwriter and singer of Older Ladies Are – DIVINE: Donnalou Stevens!
Water Harvesting
The weather is pretty nice at the minute, well in Dublin anyway - lovely and warm! But we are a country that is famous for its rain. Tourists sensibly arrive armed with raincoats in the height of the Irish summer, just in case! But today we are celebrating rain, not as a nuisance – but as a resource!
Water charges are coming in early next year. They're not popular but they're on their way it seems. But there are some voluntary groups who have decided to harness the power of rain to cut down on their water bills.
If you've driven past Donnybrook Youth Club in the last three months you'd be forgiven for not noticing the three wooden whiskey barrels that now stand outside it. They are very inconspicuous and they almost blend into the wooden front of the Youth Club - but they are in fact very tasteful water butts, part of a rainwater harvesting system.
The water that they hold goes into the watering cans of volunteers, and is used to help water the plants and flowers and beds and hanging baskets that have made Donnybrook so colourful in recent years.
A local group of volunteers, the Belmont East Environmental Group came up with the idea. They knew water charges are coming, they thought it would be unfair next year to ask volunteers to use their household water to water communal plants so they started from scratch. They did some research on the internet, as they didn't want the cheaper plastic butts or barrels, they wanted something that would look impressive as well as be functional - so they bought oak barrels and handmade their own rainwater harvesting system. And what they did could be done by any similar voluntary group around the country.
Helen McCabe and Seanie Brennan
Mooney reporter Katriona McFadden met up with Seanie Brennan, Secretary of the Belmont East Environmental Group, and Helen McCabe, Chair of the Management Group of a large local housing estate, Donnybrook Manor, to find out a bit more...
Hedgerows: It is an offence to 'cut, grub, burn or otherwise destroy hedgerows on uncultivated land during the nesting season from 1 March to 31 August, subject to certain exceptions'. For more information, click here.
UPDATE: February 29th 2016 - Press Release From BirdWatch Ireland:
Putting the record straight: Dates for burning and hedge-cutting have NOT changed
BirdWatch Ireland, Ireland's largest conservation charity, is very concerned about misinformation that is currently circulating regarding the dates within which the burning of vegetation and cutting of hedges is permitted. It would like to remind landowners that all burning and cutting must cease on 29th February this year and that burning and cutting remains prohibited from 1st March to 31st August.
Despite attempts by the Minister for Arts, Heritage and the Gaeltacht, Heather Humphreys T.D., to change the laws regulating these dates by introducing the Heritage Bill 2016 earlier this year, it is important to note that the proposed date changes were ultimately NOT made. This is because the bill failed to pass through both houses of the Oireachtas before the recent dissolution of the Dáil in advance of the general election.
The laws in place governing the dates for hedge-cutting and upland burning therefore remain unchanged. The period within which cutting and burning is prohibited are set down in Section 40 of the Wildlife Act 1976 (as amended in 2000), which states that:
(a) It shall be an offence for a person to cut, grub, burn or otherwise destroy, during the period beginning on the 1st day of March and ending on the 31st day of August in any year, any vegetation growing on any land not then cultivated.
(b) It shall be an offence for a person to cut, grub, burn or otherwise destroy any vegetation growing in any hedge or ditch during the period mentioned in paragraph (a) of this subsection (above).
The existing law provides exemptions for road safety and other circumstances and should be read carefully to ensure compliance.
Section 40 of the Wildlife Act exists to protect nesting birds. Many of our upland bird species are in decline and are in danger of extinction in Ireland; amongst them is the Curlew, which has declined by 80%. Many birds which nest in hedgerows into August are also in serious decline, including the endangered Yellowhammer. The changes to the cutting and burning dates which had been proposed in the now-defunct Heritage Bill 2016 would have caused serious impacts to these birds. A petition launched by BirdWatch Ireland in conjunction with several other national conservation organisations to stop these changes attracted more than 16,200 signatures and rising.
BirdWatch Ireland would also like to advise members of the public that if they see hedges being cut or fires in the uplands on or after 1st March, such activity could be illegal. In such cases, we would encourage people to contact the National Parks and Wildlife Service (www.npws.ie) to report such activity.
BirdWatch Ireland warmly welcomes the demise of the Heritage Bill 2016 and sincerely hopes that any future administration will consider the importance of Ireland's natural heritage and will not attempt to reintroduce such a flawed and damaging piece of legislation.
To contact your local wildlife ranger, click here for contact details. To read the Wildlife (Amendment) Act 2000, click here.
IMPORTANT NOTICE
Please DO NOT send any live, dead or skeletal remains of any creature whatsoever to Mooney Goes Wild.
If you find an injured animal or bird, please contact the National Parks & Wildlife Service on 1890 20 20 21, or BirdWatch Ireland, on 01 281-9878, or visit www.irishwildlifematters.ie
***CLICK HERE TO FIND OUT EVERYTHING YOU NEED TO KNOW ABOUT DAWN CHORUS 2017!***
***Download the Dawn Chorus 2017 podcasts***
Dawn Chorus 2017 - First Hour - 00:00 - 01:00
Dawn Chorus 2017 - Second Hour - 01:00 - 02:00
Dawn Chorus 2017 - Third Hour - 02:00 - 03:00
Dawn Chorus 2017 - Fourth Hour - 03:00 - 04:00
Dawn Chorus 2017 - Fifth Hour - 04:00 - 05:00