Mooney Friday 25 October 2013
***MOONEY GOES WILD NOMINATED FOR ROSE D'OR AWARD!!***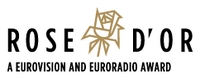 The prestigious annual Rose D'Or Awards (now in their 55th year) honour the very best of international radio, TV and online entertainment programmes, and they will take place later this year. Over 400 programmes from more than 130 broadcasters and production companies in 33 different countries were submitted for this year's Rose d'Or awards. For the first time, a new competition category, 'Radio Event Of The Year' was created. We entered European Dawn Chorus in this category, and we're absolutely delighted to let you know that we're one of the final nominees!! And another programme from the Mooney team, called A Very Merry Mooney Tunes, has been shortlisted in the Radio - Music Show category! Click here to read more about the 2016 Rose D'Or Finalists, and click here to relive - and re-listen to - all the beautiful Dawn Chorus birdsong from right across Europe.
***To visit The Mooney Show website, click here!***
Facebook: www.facebook.com/rtenature
Twitter: @naturerte
Sparrowhawk Attack
One of our listeners Clare Roebuck emailed into Mooney@rte.ie with an interesting picture of a Sparrowhawk. Clare spotted the Sparrowhawk in her front garden yesterday (Thursday). The initial attack on the pigeon began around 11am and the Sparrowhawk returned around 4pm to finish his snack. Clare & her son were very keen to send the picture into us, and thank you Clare & Eoin. Super picture, we love this stuff in the office.
Watch out for Ash Dieback
The department of Agriculture, food & the marine have issued a new flyer on Ash Dieback and how you can spot it. Click here for the document that Derek & the panel mentioned earlier today.
Mooney Goes Wild
They might get bad press, but Ireland's native species of bat are not only protected, they add huge value to the economy. Find out why you should actually love these fabulous flying mammals.
The ASH is the tree of choice for Ireland's hurley makers, but warning flags are up, as ASH dieback disease is found in native Irish trees.
We explore the phenomenon of nature deficit disorder, our continued removal from nature, wildlife and the wider environment.
Mooney Tunes
On 16th of December Mooney Tunes will take place once again in the Bord Gais Energy Theathre - tickets will go on sale on the 4th of November, stayed tuned to The Mooney Show for more information.
http://bordgaisenergytheatre.ie/
How many do you know?
Terry went out to see how many people could identify native Irish animals, have a look at the pictures below and see how you do?