Mooney, Wednesday September 11th 2013
Follow Us On Social Media:
Facebook: www.facebook.com/rtenature
E-mail Us: mooney@rte.ie
Caring For Wild Animals
Please note that many species of mammals, birds, invertebrates etc... are protected under law and that, even with the best of intentions, only someone holding a relevant licence from the National Parks & Wildlife Service should attempt the care of these animals. For full details, please click here to read the NPWS Checklist of protected & rare species in Ireland. If you are concerned about a wild animal, please contact your local wildlife ranger - click here for details.
Events & Listings
Click here for a full list of events taking place around the country, and movies currently on release, which might be of interest to wildlife lovers!
Fuel Your School - FINAL DAY TO ENTER!
FUEL YOUR SCHOOL with Mooney, in association with Electric Ireland and GreenStar!
It's September which means It's Back to School and to kick off the new school year, Mooney, in association with Electric Ireland and Greenstar, are giving Primary Schools across Ireland the chance to FUEL YOUR SCHOOL and win a whole year's supply of energy*.
Every primary school in Ireland will have the chance to win free electricity to the value of €5,000 for one year.
The competition is inspired by a new report, which highlights how initiatives across RTÉ, in waste management, energy and water conservation have resulted in environmental related savings of €700,000, prevented 3694 tonnes of waste going to landfill, and elevated recycling rates of 74% for 2012.
The report was published by RTÉ, in conjunction with the Environmental Protection Agency and Greenstar; click here to read the full report.
How to enter:
Derek wants your principal, or a school representative, to tell him in not more than 400 words and one accompanying photograph, not more than 1MB, what they have done to improve their environment, either in the school or in their locality.
Simply e-mail your entry to fuelyourschool@rte.ie. The closing date is TODAY, Wednesday, September 11th 2013, and the cut-off for entries is midnight tonight. All entries should include school name, and address, with a contact number for the designated person. Please remember to clearly state your province at the top of your entry.
There will be four winning schools, one from each province which will be selected by an expert Mooney Goes Wild judging panel.
THE JUDGES' DECISIONS ARE FINAL, AND NO CORRESPONDENCE WILL BE ENTERED INTO.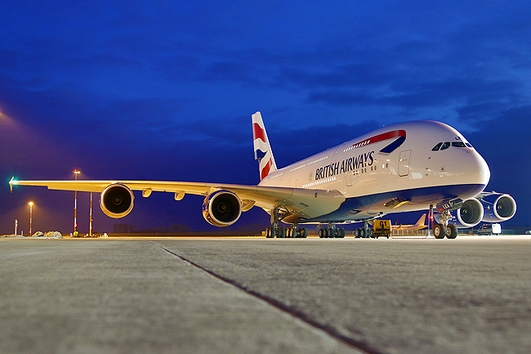 A380 Simulator
With Dublin's first ever FlightFest just days away, on Sunday September 15th 2013, Derek heads to London for an exclusive look inside and flight in the British Airways A380 simulator. The A380 will be just one of 30 aircraft to fill the skies over Dublin in what is being billed as a once-in-a-lifetime, international fly past.
FlightFest is expected to be one of the largest National events of 'The Gathering Ireland 2013' and it is expected that thousands of people from Dublin, all over Ireland and abroad, will line the banks of the River Liffey from Dublin Port up to the Customs House, in the centre of our capital city, to experience this unique FlightFest.
Click here for more: www.flightfest.ie.
And to get a sense of what Derek experienced in the simulator cockpit, have a look at the video and photos below!
All would-be pilots this way, please!
Boeing 747 tail in the hangar. Notice the cut out section on front panel of hangar. This adjustment had to be made to accommodate the A380 tail.
The aircraft hangar
Derek inside the A380 simulator
Exterior of the A380 simulator
Chief First Officers Ilkka Tahvanainen and Peter Nye
Chief First Officer Peter Nye shows the escape rope on the A380 simulator
Exterior Of A380 simulator
View of the runway from inside the simulator
The newly constructed ground run-up enclosure at Heathrow, purpose-built for the A380
BUMBLEance - Ambulance For Children
Last week saw the launch of the world's first ambulance especially kitted out for children. Painted outside like a giant bumble bee, it comes complete with everything a child could need to distract them on an often-frightening journey to hospital.
The BUMBLEance is the brainchild of Tony and Mary Heffernan, from the Saoirse Foundation. Many people will immediately know Tony and Mary's story, as they have been on The Late Late Show, telling us about their two children Saoirse and Liam, who both have had Battens disease.
Sadly, Saoirse passed away in January 2011, and Tony and Marian founded the Saoirse Foundation in March 2010, in memory of their daughter. Today our reporter Brenda Donohue is with Tony, inside the BUMBLEance, getting the full run down...
To learn more about the BUMBLEance service, you watch the below video:
During her interview, Brenda talks about young patient Aisling Quaid, who travelled via the BUMBLEance...
Aisling Quaid in the BUMBLEance
Aisling outside the BUMBLEance
Interior of the BUMBLEance
The BUMBLEance
Tony Heffernan
If people wish to donate they can do so at the following link: www.bumbleance.com/donate.
Also, they are collecting old mobile phones: 30,000 phones donated will allow them to keep BUMBLEance on the road for 12 months, and 40,000 phones donated will buy a new BUMBLEance.
Hedgerows: It is an offence to 'cut, grub, burn or otherwise destroy hedgerows on uncultivated land during the nesting season from 1 March to 31 August, subject to certain exceptions'. For more information, click here.
UPDATE: February 29th 2016 - Press Release From BirdWatch Ireland:
Putting the record straight: Dates for burning and hedge-cutting have NOT changed
BirdWatch Ireland, Ireland's largest conservation charity, is very concerned about misinformation that is currently circulating regarding the dates within which the burning of vegetation and cutting of hedges is permitted. It would like to remind landowners that all burning and cutting must cease on 29th February this year and that burning and cutting remains prohibited from 1st March to 31st August.
Despite attempts by the Minister for Arts, Heritage and the Gaeltacht, Heather Humphreys T.D., to change the laws regulating these dates by introducing the Heritage Bill 2016 earlier this year, it is important to note that the proposed date changes were ultimately NOT made. This is because the bill failed to pass through both houses of the Oireachtas before the recent dissolution of the Dáil in advance of the general election.
The laws in place governing the dates for hedge-cutting and upland burning therefore remain unchanged. The period within which cutting and burning is prohibited are set down in Section 40 of the Wildlife Act 1976 (as amended in 2000), which states that:
(a) It shall be an offence for a person to cut, grub, burn or otherwise destroy, during the period beginning on the 1st day of March and ending on the 31st day of August in any year, any vegetation growing on any land not then cultivated.
(b) It shall be an offence for a person to cut, grub, burn or otherwise destroy any vegetation growing in any hedge or ditch during the period mentioned in paragraph (a) of this subsection (above).
The existing law provides exemptions for road safety and other circumstances and should be read carefully to ensure compliance.
Section 40 of the Wildlife Act exists to protect nesting birds. Many of our upland bird species are in decline and are in danger of extinction in Ireland; amongst them is the Curlew, which has declined by 80%. Many birds which nest in hedgerows into August are also in serious decline, including the endangered Yellowhammer. The changes to the cutting and burning dates which had been proposed in the now-defunct Heritage Bill 2016 would have caused serious impacts to these birds. A petition launched by BirdWatch Ireland in conjunction with several other national conservation organisations to stop these changes attracted more than 16,200 signatures and rising.
BirdWatch Ireland would also like to advise members of the public that if they see hedges being cut or fires in the uplands on or after 1st March, such activity could be illegal. In such cases, we would encourage people to contact the National Parks and Wildlife Service (www.npws.ie) to report such activity.
BirdWatch Ireland warmly welcomes the demise of the Heritage Bill 2016 and sincerely hopes that any future administration will consider the importance of Ireland's natural heritage and will not attempt to reintroduce such a flawed and damaging piece of legislation.
To contact your local wildlife ranger, click here for contact details. To read the Wildlife (Amendment) Act 2000, click here.
IMPORTANT NOTICE
Please DO NOT send any live, dead or skeletal remains of any creature whatsoever to Mooney Goes Wild.
If you find an injured animal or bird, please contact the National Parks & Wildlife Service on 1890 20 20 21, or BirdWatch Ireland, on 01 281-9878, or visit www.irishwildlifematters.ie
***CLICK HERE TO FIND OUT EVERYTHING YOU NEED TO KNOW ABOUT DAWN CHORUS 2017!***
***Download the Dawn Chorus 2017 podcasts***
Dawn Chorus 2017 - First Hour - 00:00 - 01:00
Dawn Chorus 2017 - Second Hour - 01:00 - 02:00
Dawn Chorus 2017 - Third Hour - 02:00 - 03:00
Dawn Chorus 2017 - Fourth Hour - 03:00 - 04:00
Dawn Chorus 2017 - Fifth Hour - 04:00 - 05:00