***To visit The Mooney Show website, click here!***
Mooney Tunes Returns!
Mooney Tunes, the phenomenally successful Concert Series featuring the RTÉ Concert Orchestra, RTÉ presenter Derek Mooney, and the combined input of his many radio fans, will return to the Bord Gáis Energy Theatre in December, 2015.
This will be the 12th installment of Mooney Tunes, which began in September 2009. In the intervening period, over the 11 concerts to date, as many as 18,000 people have been entertained, over 170 pieces of music have been featured, all performed by around 50 top-class performers and soloists, backed by the RTÉ Concert Orchestra.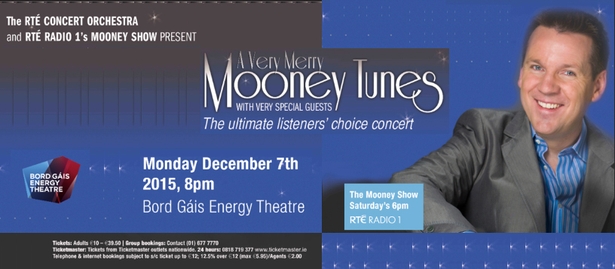 'A VERY MERRY MOONEY TUNES' will take place on Monday, December 7th 2015, at the Bord Gáis Energy Theatre. And for this show, we are encouraging fans to send us their musical suggestions along the theme of, "movies, musicals and magical memories!"
We have never been short of magical stories from our audience, accompanying their suggestions for pieces to include in the Mooney Tunes programs. Whether it's a song that reminds you of a loved one, a particular soundtrack from your youth, a theme that evokes a particularly strong memory, let us know. And tell us your story!
For further information, tune into the all-new The Mooney Show, every Saturday evening from 6pm until 7pm, from Saturday, September 12th on RTÉ Radio 1.
And keep watching this space for updates and more details!
Facebook: www.facebook.com/rtenature
Twitter: @naturerte