Dawn Chorus 2018
This year's Dawn Chorus programme will take place on Sunday, May 6th 2018, and will be broadcast from across Europe and beyond between midnight and 7am! For more information, click here.
Follow Us On Social Media:
Facebook: www.facebook.com/rtenature
E-mail Us: mooney@rte.ie
Caring For Wild Animals
Please note that many species of mammals, birds, invertebrates etc... are protected under law and that, even with the best of intentions, only someone holding a relevant licence from the National Parks & Wildlife Service should attempt the care of these animals. For full details, please click here to read the NPWS Checklist of protected & rare species in Ireland. If you are concerned about a wild animal, please contact your local wildlife ranger - click here for details.
Events & Listings
Click here for a full list of events taking place around the country, and movies currently on release, which might be of interest to wildlife lovers!
Behind The Scenes At Eurovision 2013!
TONIGHT, Ryan Dolan will sing his heart out for Ireland with the irresistably catchy Only Love Survives. Today, Derek presents the second of our live Mooney programmes from Malmö, in Sweden...
Linda Martin performs live at the Moriskan Euro Fan Cafe in Malmö
Mooney researcher Michele Browne and producer Fergus Sweeney busy at work
Ryan chills out with family and friends (Ciaran Corrigan, Josephine Dolan, Ryan Dolan, and Gabriel Dolan) ahead of Semi-Final 1
David Sheehan, Cathal Sheehan, Derek Mooney and Paul G. Sheridan in the delegation hotel
Marty Whelan (commentator) with Head of Delegation Michael Kealy
Linda meets some fans from Madrid
Eurovision Fan Voting at Press Centre shows Ireland in fifth place to qualify from Semi-Final 1
Press centre voting board ad of 15:00 local time, May 14th 2013
Linda Martin and behind her a very TALL man!
Paul G talks to Martin and Darron, Eurovision fans from New York. Dig the outfits!
Martin Phillips from Wales (Skewen) & husband Darron Copeland (New York)
Derek Mooney at Eurovision
Derek Mooney at Eurovision
Derek Mooney at Eurovision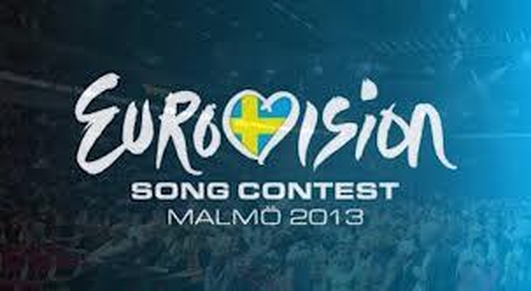 Eurovision 2013 - Semi-Final 1 TONIGHT!
Are you getting excited? It's only a few hours to go until we see Ryan Dolan take to the stage in Malmö, Sweden, to represent Ireland at the 58th Eurovision Song Contest. Ryan composed his song Only Love Survives with Wez Devine.
Ryan will perform in thirteenth position this evening - will 13 turn out to be lucky for our young singer from Strabane this evening? The running order of performances tonight is below:
You can watch the first Semi-Final tonight at 8pm on RTÉ Two; it will be introduced by Petra Mede, with television commentary by Marty Whelan. For more details about this evening's broadcast, then visit http://www.rte.ie/tv/eurovision/index.html.
If you'd like to sing along with Ryan, then click here for the lyrics to Only Love Survives, or click here to watch the official video!
Sixteen acts will perform during tonight's show. A combination of call and text votes from you at home and jury scores will determine which 10 acts will go forward to this year's Eurovision Song Contest Grand Final on Saturday May 18th 2013. And if you'd like to vote in tonight's Semi Final, then click here for all the voting details. Remember, viewers in the Republic of Ireland are not permitted to vote for Ireland's entry. Please do not attempt to do so, as your vote won't count but you will be charged for your vote.
Hedgerows: It is an offence to 'cut, grub, burn or otherwise destroy hedgerows on uncultivated land during the nesting season from 1 March to 31 August, subject to certain exceptions'. For more information, click here.
To contact your local wildlife ranger, click here for contact details. To read the Wildlife (Amendment) Act 2000, click here.
IMPORTANT NOTICE
Please DO NOT send any live, dead or skeletal remains of any creature whatsoever to Mooney Goes Wild.
If you find an injured animal or bird, please contact the National Parks & Wildlife Service on 1890 20 20 21, or BirdWatch Ireland, on 01 281-9878, or visit www.irishwildlifematters.ie