Mooney Thursday 4 April 2013
Follow Us On Social Media:
Facebook: www.facebook.com/rtenature
E-mail Us: mooney@rte.ie
Caring For Wild Animals
Please note that many species of mammals, birds, invertebrates etc... are protected under law and that, even with the best of intentions, only someone holding a relevant licence from the National Parks & Wildlife Service should attempt the care of these animals. For full details, please click here to read the NPWS Checklist of protected & rare species in Ireland. If you are concerned about a wild animal, please contact your local wildlife ranger - click here for details.
Events & Listings
Click here for a full list of events taking place around the country, and movies currently on release, which might be of interest to wildlife lovers!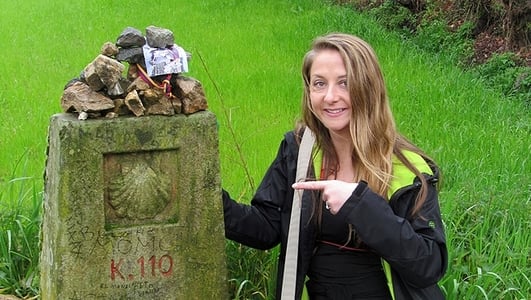 Camino De Santiago De Compostela - Days Five & Six
Mooney reporter Katriona McFadden is walking the Camino De Santiago in Spain this week and is sending us back 'Audio Diary' reports. She is walking it with her fiancé, JP. One of JP's jobs is to give Katriona a boiled sweet before she has to walk up a hill. Otherwise she gets cranky apparently!
Katriona is travelling courtesy of caminoways.com, an Irish company specialising in accommodation, transport & luggage transfer along the Camino.
DAY FIVE – ARZUA TO AMENAL (23 KM)
A little Spanish goes a long way on the Camino! Most pilgrims are Spanish and, as a result, not all cafe owners and receptionists speak English. It's advisable to learn a few basic phrases. A phrasebook would have certainly helped me last night at dinner. The menu was entirely in Spanish and I decided to order a starter with a name I didn't understand, just to be adventurous. Tripe soup is what was served up to me! The waitress was very understanding when I told her I wouldn't be eating it.
Some beautiful forest paths today. That is Australian Steven Matthews up ahead in his cricket hat. He is walking the Camino alone to give him time to think about the future of his marriage, he says.
Today we had four seasons in one day, sun, rain, thunder and hail. Another pretty walk through the Spanish countryside and forests. In a cafe just before Amenal we met Steven Matthews from Sydney. Steven is walking the Camino alone. He had planned to walk it with his wife, Meg, he says, that is until she had an affair with another man and left him. However, her lover didn't leave his wife so Meg returned to Steven. "Her default position" he says. Steven says he is walking the Camino to have time and space to think about their marriage and their future.
Steven walks with us a while and we stop at a roadside memorial to a Kilkenny women, Myra Brennan, who died in her sleep in Santiago 10 years ago.
Memorial to the late Myra Brennan, just outside Santa Irene.
She was only 52 and had walked the Camino twice. Her friend "Brigid F" erected the memorial to her on the 5th anniversary of her death. We take a moment at the memorial before carrying on to the Hotel Amenal. We are now only 14 kilometres from Santiago and the end of our Camino!
Romance on the Camino!
DAY SIX – AMENAL TO SANTIAGO DE COMPOSTELA (14KM)
The great thing about booking on a half-board basis is that you don't have to walk the streets with your tired feet looking for food, you know your breakfast and dinner are provided at your hotel. The dangerous part about half-board is that dinner always comes with wine. A bottle of wine. Each! As a result we were a little later than usual starting out today. More rain but we are now accustomed to it. What is it that Billy Connolly says? "There's no such thing as bad weather, only the wrong clothes"
Santiago in the distance. We're getting close!
The outskirts of Santiago de Compostela
We had a few hills to climb today but before long we found ourselves at a large stone marking the outskirts of Santiago. Only 11km to go. Pilgrims had made makeshift crosses out of twigs and attached them to the fences.
Twig crosses stuck into fences on the road to Santiago. Only 11km to walk!
We walked through suburban Sarria. The city well and truly came into sight at about 5km. We followed the scallop shells on the footpath the whole way to the Pilgrims Office, showed our Pilgrims Passport, filled out a form and got our 'Compostelas' (certificates) with our names written in Latin.
Our certificates! Yes, we really walked 110km!! My rain poncho is in shreds but has served me well.
My Compostela
Yay! Tomorrow it will be read out at the 12pm Pilgrims Mass in the Cathedral that two Irish pilgrims completed the Camino by travelling from Sarria. That's us! We meet Scotsman John Walker in the Pilgrims Office. He volunteers there. He says unfortunately we won't see the 'Botafumeiro' at tomorrow's mass (that's the gigantic incense burning thurible that is twirled around the Cathedral by ropes). It's only on display at certain masses, he says, but if we go to mass on Thursday night we will see it.
The Hotel Monumento San Francisco
We are staying at the Hotel Monumento San Francisco. It is a converted part of a functioning convent. There are signs up warning "Silencio" for guests who wish to explore the grounds. This is the real deal! At the end of the Camino, over a glass of wine, we reflect on the people we met along The Way and their reasons for being here. For most people it's about time, making the most of it while you have it. To anyone now inspired to do this great walk I say "Buen Camino!"
A Galician bagpiper busker welcomes up to Santiago
Hedgerows: It is an offence to 'cut, grub, burn or otherwise destroy hedgerows on uncultivated land during the nesting season from 1 March to 31 August, subject to certain exceptions'. For more information, click here.
UPDATE: February 29th 2016 - Press Release From BirdWatch Ireland:
Putting the record straight: Dates for burning and hedge-cutting have NOT changed
BirdWatch Ireland, Ireland's largest conservation charity, is very concerned about misinformation that is currently circulating regarding the dates within which the burning of vegetation and cutting of hedges is permitted. It would like to remind landowners that all burning and cutting must cease on 29th February this year and that burning and cutting remains prohibited from 1st March to 31st August.
Despite attempts by the Minister for Arts, Heritage and the Gaeltacht, Heather Humphreys T.D., to change the laws regulating these dates by introducing the Heritage Bill 2016 earlier this year, it is important to note that the proposed date changes were ultimately NOT made. This is because the bill failed to pass through both houses of the Oireachtas before the recent dissolution of the Dáil in advance of the general election.
The laws in place governing the dates for hedge-cutting and upland burning therefore remain unchanged. The period within which cutting and burning is prohibited are set down in Section 40 of the Wildlife Act 1976 (as amended in 2000), which states that:
(a) It shall be an offence for a person to cut, grub, burn or otherwise destroy, during the period beginning on the 1st day of March and ending on the 31st day of August in any year, any vegetation growing on any land not then cultivated.
(b) It shall be an offence for a person to cut, grub, burn or otherwise destroy any vegetation growing in any hedge or ditch during the period mentioned in paragraph (a) of this subsection (above).
The existing law provides exemptions for road safety and other circumstances and should be read carefully to ensure compliance.
Section 40 of the Wildlife Act exists to protect nesting birds. Many of our upland bird species are in decline and are in danger of extinction in Ireland; amongst them is the Curlew, which has declined by 80%. Many birds which nest in hedgerows into August are also in serious decline, including the endangered Yellowhammer. The changes to the cutting and burning dates which had been proposed in the now-defunct Heritage Bill 2016 would have caused serious impacts to these birds. A petition launched by BirdWatch Ireland in conjunction with several other national conservation organisations to stop these changes attracted more than 16,200 signatures and rising.
BirdWatch Ireland would also like to advise members of the public that if they see hedges being cut or fires in the uplands on or after 1st March, such activity could be illegal. In such cases, we would encourage people to contact the National Parks and Wildlife Service (www.npws.ie) to report such activity.
BirdWatch Ireland warmly welcomes the demise of the Heritage Bill 2016 and sincerely hopes that any future administration will consider the importance of Ireland's natural heritage and will not attempt to reintroduce such a flawed and damaging piece of legislation.
To contact your local wildlife ranger, click here for contact details. To read the Wildlife (Amendment) Act 2000, click here.
IMPORTANT NOTICE
Please DO NOT send any live, dead or skeletal remains of any creature whatsoever to Mooney Goes Wild.
If you find an injured animal or bird, please contact the National Parks & Wildlife Service on 1890 20 20 21, or BirdWatch Ireland, on 01 281-9878, or visit www.irishwildlifematters.ie
***CLICK HERE TO FIND OUT EVERYTHING YOU NEED TO KNOW ABOUT DAWN CHORUS 2017!***
***Download the Dawn Chorus 2017 podcasts***
Dawn Chorus 2017 - First Hour - 00:00 - 01:00
Dawn Chorus 2017 - Second Hour - 01:00 - 02:00
Dawn Chorus 2017 - Third Hour - 02:00 - 03:00
Dawn Chorus 2017 - Fourth Hour - 03:00 - 04:00
Dawn Chorus 2017 - Fifth Hour - 04:00 - 05:00